Young owner opens unique salon in Rancho Santa Fe
A salon that appears to have been inspired by Halloween and Tim Burton films year-round sits in a Rancho Santa Fe shopping center at the entrance to the Whispering Palms community.
The walls of the shop are all painted black, and all of the furniture, each custom-made with a Victorian gothic vibe, is also black. The only colors in the entire place are red and gold accents and the vibrant colors Andrea Draven often dyes her clients' hair.
"When they first saw all the black, I think they were a little scared at first," Draven said of the property owners. "When they saw the furniture come in, they were wowed."
Black, she said, is also the ideal background color to see just how much the bright hued locks appear on her clients.
Draven was inspired to decorate her salon by old movies, the Rococo era of Marie Antoinette and classic Hollywood glamor, which her grandparents raised her on. The shop is adorned with pieces like fresh roses each day and a traditional chandelier to complement the dark walls and furniture.
Salon Draven, which offers hair and nail services, opened up at the Palma de la Reina mixed use center in July. Owner Draven has had a presence in North County for 12 years, since she opened her first salon in Del Mar, which has since been converted into a spa.
At just 39 years old, Draven — who is often mistaken for famed tattoo artist Kat Von D due to her all-black clothing, makeup styling and animal rights volunteer work — believes she is the youngest female business owner in Rancho Santa Fe who is self-made.
She said she created both of her businesses on her own, with no financial backing from anyone else.
"If you ask anyone that knows me, they will tell you that I'm the hardest working person that they know," she said, adding she hasn't taken a proper vacation in more than a decade.
Draven, who began doing hair when she was 15, said she often works six or seven days a week. In addition to owning the salon and spa, she also styles clients for weddings and events. She recently did hair and makeup for Fashion Week San Diego.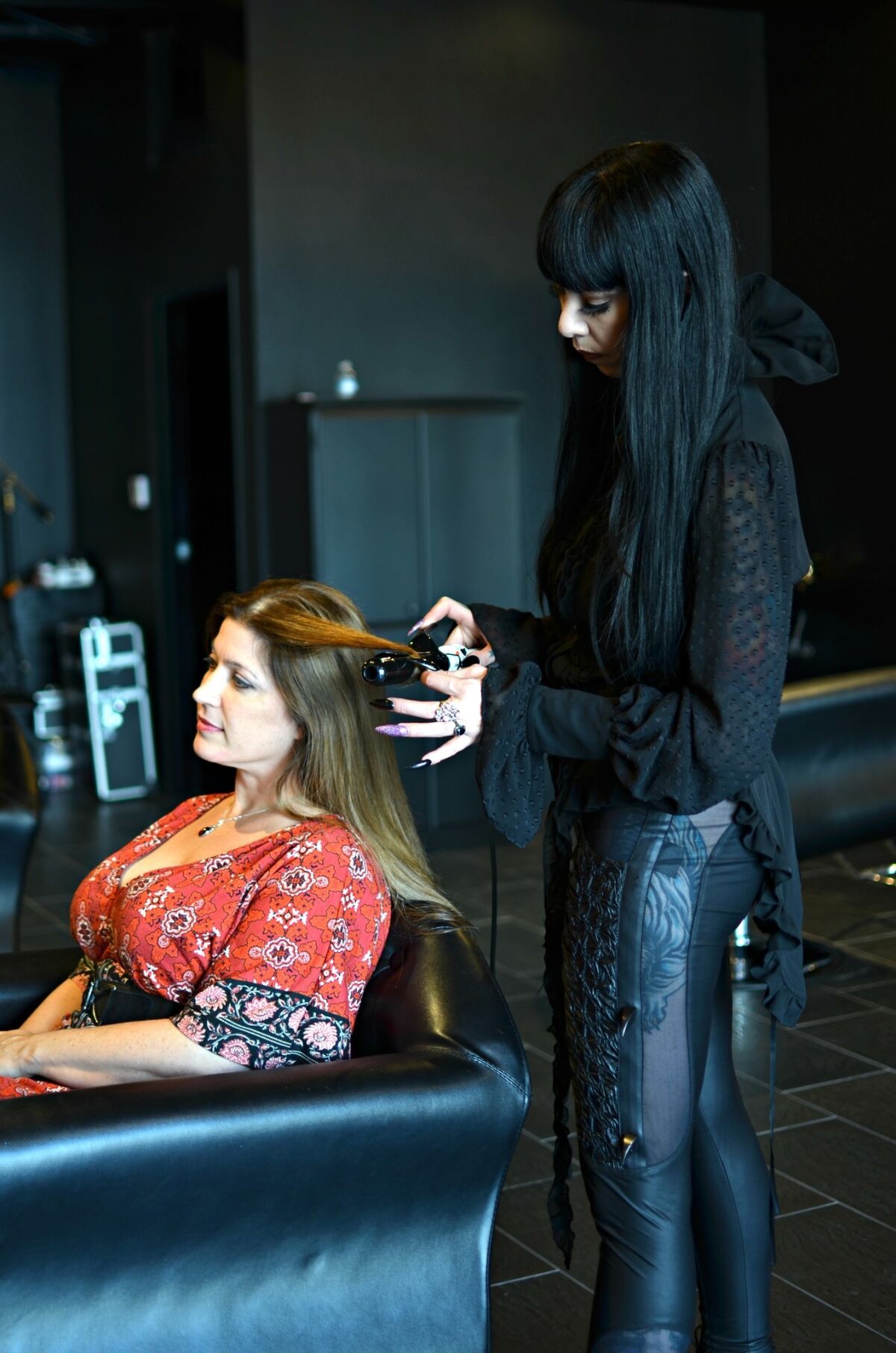 Her specialties are color, color corrections and extensions, she said.
Now is an especially fun time to be a hair stylist, she added, because bright-colored hair is fashionable for young women.
"Back in the day, we only had Manic Panic. They were the innovators of the punk rock industry of hair," Draven said. "It was this whole thing where you knew you'd get in trouble because you'd look different and the dye would stain your white pillowcases and your mom would get upset. Now, the hair industry has really changed. Not only has it become really fun but also it's become safer for the stylists and client."
Her salon only uses organic-based products to ensure her clients' hair is being taken care of. Her favorite products include Pravana and Alterna.
Because she was raised by her grandparents, Draven said she easily connects with all of her clients, regardless of age. She said she often enjoys sharing conversations about old films with her older clients and will accommodate them with rides if they cannot drive to her salon on their own.
"The older people were happy that I came here because a lot of them don't like to drive, so they're able to come over here," she said. "My grandparents have passed, and I would have loved for them to see my salon. Having my older clients here is really enjoyable. I love the conversations I have with them because I can relate to them."
She said she is also one of the only stylists in the area who knows how to do a traditional shampoo set for older clients, but she uses a curling iron instead of rollers.
Her customers are her number one priority, she said. Everyone who visits her salon is greeted with treats such as coffee and cookies, and they walk out with a goodie bag and free products.
Draven also said she does not double-book to ensure all of her visitors receive individual attention.
"I really want to keep [my salon] very client-based and focused on the clients," she said. "I kind of have an old school business model. I treat every single person who comes through my door like an experience."
Salon Draven is located at 5533 Cancha De Golf, in suite 104, in Rancho Santa Fe. For more information, visit salondraven.com or call 858-245-5519.
Sign up for the Encinitas Advocate newsletter
Top stories from Encinitas every Friday for free.
You may occasionally receive promotional content from the Encinitas Advocate.