Encinitas Ranch sending team to PGA event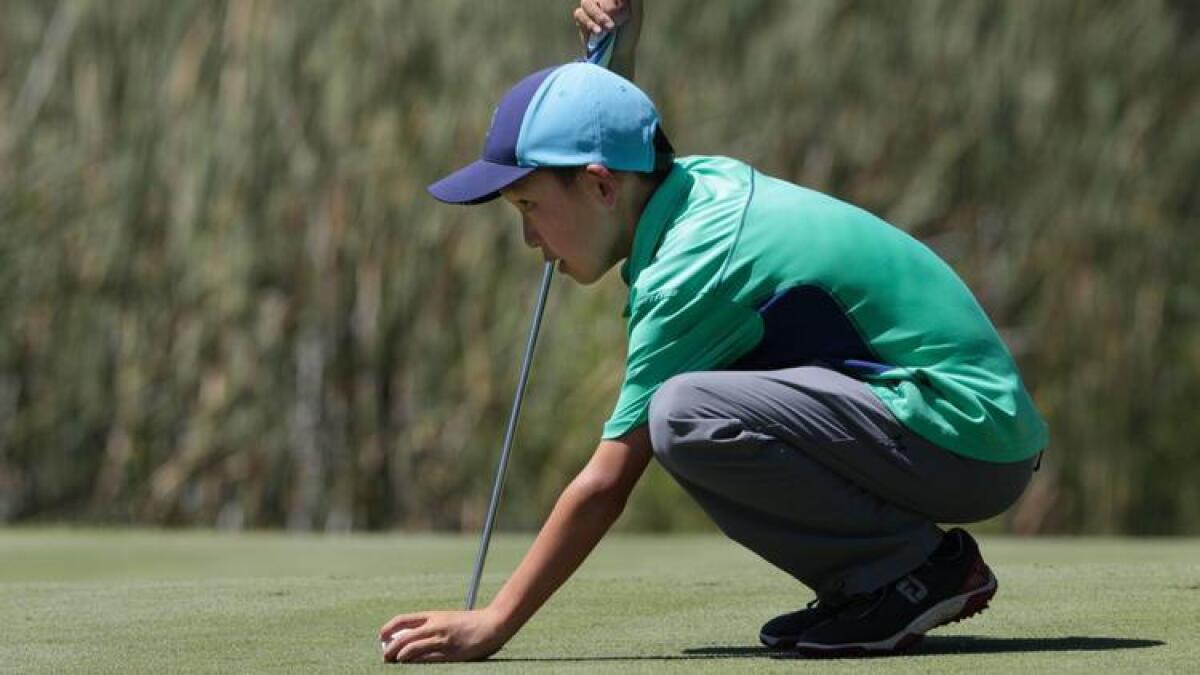 Next month, a group of young golfers will tee it up and let it fly at the PGA Junior League Championships in Scottsdale, Ariz.
The last time the San Diego All-Stars — based out of Encinitas Ranch Golf Course — played in the event, the result was a victory at the 2015 competition in Lake Buena Vista, Fla.
On that squad was 9-year-old Jay Leng Jr.
Since then, all of his teammates from that group have moved on, but the now 12-year-old Leng remains and is one of the squad's top guns heading into the tournament at Grayhawk Golf Club.
According to head coach John Mason, Leng has only gotten better as he continues on a learning curve that has allowed him to become a top junior golfer in his age group.
"I've been working with Jay for many years," said Mason. "Honestly, he has helped me as much as I've helped him."
Such is the advanced acumen of his star pupil.
Mason harked back to one occasion when he was attempting to teach a 7-year-old Leng how to properly execute a flop shot — a tricky proposition during which one must pop the ball almost straight up when near the green only for it to land near the hole with little or no roll.
Leng, however, had other ideas.
He decided a better course of action would be to bank the ball off the lip of a bunker, which would catapult it onto the green and achieve the desired result.
Which, of course, is exactly what happened.
"After that, I knew I had to be careful with Jay," said Mason. "I always need to have an explanation ready as to why I want him to do something."
Leng explained it this way.
"I knew I could hit a lower shot," he said. "All I had to do was put more spin on the ball to get it to stop near the hole."
If only golf were that simple. Of course, it's not, but a young player like Leng has a leg up on his competition due to his mental game, said Mason.
"Jay has an extremely high golf IQ," the coach said. "He also has an unmatched work ethic."
The PGA Junior League Championships are all about team success in a two-man scramble format, which is where synergy and cohesion come into play.
Mason said he will sometimes pair a long hitter with a player who has a better short game in order to maximize each golfer's strengths with an emphasis on making birdies instead of settling for pars.
"Compared to tournament golf, you can gamble quite a bit more in a scramble due to the nature of the format," he said. "If the first player hits a good shot, the second can really go for it."
Other members of the San Diego All-Stars are Ryan Abuan, Matthew Broder, Zander Grant, Daniel Ho, Jasmine Kahler, Phillip Kench, Nathan Moore, Karen Tsuru and James Whitworth. Players were selected based on competitions held at Encinitas Ranch.
Despite Leng's excellence, he is only one cog in the machine.
"No one player is any bigger than the team," Mason said. "Everyone is an integral part."
That said, Leng knows all eyes will be on him, which is just fine, he said.
"I don't really get nervous," said Leng. "I don't focus on all the people watching, so it doesn't affect me."
-- Scott Akanewich is a freelance writer for The San Diego Union-Tribune.
Sign up for the Encinitas Advocate newsletter
Top stories from Encinitas every Friday for free.
You may occasionally receive promotional content from the Encinitas Advocate.