Buona Forchetta opens first North County restaurant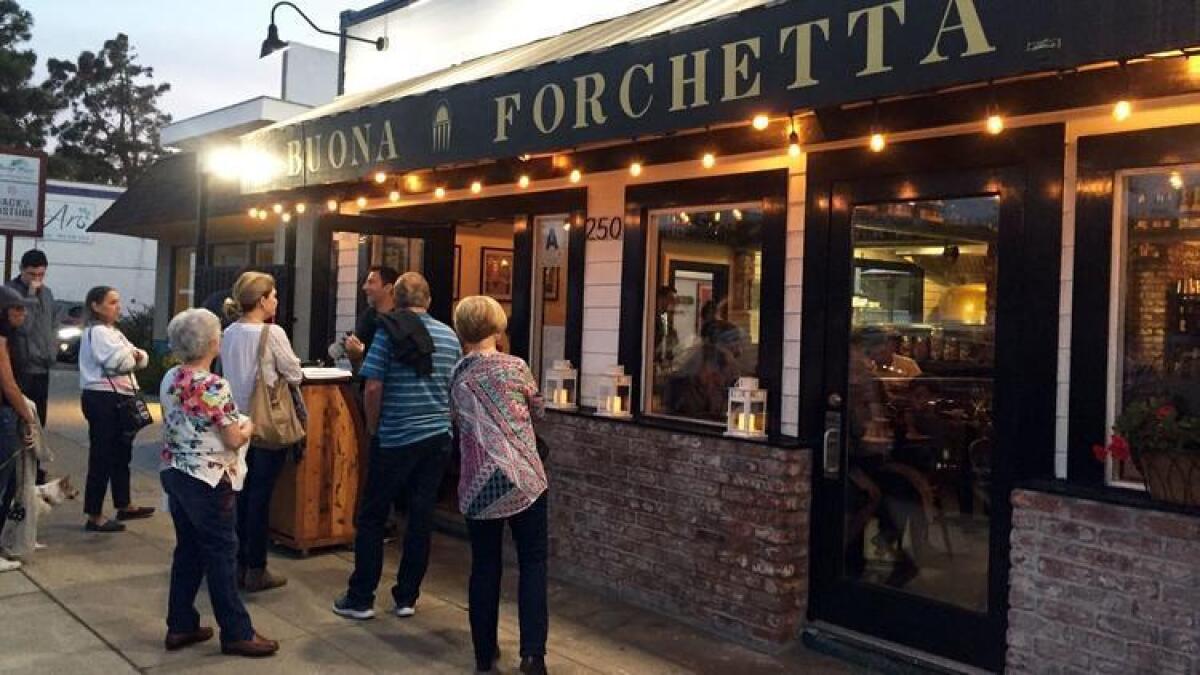 It has taken five years for the popular South Park-born pizzeria chain Buona Forchetta to make it to North County, but the wait is finally over.
On Oct. 22, founder Matteo Cattaneo opened the doors on his latest Buona Forchetta location at 250 N. Coast Highway in Encinitas. The 55-seat restaurant is open for lunch and dinner daily.
Cattaneo actually purchased the Encinitas building four years ago when it was occupied by the Bird House Grill. But because he had so many other projects in the pipeline, he decided to let the Bird House owner stay on as a tenant until he retired. Then, Cattaneo waited another 18 months until the liquor license for the Encinitas location was approved.
Even without advertising, the Encinitas restaurant opened recently to huge crowds.
"So far we're meeting lots of great people," Cattaneo said. "They're really friendly and relaxed here. We love it."
Buona Forchetta translates as "good fork," but in Italy it's slang for a person who's a hearty eater. The restaurants regularly top local "best of" lists for pizza and Italian food. It's known for its Neopolitan-style pies, homey decor and friendly service.
Cattaneo grew up in Bergamo where his family tends olive orchards. In 2006 he moved to San Diego to study business law. But when he began working part-time in a friend's Italian eatery, he fell in love with the restaurant business.
In January 2013, he opened his first Buona Forchetta just a few blocks from his then-home in South Park. At the time, Pizzeria Bruno in University Heights was the only other San Diego restaurant making authentic Neopolitan pizza, but the style's popularity has exploded in the years since.
The Naples-born style of pizza-making is rustic and simple. Cooked over a wood fire at 700 to 1,000 degrees, the thin, hand-shaped wet crust holds just a handful of ingredients. The classic Neopolitan pizza is the Margherita, with just tomato sauce, herbs, cheese and basil, and it's what Buona Forchetta is best known for.
All of the pizzas at Cattaneo's restaurants are cooked in gold-tone tile-decorated Stefano Ferrara ovens imported from Italy, and each one has a name. The ovens in South Park and Encinitas are Sofia and Isabella, named for Cattaneo's two daughters with his wife, Alexa. The two ovens at his Officine Buona Forchetta, a restaurant/pizzeria/wine bar in Liberty Station, are named for his parents, Augusta and Sergio.
Cattaneo said each location's menu reflects the heritage of its chef. Some of their pasta sauces and nightly specials will be dishes native to the regions where they grow up. The chef in South Park is from Northern Italy, the chef at Liberty Station is from Tuscany.
In Encinitas, the chef is from Naples: Marcello Avitabile, a five-time winner at the World Pizza Championship. Only in Encinitas can diners find his scarpariello pasta sauce, made with tomatoes grown on the slopes of Mt. Vesuvius near Naples.
Pizzas range in price from $15 to $25. Pasta dishes are $13 to $15, with choice of nine sauces and nine pasta noodles. Appetizers range from $7 to $15. And entrees including steaks, fish and veal chop are 26-$30. The restaurant serves Italian wines by the glass priced from $7 to $9. Bottles range from $27 for a Vestini Pecorino white from Abruzzo to $89 for a Brunello Silvio Nardi red from Tuscany.
The Encinitas location is one of many new projects Cattaneo has in the works. He just opened Enoteca Buona Forchetta, a wine bar and market next door to his South Park restaurant. Next spring, he'll open a not-for-profit cafe and bakery in the former Rebecca's space in South Park that will donate all of its profits to school and other charities.
In 2016, Cattaneo moved his family from South Park to Coronado where he's planning another Buona Forchetta in the historic El Cordova Garage at 10th and C streets. It will open in late 2019.
Buona Forchetta — Encinitas
Hours: Noon to 3 p.m. and 4:30 to 9:30 p.m. daily
Where: 250 N. Coast Highway, Encinitas
Phone: (760) 704-8070
Online: www.facebook.com/BuonaForchettaEncinitas/
-- Pam Kragen is a reporter for The San Diego Union-Tribune.
Sign up for the Encinitas Advocate newsletter
Top stories from Encinitas every Friday for free.
You may occasionally receive promotional content from the Encinitas Advocate.