Proposed re-design of Cardiff School 'headed in right direction'
A redesign of Cardiff School is "headed in the right direction," school officials and residents agreed Nov. 16 at a meeting, but things could still be improved as to where certain buildings are located and how traffic is impacted, they said.
Representatives from the project's bond program and architect firm, Studio E, fielded questions from attendees and showed a new possible design of the school that they say takes into account suggestions made at past meetings.
Residents also got to chime in their thoughts about possible building forms, outside spaces, indoor-outdoor connections, coastal views and character.
Residents at past meetings have disapproved of new buildings, future obstructed views, the downsizing of George Berkich Park and the location of new kindergarten classrooms.
Randy Peterson, the bond manager, said Nov. 16 they have been careful not to go outside the budget allotted to the redesign through Measure GG, which voters approved in November 2016 and allotted $22 million of Prop. 39 general obligation money to the district to fund school modernization for Cardiff School and Ada Harris School.
Measure GG called to modernize Cardiff School by replacing outdated roofs; renovating or replacing existing deteriorating water, drainage and sewer systems; upgrading inadequate electrical systems; improving energy efficiency; replacing aging temporary portable classrooms with new classrooms; constructing a new multipurpose room; improving handicap accessibility; repairing paved surfaces; and upgrading the library, labs, school office building, playgrounds and play fields.
"We've been very sensitive about the costs," he said.
He also addressed a concern about the school's new design taking away field space from George Berkich Park, and said the new design includes more field space than in previous renderings. But some residents noted the size of the field was being reduced from 111,000-square-feet to 87,000-square-feet.
"You take away 20,000 square feet," said one resident. "That's not what we're asking for. You're taking away a place for kids to play during school and on the weekends. We don't want the park touched."
A group called Cardiff Preservation Society also launched an online petition to preserve the school and park in September. The campaign, at cardiffpreservationsociety.com, has since garnered more than 230 signatures.
But Peterson said the reduction of the park is necessary to allow for construction of the buildings. In the most recent and past renderings, the MPR would be moved from the rear of the school toward the front. Contractors said this move could make the building easier to access for the public for voting or other events and increase safety. Peterson added the current MPR is "not sufficient" to accommodate the students and staff.
Attendees shared mixed feelings about a new building, with some saying it's not necessary and others saying they could see the advantages in a new fixture.
Cassie Miller, 13, who attended Cardiff School through third grade, said she believed the MPR and the school in general should be updated. That update could possibly include the moving of the MPR, she said.
"Think of how many kids go here and think of during plays, how many kids have to sit in [the MPR]," she said. "I think upgrading it is a great idea. You might be thinking of losing the park, but overall, this is a school, not a park. It's not a view. It's a school. Upgrading it can only further help the learning environment."
The new proposed revised conceptual site also eliminates direct access from kindergarten and extended daycare to field areas by moving the kindergarten building from one side of the school to the other.
Resident Russell Davis urged against the updates.
"I have multiple degrees... and none of them were the result of buildings," he said.
One woman suggested the current MPR could be shifted or expanded to reach more toward the front of the school.
Other attendees shared concerns regarding the increased parking and drop off area than what exists now and how traffic could be impacted on Montgomery and Mozart Avenues, which surround the school. Currently, the parking and drop-off area is 18,820-square-feet but in the latest redesign proposal, it's expanded to 38,840-square-feet. A prior re-design proposed the drop-off area be 45,240-square-feet.
Peterson said the drop-off area size was a "key component for safety and security."
Resident Trisha Smith said she believed the traffic problems couldn't be fixed because of the narrow streets and population size.
"This is a step in the right direction," she said, with others agreeing the new plan was a "good compromise."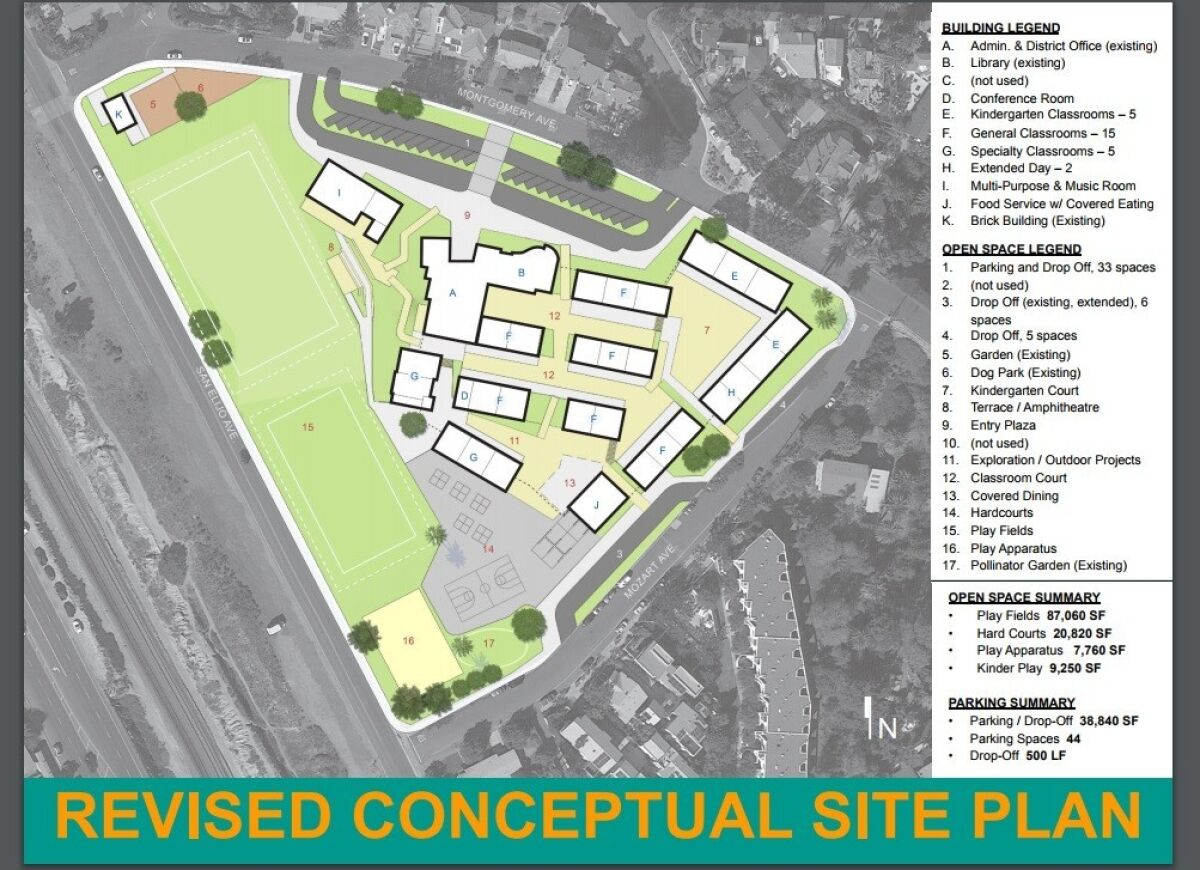 Sign up for the Encinitas Advocate newsletter
Top stories from Encinitas every Friday for free.
You may occasionally receive promotional content from the Encinitas Advocate.