Stealthy 'elves' bring holiday cheer to needy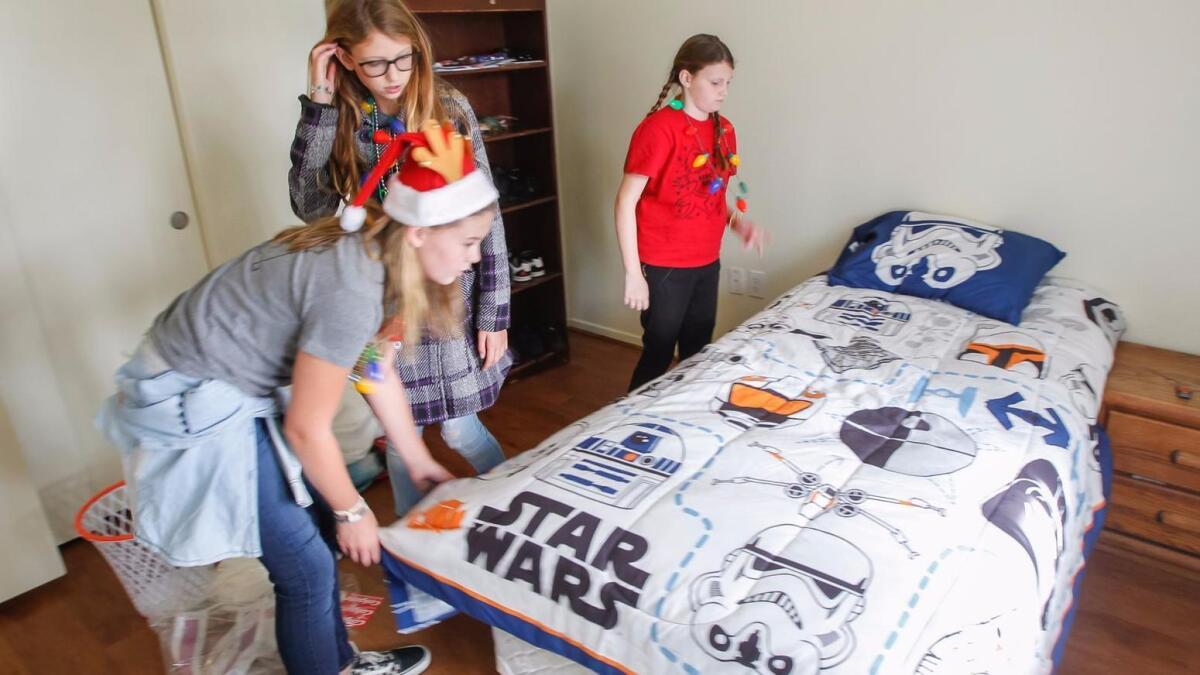 The experience that hooked Colleen and Mark Cormier into becoming perennial holiday elves actually occurred by mistake a few years ago.
That's when a needy family came home unexpectedly one afternoon, surprising the Encinitas couple and their now-10-year-old daughter, Kennedy, in the midst of decorating their small apartment with a tree, lights, household items and dozens of wrapped presents.
"We were sitting in our car when the mom and her little boy came home early and he started running up and down the sidewalk shouting 'Santa came! Santa came!' It was a really special experience," Mark Cormier said.
On Tuesday, the Cormiers were among the nearly 300 "elves" taking part in the eighth annual Solutions for Change "Breaking and Entering" event at its 32-unit transitional-housing complex in Vista.
Residents were told to leave their apartments between the hours of 10 a.m. and 4 p.m. so Solutions officials could conduct walk-through inspections. Instead, a small army of volunteers — many wearing oversize elf ears, candy cane caps and colorful holiday sweaters — poured into the complex and began decking the halls.
In one ground-floor apartment, San Marcos resident Molly Elena, 35, and her 11-year-old daughter, Charlee, were busy unpacking and arranging new Christmas decorations, pots and pans, dishes, silverware, a crock pot, cookie sheets and new bedding, including a "Star Wars" bedspread for the 8-year-old boy who lives in the apartment with his mom.
Ellena said this is the fourth year her family has participated in "Breaking and Entering," and she and her daughter, who turns 12 on Christmas Day, feel like they get much more from the experience than the families they help.
"I am so thankful to be able to do this," she said. "I shop for it all year long and keep a little section in my garage for my stockpile. This is great for Charlee to come and see another world and do what she can to help others."
The residents at the apartment complex are enrolled in the first 500-day stage of Solutions University, a structured three-year program to transition families from homelessness to self-sufficiency, said Paul Webster, director of strategic advancement for Solutions for Change.
The residents here — mostly single mothers with one to three children — pay a reduced rent in exchange for agreeing to complete 120 hours of personal development classes. They also must find a full-time job and maintain sobriety.
Because of the program's rigor and education program, Webster said Solutions has a 73 percent success rate in "graduating" these residents into the second phase of the program, permanent subsidized housing.
Because most of the residents have recently transitioned from homelessness, few have much more than a suitcase or two of clothes and a few personal items. So when the elves arrive for their annual visit, the apartments' walls, closets, toy shelves and cupboards are mostly bare.
About a month before the "Breaking and Entering" event, teams of elves are given basic information on the families, including the children's sexes and ages and their most pressing needs.
Colleen Cormier said she used this information to create a registry at Target that her fellow employees at Dell Computer used to sponsor two families' apartments on Tuesday.
For the second year in a row, 10 employees of Avalon Bay Communities did elf duty on Tuesday. Besides the food, gift cards, pots and pans, toys and decorations they brought in, they'd also arranged to provide their beneficiary — a mother with three girls — with new furniture for when she moves into permanent Section 8 housing next year.
"We love the idea of giving this family a new start," said Avalon Bay's Wendy Curiel of Oceanside.
In another apartment nearby, Tami Peddie-Musser was supervising a team of seven elves from the San Marcos office of the North Coastal Consortium for Special Education.
Back for its fifth year, the Consortium team decked the halls with speedy precision, including elaborate holiday table decor, dishes, new silverware, a large tree, outdoor lights and more.
Peddie-Musser, who works as a mental health case manager, said she works with many of the people who Solutions for Change serves and she knows personally how much a surprise of Christmas goodwill means to these young families.
Each year, Peddie-Musser said she supplements the Christmas gifts and decor with a piece of artwork bearing an inspirational message. This year's framed picture reads: "Let your faith be bigger than your fears."
"Everybody needs something like that sometimes to get them through the difficult days," she said.
Pam Kragen is a reporter for the San Diego Union-Tribune.
Sign up for the Encinitas Advocate newsletter
Top stories from Encinitas every Friday for free.
You may occasionally receive promotional content from the Encinitas Advocate.