Skate Rising to hold fundraiser for young cancer patient in Encinitas
After raising awareness for community issues, like homelessness and refugee support, for more than a year, Skate Rising will support one of its own for the first time Dec. 9.
The Encinitas-based skateboarding group for girls will host a benefit event for member Vivian Gomez, 10, of Old Town San Diego, who was diagnosed with a highly aggressive form of brain cancer in October.
The diagnosis of Diffuse Intrinsic Pontine Glioma (DIPG) — a terminal brain condition that arises from the brain's tissues that support and protect its neurons — came shortly after Vivian fell off her skateboard during a Skate Rising event in September. She complained of double vision, which prompted visits to an optometrist and ophthalmologist, said her mother, Gwen Gomez.
An MRI showed a tumor in the pons area of Vivian's brain, which controls breathing, communication between different parts of the brain, heart rate and sensations like taste, hearing and balance.
"You never expect something like this or something that can take your child so fast," Gomez said. "It can just transform them literally from one week to the next."
Prior to her diagnosis, Vivian was completely healthy, her mother said. Afterward, her daughter began quickly losing the ability to walk and talk, though radiation has helped her revive those skills about 75 percent, Gomez said.
DIPG has a less than 1 percent five-year survival rate and no cure, research shows. The average survival time is nine months.
The disease progresses, fills up space in the brain and eventually shuts down the senses but leaves thinking intact, Gomez said.
"It's really cruel to the child because the child knows all this stuff is happening but loses the ability to communicate until it, finally, stops their heart or their breathing," she said.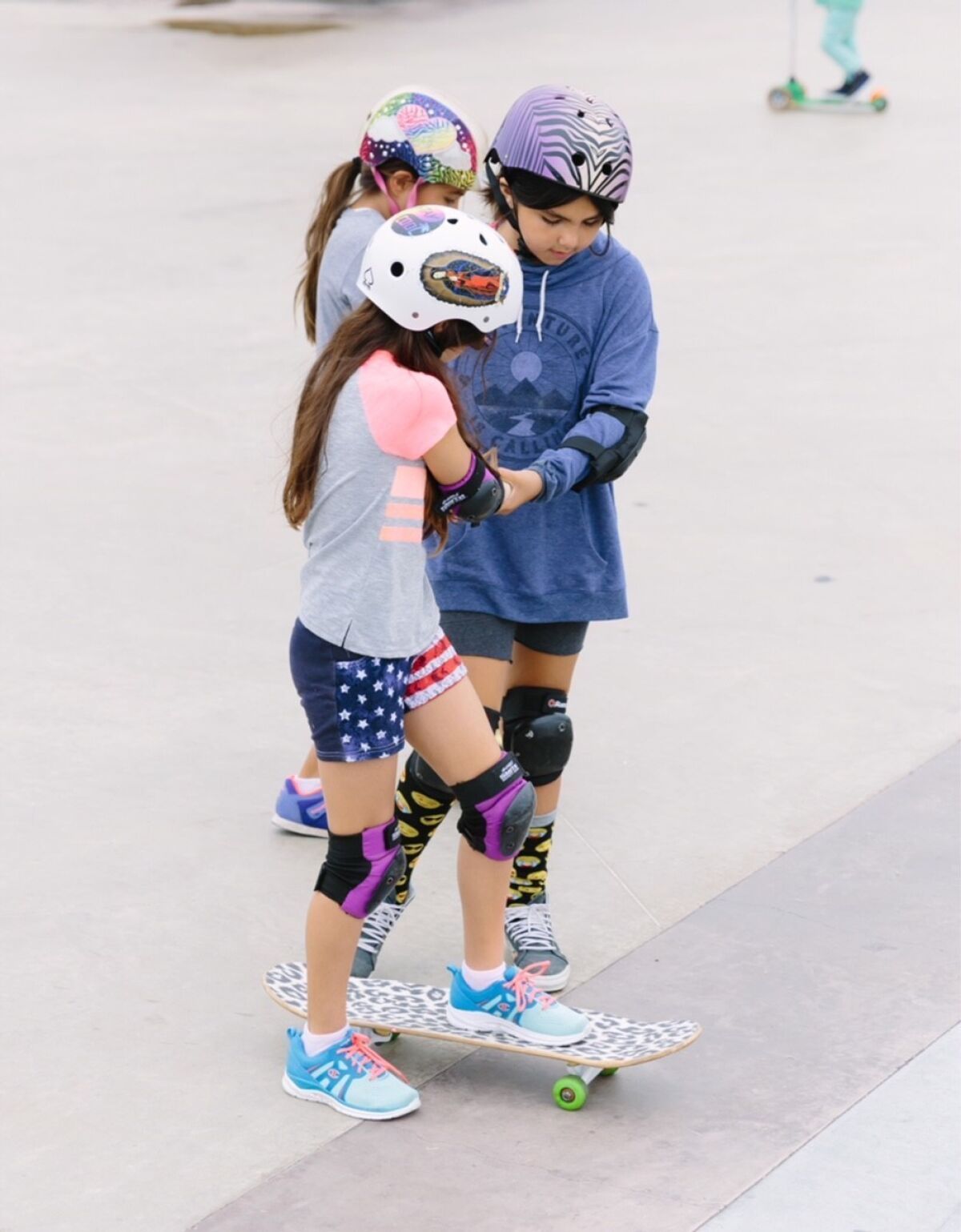 After hearing the news about Vivian, Calli Kelsay, program director for Skate Rising, part of the nonprofit Exposure Skate, said she had to help.
Since its inception in August 2016, Skate Rising has put on monthly events to raise awareness for the homeless community, refugees and underprivileged families. Prior to her diagnosis, Vivian never missed an event, Kelsay said.
"Their situation affected me to the point where I just thought, 'What can I do? How can I help? How can I encourage my children and other people to get involved and raise awareness for not only what Vivian is going through and pediatric cancer in general?'" the mother of four said.
Research shows that pediatric cancer is largely underfunded compared to adult diagnoses, Kelsay noted.
With the event, Kelsay hopes her participants — who range in age from 4 to 18 — learn how to "love and support those around us" and that everyone becomes more aware of the lack of support for pediatric cancer.
"We've all been affected by someone being sick in some way, and it's so important for these young girls to understand the impact and what they can do just by loving, caring and supporting others," Kelsay said.
The event, from 9 to 11 a.m. at Encinitas Skate Plaza, 425 Santa Fe Drive, will include community service activities, learn-to-skate clinics and a celebration of Vivian's favorite things.
Dr. Tyler Seibert, a UC San Diego oncologist, is scheduled to discuss ways people can support those around them who are affected by cancer.
Attendees will also be able to donate to Locks of Love. Kelly Cardenas Salon Carlsbad will be on-site to cut the hair of any donor. Handel's Ice Cream will provide free ice cream certificates to the first 60 people who donate their hair or donate to Vivian's GoFundMe account at https://bit.ly/2inMINo.
Participants can also create activity kits for children going through radiation treatment and work on a special knotted blanket for Vivian. Nekter Juice Bar will also pass out samples of Vivian's favorite smoothie.
Pro skateboarders like Neal Mims, Beaver Fleming, Jono Schwan, Andy Macdonald, and Christian Svitak are slated to attend and lead skateboarding demonstrations.
Kelsay described Vivian as a "pleasure to be around and such a supportive and encouraging participant at the events."
"I was looking at pictures and found one of her holding another little girl's hands and helping her skate," Kelsay said. "She's definitely one of those girls that would take the time, the effort and the opportunity to support those around her."
Vivian, who is currently going through radiation treatments and first hopped on a skateboard last year as a form of protest to sexism, said she is looking forward to seeing her friends at the event and spreading awareness about childhood cancer.
Gomez said her daughter's diagnosis has brought her family closer together and shows how much of an influence Vivian has had on others.
"It just shows that, as some difficult things are going on all around the world right now, there are a lot of great people out there who are willing to support somebody," she said. "It's amazing to see what an impact Vivian has had on other people's lives to motivate them to be there for her in her darkest time."
Sign up for the Encinitas Advocate newsletter
Top stories from Encinitas every Friday for free.
You may occasionally receive promotional content from the Encinitas Advocate.