City continues exploring options for new park in Leucadia
Encinitas is one step closer to a brand new park in Leucadia.
Designers and city staff met with residents at a community workshop Dec. 12 at Capri Elementary School to discuss options for the 3.1-acre, $2.7 million, temporarily-named "Standard Pacific Park."
The park will be located east of the I-5 freeway on the southeast corner of Olympus and Piraeus streets. The land is currently vacant and was slated for a park project ever since the Standard Pacific Homes development was built in 2000, according to city documents.
This was the third workshop where residents could learn about the park and express their desires for it. Attendees were invited to place dots on a map to symbolize amenities they wanted, and four second grade Capri students showed off models of what they'd like the park to look like.
Jennifer Campbell, the city's parks and recreation director, said one of her favorite parts of her job is when the community gets to share their viewpoints.
"When this is all said and done, you were all park designers," she said.
The final design — developed out of two previous options — will head to the city's Parks and Recreation Commission early next year before being voted on by the city council in February or March, said Jeff Ferber, of Orange County-based RRM Design Group, which is working on the project.
Ferber said the park could include amenities like a zip line; dog park; multiple playgrounds — including a bug-themed area with oversized structures that will make "kids feel like they've been shrunk" and one that incorporates the hillside — a multi-use sport court for games like pickleball and basketball; a "pump track" for scooters, bikes and skateboards; interactive public art; several shade structures and botanical plants.
He said RRM recently opened a similarly designed park in San Luis Obispo that was well-received by that community.
"There were probably 400 kids there on opening day, and they didn't leave until dark," he said.
The landscape will buffer the park from neighbors, Ferber said. A dog park, security fence and drainage owned by CALTRANS will also act as a buffer from traffic on Piraeus Street, he said.
There will also be two handicapped parking spaces on either end of the park. While there will be no additional on-site parking, there is public on-street parking at the bottom of the park, Campbell said.
Campbell said the park, which could open in April 2019, will be usable and enjoyable for all ages. Kids of all abilities will also be able to use the zip line, she said.
Campbell said she expects the park, which has yet to be formally named, will open at sunrise and close at sunset. Because the city's municipal code will be posted around the park, the sheriff's department will be allowed to cite people for trespassing after hours, she said.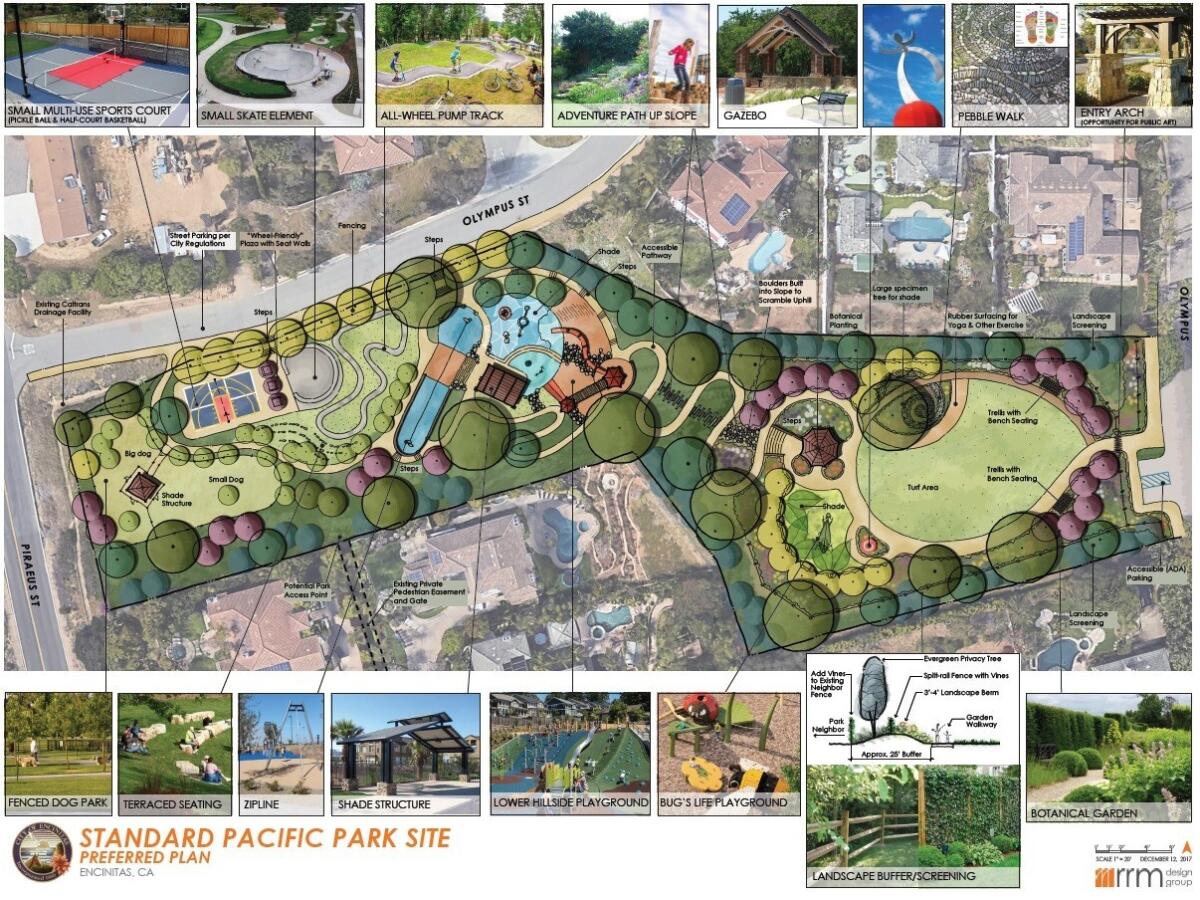 Sign up for the Encinitas Advocate newsletter
Top stories from Encinitas every Friday for free.
You may occasionally receive promotional content from the Encinitas Advocate.