Aerial holiday light tour offers a Santa-eye view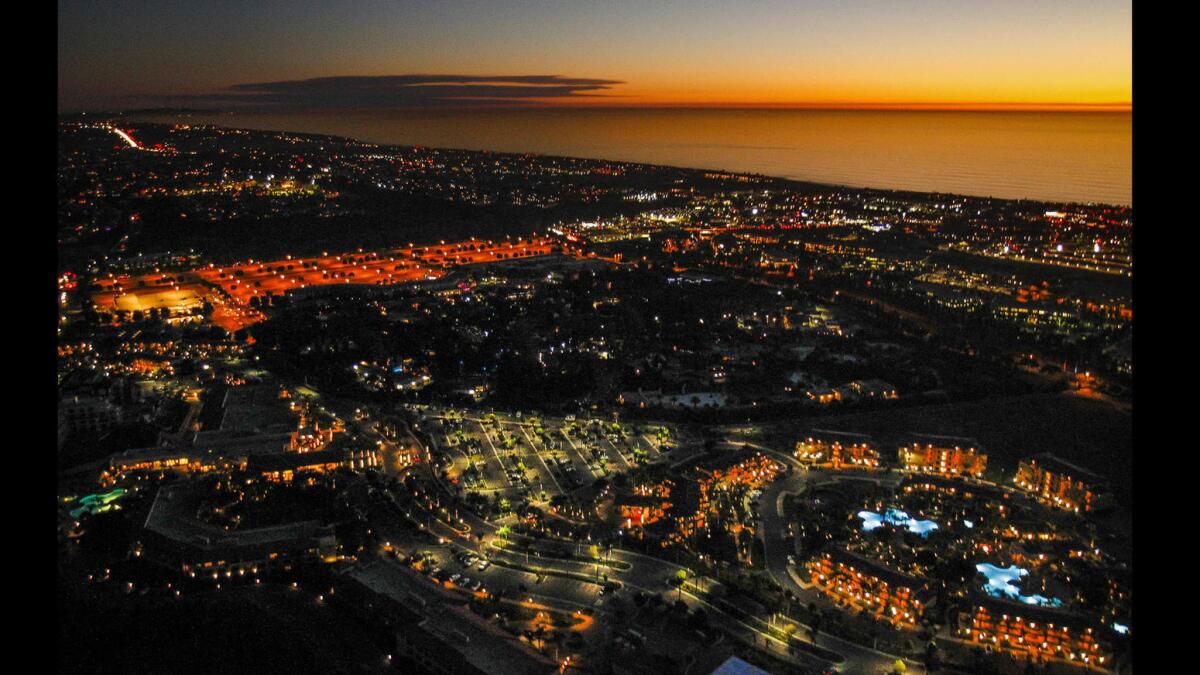 If your family's annual tour of local Christmas lights has grown stale, a new aerial sightseeing service gives you a perspective seen only by Santa Claus.
This month, Carlsbad pilot Kurt Dawson introduced the region's first holiday lights tour by helicopter. The half-hour round-trip from Oceanside Municipal Airport takes up to three passengers over a vast landscape of twinkling holiday decor in Oceanside, Carlsbad, Encinitas, Solana Beach and Rancho Santa Fe.
From an altitude of 400 feet, the Christmas lights are easy to spot, whether they're on commercial buildings, like the former Twin Inns mansion in Carlsbad Village, or on residential streets, like a home in Encinitas that has the words "Happy Holidays" in white lights blazing from its rooftop.
Palatial mansions in Rancho Santa Fe are hidden from public view behind gates and trees, but from the air you can see large light displays in their front and back yards. Leucadia, Encinitas and La Costa have a lock on the most numerous and elaborate light decor.
Surprisingly, the brightest lights in every city are the strings of white bulbs illuminating Christmas tree lots. And the night-time glow of headlights and tail lights on Interstate 5 creates its own peppermint-striped ribbon of traffic as far as the eye can see.
Dawson, 33, came up with the idea for the holiday lights tour last year while taking customers on a sunset tour with his 1-year-old business, Waverider Helicopter Tours.
"I was looking down that night and noticed how clearly you could see the lights and how some whole streets were lit up. I thought it might be a fun idea for a tour," he said.
Oceanside resident Jason Alex was one of the first customers to sign up when Dawson did a few test runs of the holiday lights tour last winter.
"It was really cool," Alex said. "We went over Oceanside Harbor and all the boats in the harbor were decorated for the boat parade. Then we went by Legoland and it was lit up. Even the Del Mar Fairgrounds had some lights."
Alex said he was impressed by how well Dawson knew where to find the best lights and would circle around some neighborhoods to give him a better a look at the decorations below.
"It was something I never would've gotten to see otherwise," he said. "We got a really good view of everything."
Dawson grew up in Ocean City, Maryland, where he spent seven years in the U.S. Coast Guard doing beach patrol. With the G.I. Bill, he went to flight school, fulfilling a lifelong dream. Seven years ago, he got his pilot's license. Two years later, he was licensed to fly helicopters and has since logged more than 1,600 flight hours.
"I really liked flying helicopters a lot more," he said. "It's so much more my style. It's all about eye-hand coordination and there's more freedom."
Two years ago, he fulfilled another dream and moved across the country to Carlsbad. He wanted to start his flying business where he could be guaranteed good weather year-round and indulge his passion for surfing.
In fall 2016, he launched Waverider Helicopter Tours with his girlfriend, Danielle Mulvey, who serves as company marketing manager. Their pride and joy is a leased Robinson R44 helicopter, which they keep in a private hanger at the Oceanside airport.
Dawson started out doing aerial photography and survey work as he's gradually built an aerial tour business. He plans to expand into charter flights as soon as he gets clearance from the Federal Aviation Administration.
The blue-and-gold Robinson copter has leather seats, Bose noise-canceling headphones, heating and air-conditioning. For the holiday light tours, Dawson pipes classic Christmas tunes by Bing Crosby and Nat King Cole into the headphones.
Waverider offers tours ranging in price from $40 per person for an 8-minute flight around Oceanside Harbor to $225 for a 45-minute trip along the coast's best surfing spots from Oceanside to La Jolla. The half-hour lights tour is $150 per person.
Daisy Renteria of Laguna Beach took her first-ever helicopter ride two weeks ago with Waverider. A fan of sunset hikes, she wanted to take a sunset ride over the ocean where the helicopter is higher than the setting sun.
"I didn't say much during the trip because I was speechless over the way the clouds seemed to be on fire," she said. "It was just phenomenal. I loved being able to see places in North County that I've never seen when I'm driving down here."
Dawson said he loves looking at the Christmas lights from his "big glass bubble" in the sky, but his favorite flying moments are when the sun is shining. When he flies down the coast at midday, he can often see dolphins and even whales swimming below. And the most breathtaking flyover spot, for him, is the Lake Hodges Dam.
Dawson has learned enough about North County's geography to do guided commentary for an hour, but he talks as much or as little as his customers want. He's also provided the setting for numerous wedding proposals, including one where a couple flew over a Carlsbad beach where the groom's family had spelled out "marry me?" on the sand below.
"I just love being up there," he said, "and I love being able to share what I've seen and learned with other people."
Holiday light tours can be booked at 5, 6, 7 or 8 p.m. nightly through Jan. 1 through the website, waveriderhelicoptertours.com or by calling (760) 691-9144.
Pam Kragen is a writer for the San Diego Union-Tribune.
Sign up for the Encinitas Advocate newsletter
Top stories from Encinitas every Friday for free.
You may occasionally receive promotional content from the Encinitas Advocate.