Model plane flying club needs a new home
For two decades, they have gathered in a big, mostly vacant field in Fallbrook, drawn together by their love for — some would say obsession with — radio-controlled airplanes and helicopters.
In blissful isolation from the residential neighborhoods and retail centers miles away, members of the Palomar Radio Controlled Flyers club have enjoyed building, repairing and flying their somewhat pricey and noisy aircraft without annoying anyone. Because there hasn't been anyone around.
"Within a 1.1-mile radius, 1,100 homes are going in and right past that tree line is where Palomar College is building a new campus," said Steve Gebler, the incoming president of the club and a resident of Encinitas.
Gebler speculated that, in a few years, the site where the 200-member club now gathers could be the future home of a McDonald's or a Mervyn's, or even a car wash. Maybe all three.
The property sits in the northeast corner of the intersection of state Route 76 and Interstate 15. Its remote location allows members to fly without concern of hitting anybody or annoying anyone with the whining and buzzing the aircraft create as they take off and land on the 600-foot-long runway.
Gebler and current club president Bill Hill said even though the property is not currently slated for development, there is little doubt that will soon change. Land surveyors and engineers have been seen on the property recently. And before that happens, they said, some homes in a nearby development under construction now called Horse Creek Ranch will soon be occupied.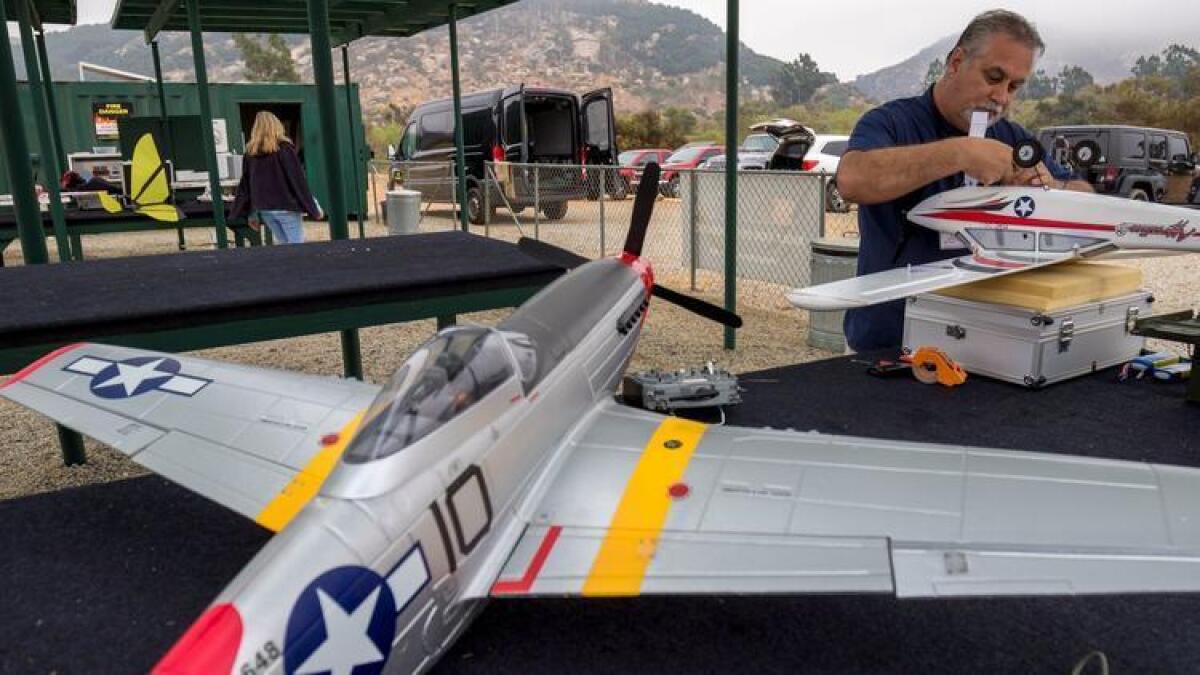 "In two years, those people are going to be complaining, and once that starts, we're going to be shut down," Gebler said.
Nearly a decade ago, the county approved three big housing developments for the area, known for years as the "Three Ps," but it wasn't until recently, with the revitalization of the economy, that construction has begun.
The 90 acres the club uses is on private land owned by a development company based in Sacramento. The club has insurance that protects the owner from liability and in return the hobbyists' presence has been an effective deterrent to trespassers who in past decades would dump trash there.
For some time now, Hill and Gebler have been looking for somewhere suitable to relocate the club's flying field. A privately owned piece of property would be best. So far, they've had no luck. That's unsettling for the men; flying the small planes is a big part of their lives.
A retired BMW mechanic, Hill is the current president of the club. He has no idea how many planes he owns — perhaps 100, he guesses. He admits he's obsessed, like many of the club's members.
"My garage is filled with airplanes," said Hill, 70, of Escondido. "My attic is filled with airplanes. And I'm still building. I've got a few planes in the works right now."
"Everybody has a different interest," Gebler said. "Some people like to design the airplanes. Some guys just like to build them. Other guys want to fly them and that's all they want to do. And all of us love to repair them."
One of those who loves flying them the most is Eric Armstrong, a banking and finance industry head hunter, who one recent morning was performing advanced tricks with his 60-inch Extreme Flight Extra 300 plane.
"For me, it's therapeutic," he said. "Day-to-day life stuff is a grind. This is therapy for me. It is a challenge to master some of these (flying tricks). There is a sense of accomplishment when you can get better at a craft."
Armstrong flies for hours most every weekend morning at the field, something he said his wife fully supports. Several members said the time consumed by the hobby is similar to time spent by golfers on the links, and though the sport isn't cheap, it costs less than a regular golf addiction.
"My wife sent me an article the other day with a note that said, 'Keep Flying'," Armstrong said. "The article said the one common thread between all these (mass) shooters is none of them had a hobby and they had no associations. They were all kind of loner people. She said keep flying, you're on edge all the time when you're not."
Hill has been involved in the hobby since he was 28 years old. He was looking for something to do with his father to take his Dad's mind off the recent loss of his wife, Hill's mother. They briefly flew model planes at Torrey Pines, but his father quickly crashed two and decided it wasn't for him.
"He never got into it, but I got way into it," Hill said. "I just got hooked."
Hill said the club is important to him for many reasons.
"There are a lot of ways you can spend your time," Hill said. "But I think probably for me one of the most important things is the camaraderie. I don't know where else I would go to meet guys of such a high caliber. It's a wonderful group of guys. Just top-notch."
Gebler said members of the club are very passionate.
"You've heard talk about the opioid addiction that's going on right now? You ain't seen nothing until you've seen guys flying airplanes."
The Palomar R/C Flying Club has existed since the 1950s and today is populated by a diverse group of people, almost all men, who come from every walk of life. Most live in San Diego's North County or Riverside County, but some come from elsewhere. High-powered business executives, former mechanics, ex-fighter pilots and others interact daily at the field, drawn together by the various components of their singular hobby.
The search for a new home has led Hill and Gebler to unsuccessful talks with government agencies who appear to have little interest in providing a flying area.
It was once hoped that the creation of the San Luis Rey River Park, a long-planned, miles-long park along the banks of the San Luis Rey River not far the current location might be a possibility. At one time, a flying field was in the master plan of the park, but the area where it was to be located was obliterated when Caltrans recently realigned and widened Highway 76. The field has been taken out of the master plan and won't be coming back, they've been told.
Gebler asks anyone who might have suggestions on a new location to give him a call at (760) 487-8723.
Harry Jones is a reporter for the San Diego Union-Tribune.
Sign up for the Encinitas Advocate newsletter
Top stories from Encinitas every Friday for free.
You may occasionally receive promotional content from the Encinitas Advocate.