City to hire advocate to 'speak for trees' in Encinitas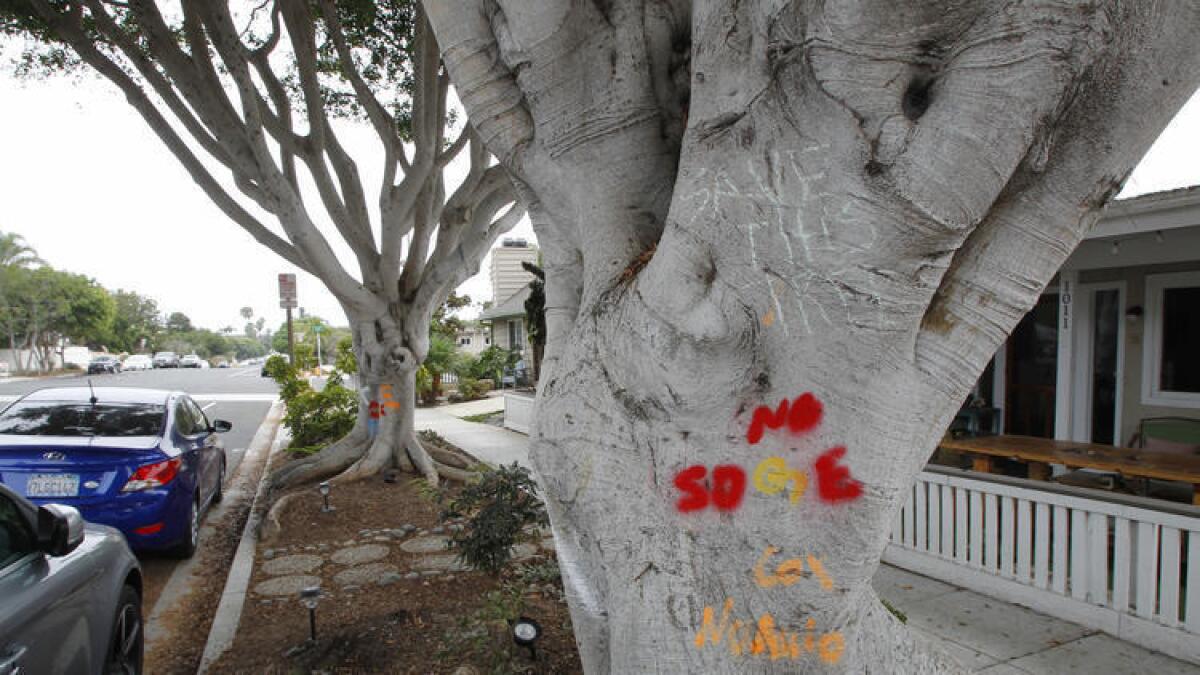 The time has finally arrived to hire a "Lorax" to speak for the city's trees, just like the famed hero in the Dr. Seuss' children's book, the Encinitas City Council decided last week.
The council voted Dec. 14 to take $50,000 left over in a Public Works Department account and use it to pay for the services of a professional arborist on a part-time, contractual basis.
The city also will create a new volunteer advisory group — an Urban Forest Advisory Committee — with at least five community members who have experience with urban tree issues.
The committee will review city policies and plans, and offer comments.
Mayor Catherine Blakespear said it's obvious the city needs to do more regarding tree advocacy, citing the recent uproar over the proposed removal of some massive downtown ficus trees.
After word surfaced that the city was planning to chop down four huge ficus trees and might consider taking out more downtown trees in the future, community members formed a "save-the-trees" group and successfully lobbied city officials to change their minds. The trees are now undergoing extensive pruning, and that new trimming work also has been controversial. The tree advocate's first job will be handling the downtown ficus situation, council members said.
The ficus tree uproar is the latest in a long line of tree controversies in Encinitas. In 2009, a tree-sitter lived in one of Orpheus Park's trees for a week in an unsuccessful attempt to save it from the chopping block. Removal of the elderly, but massive, eucalyptus trees along the railroad in Leucadia also has been a source of conflict for years.
Former Councilwoman Lisa Shaffer, who led the subcommittee that proposed the tree advocate position and helped draft proposed revisions to the city's municipal tree policy, said last week that she is pleased Encinitas is moving forward with tree protection efforts.
"I'm happy that we're going to go that way," she said.
Encinitas has many city departments that deal with tree issues, but no one person speaks generally for the trees, she said. For example, the city's Public Works employees handle situations when trees need to be removed to make way for street widening projects, she said, and city planners deal with tree issues on proposed development sites. The Parks & Recreation Department takes care of tree problems in city parks.
"You need some neutral, objective person who can offer the trees' perspective" and isn't advocating for a particular project, Shaffer said.
Like the famed "Lorax," the tree advocate will offer "advice and recommendations only" and will not trim or remove trees, in order to avoid any potential financial conflicts, a city staff report stresses. The person will focus on city-owned trees along roadways and parks, as well as a few trees on private property that their owners have agreed to designate as city "heritage trees."
The tree advocate will work on a contractual basis at least until the end of the current fiscal year in June 2017. Later, if the concept is successful, tree advocacy might become part of a city staff employee's job description, the city staff report states.
While the tree advocate and the advisory committee plans got the green light from the council Dec. 14, council members held off on voting on proposed revisions to the city's municipal tree ordinance, saying those changes still need a bit more tweaking. They're expected to come back to the council early next year.
— Barbara Henry writes for The San Diego Union-Tribune
Sign up for the Encinitas Advocate newsletter
Top stories from Encinitas every Friday for free.
You may occasionally receive promotional content from the Encinitas Advocate.