NFL kicking legend goes into San Dieguito Hall of Fame
Encinitas' hometown hero Tom Dempsey was inducted into the San Dieguito High School Academy Hall of Fame on Friday, Oct. 14 with a ceremony at the school's bell tower.
Dempsey, who graduated San Dieguito in 1964, is a former NFL kicker who, in 1970, set the record for the longest field goal in the league with a 63-yarder as a New Orleans Saint. The mark stood for 43 years until it was finally broken, by one yard, in 2013.
"It was broken by one yard in the Mile High City of Denver," said Bill Sullivan, Dempsey's best friend from the class of '64. "Tom's kick, at sea level, in the rough, torn-up field in Tulane Stadium was truly one of the greatest athletic accomplishments of all time."
What made Dempsey's kick and all of his athletic achievements even more impressive is that he was born without a right hand and only half of his right foot.
"That was irrelevant to Tom," Sullivan said, recounting classmates' recollections of Dempsey doing one-handed chin-ups on the bars of the elementary school playground, being a left-handed pitcher and a strong one-handed hitter.
Sullivan remembered the first time he saw Dempsey at Earl Warren Middle School in 1960 at a Pony League All Star game, a kid catching the ball in a glove on his left hand, tucking the glove under his right arm, dropping the ball into his right hand and throwing it.
"Tom is truly a treasure and a legend in the NFL," Sullivan said. "He is also our treasure, and our legend."
Dempsey, who lives in New Orleans, is fighting dementia and was unable to attend but his family was there from Louisiana to accept the honor, including his wife Carlene, daughters Ashley and Meghan, son Toby and grandson Dylan. Tom's sister, Jan Dempsey McArthur, was also in attendance with her husband.
Encinitas City Councilman Tony Kranz, San Dieguito class of 1977, presented a mayoral proclamation, making it Tom Dempsey Day in the city of Encinitas. Kranz said Dempsey is "extra special" for him as he has fond memories of Dempsey throwing out the first pitch at little league games when he was a young boy.
"He was a hero to us young kids back then because he was playing football at the pinnacle of the sport," Kranz said. "When he set the record, we were pretty certain it was going to last forever. It didn't quite last forever but it lasted long enough for us to take a lot of pride in his accomplishment."
Born in 1947, Dempsey grew up in Encinitas and attended Encinitas Elementary School and Oak Crest Middle School. His parents Huey and Laverne were very active members of the Encinitas community.
He excelled at wrestling and track. He was a dominant shot putter and graduated San Dieguito as the league's heavyweight wrestling champ and held the school record for most wins in the heavyweight division. For the Mustang football team, he played on the offensive and defensive line and was known for his "bone-crunching hits."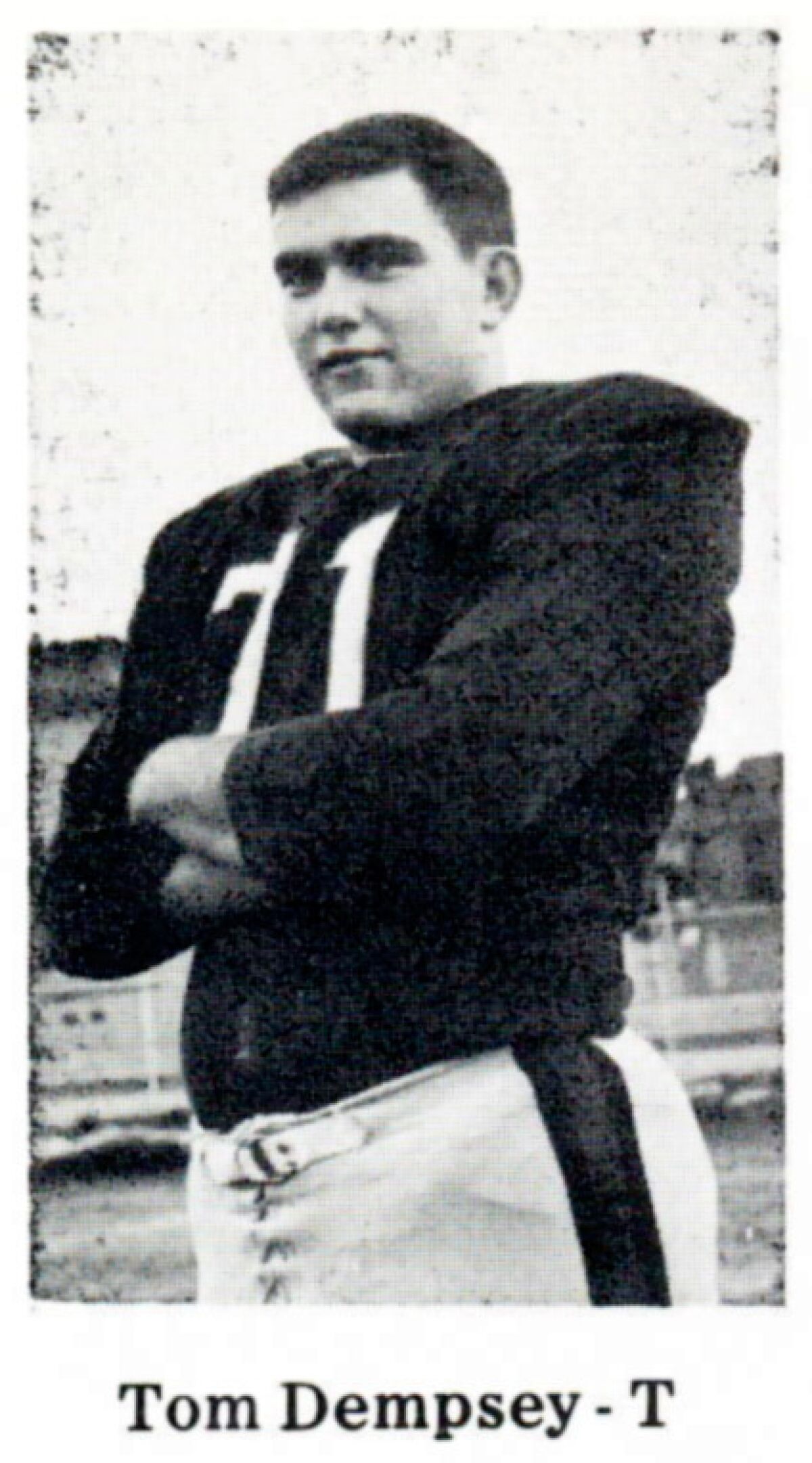 "You had to be really tough to play on the line on that team and Tom really was," Sullivan said, recalling that his friend would chow down after practices at Frank's Burgers in downtown Encinitas where you could get five burgers for a dollar.
Dempsey went on to play football at Palomar College as a defensive lineman and it was there that he started to kick.
"I thought some of his kicks would go into orbit," said Sullivan, noting he would line up as a kick returner in the end zone and Tom would sail the ball beyond the end line.
Dempsey played semi-pro football in Massachusetts and was picked up as a placekicker in 1969 by the Saints. After a 1969 Pro Bowl appearance, Dempsey had an 11-year career in the NFL with the Philadelphia Eagles, Los Angeles Rams, Houston Oilers and Buffalo Bills.
As part of the bell tower ceremony, alumni Charles Higgins played the radio broadcast from a Nov. 8, 1970 game against the Detroit Lions in which Dempsey sealed the Saints 19-17 victory with just two seconds left in front of 67,000 fans.
"Holy daylight, I've seen 'em all but this is the most exciting moment in Saint history!" the announcer proclaimed. "Two seconds left, here's the snap…Dempsey kicks, it's on the way, it is… good! It is good! The Saints have won! The Saints have won! The stadium is wild, Dempsey is being mobbed!" he shouted over the roar of the crowd and cheers from alumni at the school.
As Sullivan said, "Tom completed the impossible," beating the previous record by seven yards. The 63-yarder was matched only three times over 43 years until the Denver Broncos' Matt Prater hit a 64-yard field goal in 2013 to break the record.
At the NFL Hall of Fame in Canton, Ohio, his kick is recognized in an exhibit and he is also a member of the American Football Association Semi-Pro Hall of Fame and the Palomar College Hall of Fame. As of Oct. 14, he is forever a part of San Dieguito's Hall of Fame.
In 2008, Dempsey came to Rancho Santa Fe as part of the San Dieguito Alumni Lecture Series and spoke about how people often asked his parents how to raise a child who was born "less than perfect," who faced challenges as he did. Dempsey said his parents would tell them: "Don't be afraid to let your child fail."
"And if you think about it, who are the only people we know who have never failed?" Dempsey asked the audience. "They're the people who've never tried anything."
Sign up for the Encinitas Advocate newsletter
Top stories from Encinitas every Friday for free.
You may occasionally receive promotional content from the Encinitas Advocate.