Exposure women's skateboarding event returns Nov. 5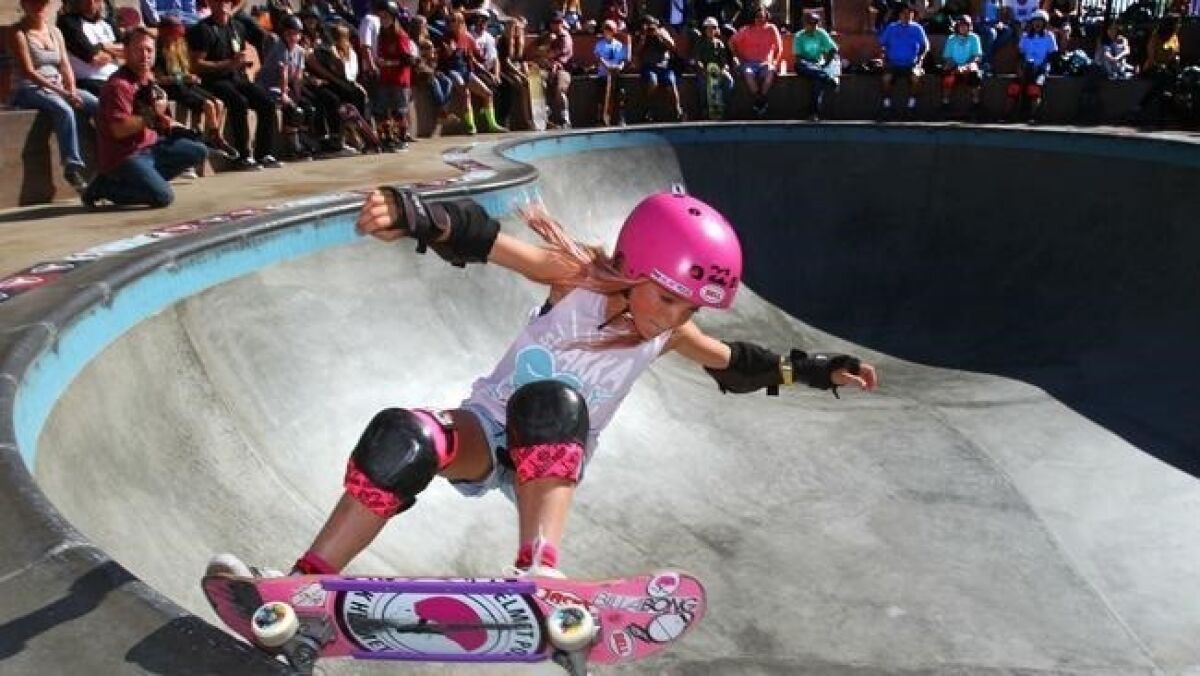 The world's top female skateboarders are coming to Encinitas on Nov. 5 for Exposure, a women's benefit event with the mission of empowering women and girls through skateboarding.
Highlighting the progression of females in the street, bowl and vert disciplines, Exposure skate and Encinitas Parks and Recreation are teaming up to bring this event to Encinitas Community Park free of charge from 9 a.m. until 6 p.m.
"The fastest growing demographic in skateboarding is women (and) Exporsure continues to lead the way," Andy Mac, one of the many action sports professionals slated to appear, said in a news release.
During this action-packed day, attendees can watch their favorite female skaters compete in the Zevia Vert contest on the Tony Hawk Industries Vert Ramp, in the XS/Vans Bowl contest or in the street contest. Families can participate in free Yoga and Learn-to-Skate Clinics or spend the day shopping and getting autographs in the vendor village.
Skateboarders from Australia, Brazil, Holland, Colombia, Argentina, Canada, Japan and all over the U.S. will compete for the chance to take home a piece of the $50,000 prize purse. Past skaters include: Lizzie Armanto, Vanessa Torres, Allysha Bergado, Lacey Baker, Alexis Sablone, Mimi Knoop, Alana Smith and Nora Vasconcellos.
"The past Exposure events have been incredible. Each one gets better and better," said Bergado, the 2015 Vert Champion.
On the amateur side, street skater Anacleta Rendon won the trip of a lifetime in the Exposure International Trip competition and will be flying in from Colombia for the event. Other entries to the video competition came from South Africa, Indonesia, Hungary, Germany and more.
Each year, the event features autograph sessions with action sports stars such as Mitchie Brusco, Cara-Beth Burnside, Pierre-Luc Gagnon (PLG), Lyn-Z Adams Hawkins Pastrana, Steve Caballero, Austin Poynter, Josh Kerr and Tom Schaar.
And if all of that wasn't reason enough to come experience the event, Exposure donates proceeds to Community Resource Center's Carol's House, a local shelter for survivors of domestic violence that provides social services to facilitate transition to healthier, happier and safer lives.
"Exposure's funds have supported children and their families for counseling therapy, essential clothing for school, school supplies and family recreational outings." said Rebecca Palmer, director of Programs at CRC. "Exposure's funds have made all the difference for these children who are fragile."
— Submitted press release
Sign up for the Encinitas Advocate newsletter
Top stories from Encinitas every Friday for free.
You may occasionally receive promotional content from the Encinitas Advocate.