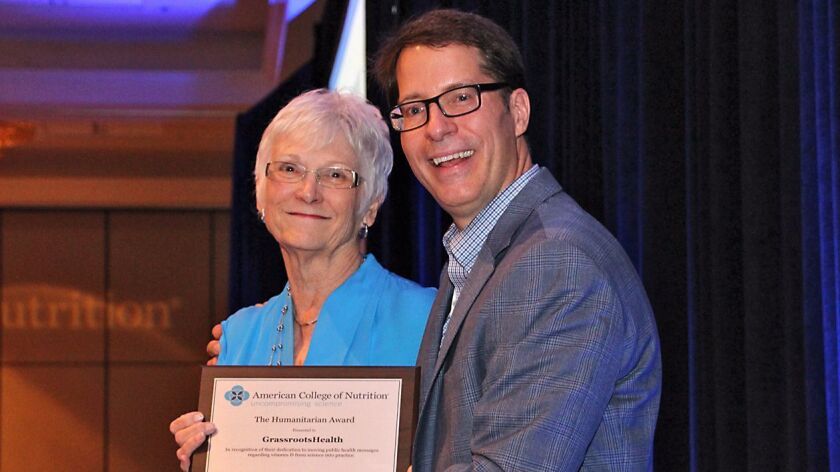 The American College of Nutrition (ACN) honored GrassrootsHealth, an Encinitas nonprofit, with a Humanitarian Award at the organization's 57th annual conference, which was held in San Diego in early November.
The Humanitarian Award is presented to individuals or organizations that have worked selflessly and effectively in the broader field of nutrition to benefit humanity, and past recipients include UNICEF, David Perlmutter (author of Grain Brain) and Vitamin Angels.
This year, GrassrootsHealth was honored for its tireless effort to move vitamin D research into practice. In addition to working with over 10,000 individuals in their D*action program to test vitamin D levels, GrassrootsHealth also teams up with hospitals and cancer centers across the country to make resolving vitamin D deficiency standard care.
Since it was founded by current director Carole Baggerly in 2007, GrassrootsHealth has tried to bring the low-cost, safe nutritional benefit of vitamin D to light.
"This award is especially deserved given the crisis of vitamin D insufficiency and deficiency across America, especially in minority communities, and its profound health impacts," ACN Executive Director Michael Stroka said in a news release. "We are grateful to Carole for her team's work on behalf of human health, and are pleased to be able to recognize and contribute to their work in this way."
The Humanitarian Award comes with a monetary donation derived from proceeds of the exhibit hall. This year, the donation that accompanied the award was $28,000. GrassrootsHealth will use the funds to further their work of moving vitamin D research into practice — helping to expand their public reach and education.
"I share this award with the 48 vitamin D scientists and researchers who share a common goal and have worked countless hours to this end," Baggerly said. "Together, we have created a call to action — to get the world to the recommended 40 to 60 ng/ml (100-150 nmol/L). Participating medical institutions are realizing both health benefits and cost savings in their practice by optimizing vitamin D levels. These institutions either participate in our pregnancy project, Protect our Children NOW! or our new Cancer Prevention project."
— Submitted press release
---