One-on-One with EUSD Farm lab director Mim Michelove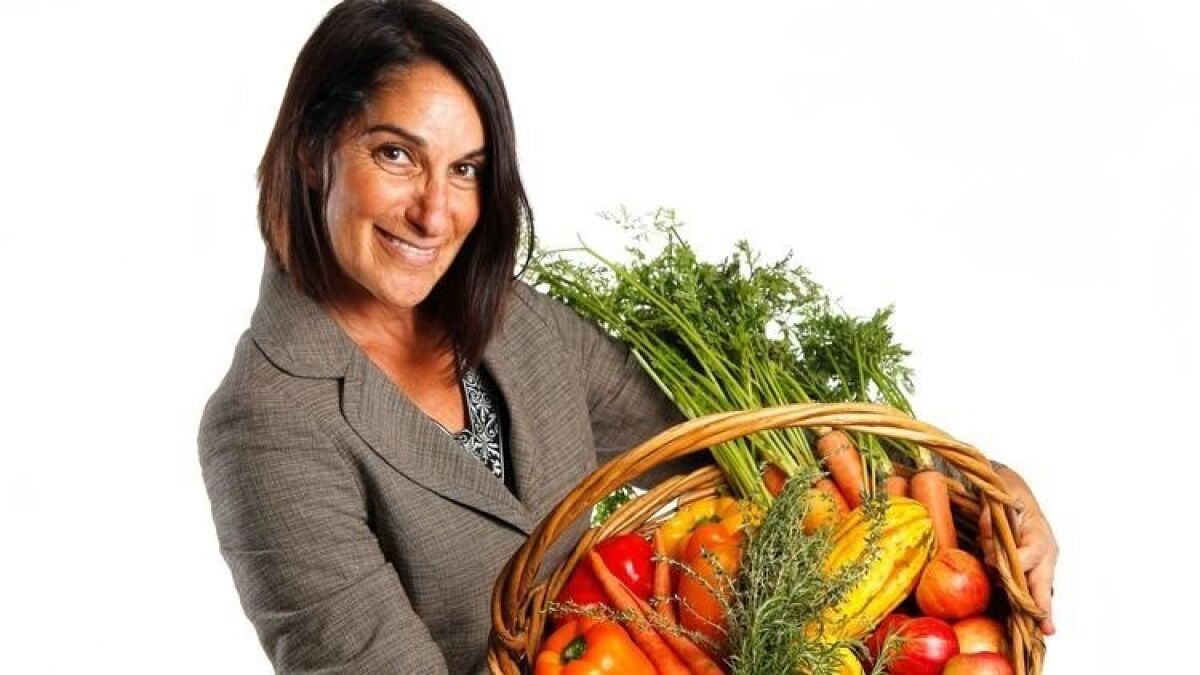 Mim Michelove has long been interested in health and nutrition, but came to her current career after first pursuing celebrity photography and welding. The first allowed her to observe people and behaviors along with being around well-known personalities. The second career let her create with her hands while still using architectural concepts, the way she did in her photography. Once she and her husband started a family, though, she was ready to move on.
"Once I had a child, my longtime interests in healthy food and healthy planet came sharply into focus as a fundamental tenet of parenting," she says. "The natural next step was to find the right place to live, and a home where we could grow our food and literally set down our community roots."
She's now immersed in the world of nutrition, gardening, farming and environmentalism through a number of roles, including that of director of the Encinitas Union School District's Farm Lab. She provides education to the district's students and the community, along with designing gardens for schools in the district and working on various boards and committees related to preserving the environment.
Michelove, 56, lives in Encinitas with her husband and their 14-year-old son. She took some time to talk about the Farm Lab ...
Q: Why did you choose to focus on the environment and nutrition?
A: While I was a vegetarian the majority of my adult life, with a three-year foray into veganism, there is nothing like having children to make you keenly aware of the importance of clean food, air and water when it comes to basic health. Not everyone in the world (or our communities) has these basic rights met, and once you learn about how food can improve immediate and long-term physical and mental health, it becomes a natural progression to go beyond our own children to try to provide educational opportunities for a whole classroom, a school, a district, and the greater community.
Q: What is the Farm Lab?
A: It's a satellite school on a 10-acre site that houses an innovative new campus and educational garden, a community garden, a public orchard and fields where food is grown for the district's school lunch program. During a full-day visit, kindergarten through sixth-grade students from each of the nine district schools visit Farm Lab for a full day and receive experiential lessons that demonstrate design, research, engineering, art, math and science (DREAMS) with a focus on nutrition and the environment. The campus is adjacent to the certified organic farm, where school lunch grows, and it makes it easy to build excitement about what is on the menu and helps students make meaningful connections between their actions, their health and the health of the planet.
Q: What are your responsibilities as director of the Farm Lab?
A: A typical day may include anything from working with architects to writing grants, developing plans for classrooms, working with farmers on a crop plan or harvest schedule to collaborating with the director of child nutrition services on how to best implement the district's Farm to School program, which I coordinate for year-round implementation. Over the summer, the farmers harvest over 300 pounds of Farm Lab tomatoes and peppers every week. We deliver the bounty to Child Nutrition Services where they roast them to create sauce that is frozen for the following year's marinara and scratch pizza menu items. You may also find me studying engaging curricular ideas in science or the importance of incorporating the natural world into education, or giving tours to the many school districts from around North America that are interested in implementing similar educational opportunities.
Q: What goes into developing a school garden program?
A: The first, and most important, issues to address are location and existing support of the project. Location is key for obvious reasons, a garden needs to get the right amount of sun for what will be grown and it needs access to proper irrigation. Ideally, there is also room for expansion as the garden becomes successfully integrated into the educational program. At minimum, having support from a principal, teacher or the (Parent Teacher Association) offers the hope for sustainability. Nationally, we see that reliance on one champion is not enough to keep a garden program going.
Q: What do kids learn about nutrition?
A: I'm a big believer that children learn, and retain, more information through experiential education than being told or even reading facts. There is a cliché phrase that we use in the garden ed world: "When children grow it, they eat it." Sometimes a cliché is there for a reason. Data shows that children who garden are more likely to try more foods and open their palates to healthier options. It is far more engaging and a fun way to learn and to develop lifelong healthy habits.
Q: Tell us about the fruit grove.
A: This grove shows residents that removing turf, using drip irrigation and incorporating fruit trees in the landscape is practical, beautiful and productive. We selected commonly found, low-water trees that one could plant at home, but found special varieties for this public grove, including black and green coastal olives, loquat, a couple of pineapple guava varieties, a locally bred fig called strawberry jam and pink and yellow pomegranates. Even in a drought, planting young trees is beneficial and can save water. They help to reduce soil erosion, stabilize soils and significantly reduce storm water runoff. Fruit trees shade landscapes and, eventually, structures to help minimize water and energy use. They provide clean air and cooler temperatures — all while supplying nutritious food.
Q: Have you noticed changes in the students at these schools from before a garden was installed compared to afterward?
A: As the district grew its commitment to student health and wellness, we got salad bars at every school and students were excited to fill them with school-grown bounty. As students grew the food, the numbers of students who participated in the school lunch program increased. The students are not only savvy gardeners, they have added their voices to what goes into their lunches. Child Nutrition Services is constantly making school lunches healthier, more locally sourced and more fun.
— Lisa Deaderick writes for The San Diego Union-Tribune. This article was shortened from its original version.
---
Sign up for the Encinitas Advocate newsletter
Top stories from Encinitas every Friday for free.
You may occasionally receive promotional content from the Encinitas Advocate.