Supervisors, without debate, give initial approval to increasing their pay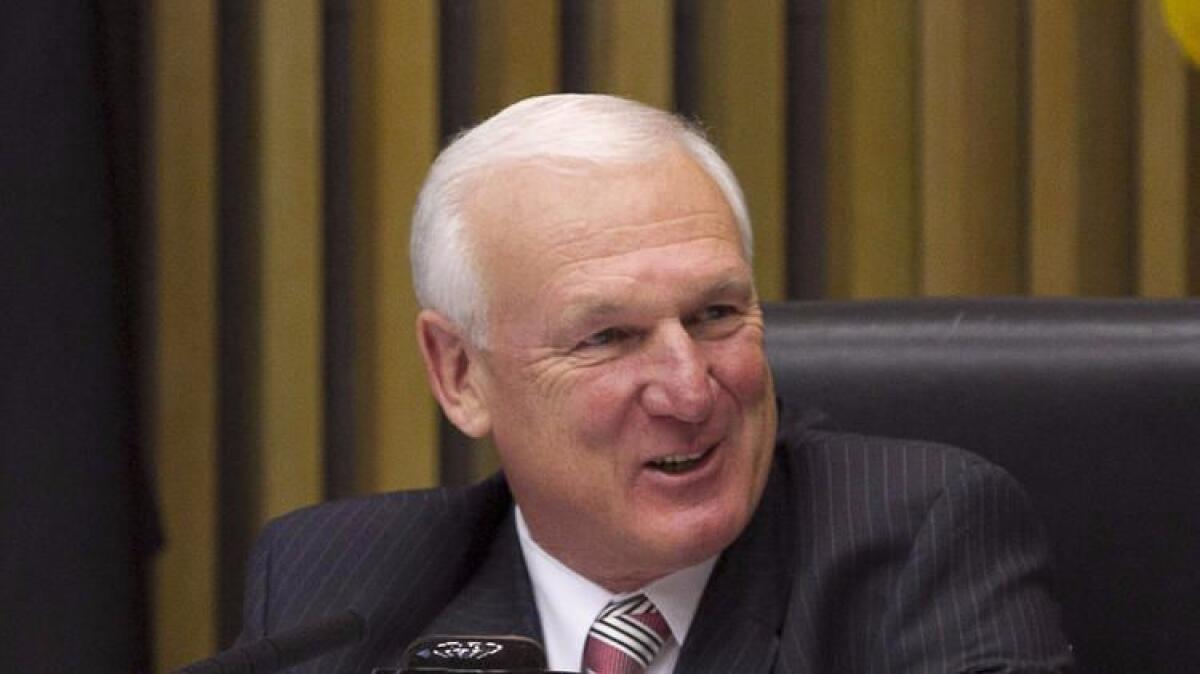 Without discussion or explanation, San Diego supervisors on Dec. 13 took the first step to approve a $19,000 increase in their salaries, which also would raise their pensions.
As a part of their consent calendar — where a variety of items on the meeting's agenda are considered simultaneously with a single vote — supervisors approved the first reading of an ordinance that will boost their compensation.
The only objector was Supervisor Dave Roberts, who used a procedural move that allowed him to vote in support of all consent calendar items with the exception of the pay increase.
The raise will be considered again on a second reading on Jan. 10 and will take effect on March 17 if passed. Items rarely fail at that point.
Dave Roberts did not explain his no vote during the Dec. 13 supervisors' meeting, and his office did not respond to a request for comment that day. He lost his bid for re-election and will be replaced on the board by Encinitas Mayor Kristin Gaspar ahead of the second vote.
All other supervisors declined or did not respond to requests to comment on their vote. On Monday, Chairman Ron Roberts released a statement that said the raise is justified.
"It has been nearly 20 years since we adjusted the formula for members of the Board of Supervisors and salaries have risen less than 1 percent annually over the last nine years," he said. "San Diego County has the second largest population in the state and in terms of square miles is one of the nation's largest counties, larger in size than two states. I am very comfortable this adjustment is fair and justified."
While it has been 18 years since the formula changed, San Diego was then, as it is now, the second-most populous county in California, and remains geographically larger than Rhode Island and Delaware. Supervisors currently earn $153,289.60.
In terms of total monetary compensation — a figure that includes base pay, car allowances and other benefits but excludes healthcare costs — San Diego in 2014 was fourth among California counties, behind Los Angeles, San Bernardino and Riverside counties, according to the California Department of Human Resources.
Compensation formulas vary between counties and aren't completely comparable, and can be complicated. San Bernardino County's charter caps the cost of both salaries and benefits based on an average of compensation to supervisors in Riverside, Orange and San Diego counties. Consequently, if San Diego's supervisors raise their pay, there will also be a pay hike in San Bernardino.
Under the existing policy, San Diego supervisors' base pay is set at 80 percent of a Superior Court judge's salary, which is currently $191,612. But if the ordinance introduced by Supervisor Ron Roberts is passed next month, the index will change to 85 percent from March 17 to Dec. 7, and to 90 percent thereafter.
Supervisor's regular compensation will go from $153,289.60 to $162,870.20 and then $172,450.80 provided judicial pay doesn't increase as well. It amounts to a 12.5 percent increase in pay in just under nine months.
The switch will cost government at least $95,806 more per year, provided judges' pay does not change.
The vote drew criticism from Service Employees International Union Local 221, a group that represents more than 10,000 county workers, including librarians, social workers, nurses and others. Chapter President Tracey Carter said she hopes supervisors keep any of their own raises in mind when her union goes into contract negotiations.
"My fellow public servants are asking if the board will be as generous to their employees and their clients as they are to themselves," she said in a statement.
Superior Court judge pay is also fluid and relies on a complex formula. By law, judicial salary increases are determined by multiplying the current base pay of all justices by the average percentage increase in pay of the current fiscal year for state employees. The average percentage of pay increase is a factor of the 21 labor unions of varying size and salary structures that represent state employees.
While the ordinance will most immediately impact supervisors' salaries if passed, it increases their pensions as well. Pensions for retired county employees are based on their highest salary rate and that salary must be earned for at least one year.
If the pay hike increases is passed, all incumbent supervisors will qualify for the higher pension by the time they leave office, but it's unclear exactly how their pension payments will increase. Supervisors auto allowances are also included in supervisors pension formula.
Supervisors regularly approve items on consent calendar, and sometimes pull particular measures to make brief comments, observations, or have discussions. On Dec. 13, they did not pull the pay item from the consent calendar for additional review, and no one from the public spoke on the matter.
— Joshua Stewart writes for The San Diego Union-Tribune
Sign up for the Encinitas Advocate newsletter
Top stories from Encinitas every Friday for free.
You may occasionally receive promotional content from the Encinitas Advocate.