"Holli"day...Anyday giving back to bulldogs in upcoming event
Ever since she took in her first bulldog years ago, Holli Lineau has wanted to give back to more of the flat-faced canines.
An avid cook and entertainment host, Lineau, of Rancho Santa Fe, decided to combine her talents in the kitchen and at home with her philanthropic desires. In April, she started "Holli"day...Anyday?, an organization where she hosts events that raise money for organizations such as Southern California Bulldog Rescue, Breast Cancer Angels and Shelter to Soldier.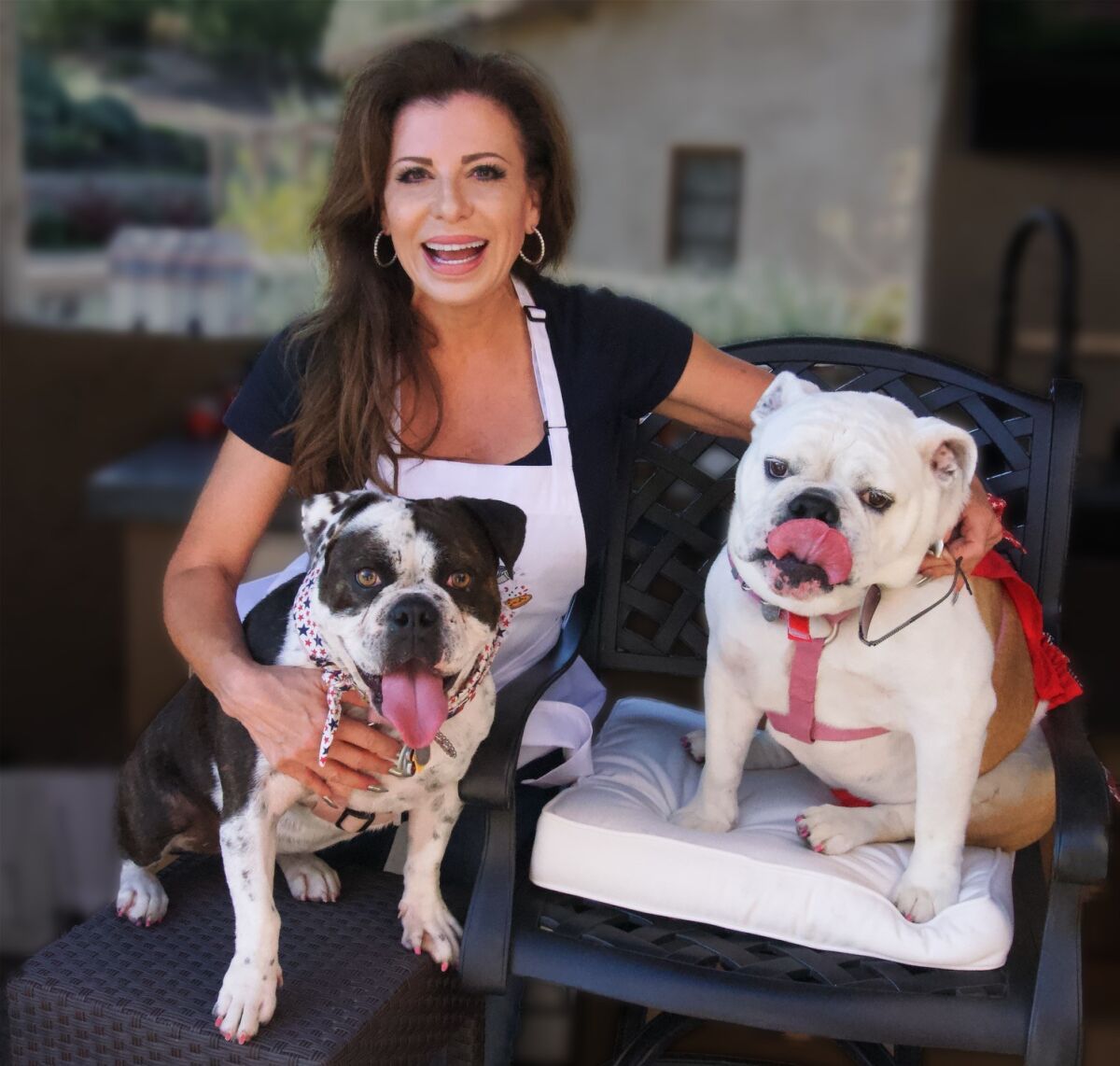 Lineau and "Holli"day...Anyday will debut the Pups in the Park event on Sept. 29 to benefit Southern California Bulldog Rescue. The family- and dog-friendly event, from 2 to 5 p.m. at Lineau's private three-acre estate, will include brew tasting, Mexican food, cocktails, a silent auction, live music and more.
Lineau, who also hosts a cooking show on Youtube at https://bit.ly/2MMmWz4, recently discussed "Holli"day Anyday and the upcoming Pups in the Park event.
What was your inspiration for "Holli"day...Anyday?
Basically, it got started because I love to cook and entertain a lot. I'm very involved in a lot of different charities. We were brainstorming one day, and my husband had said, 'Oh you should have a cooking show.' I just always felt like it needed to have a little more meat to it than that. I decided to combine the cooking, entertaining and giving back to charities. I came up with the idea to take some of the things I'm already doing and use those to back up the charities in some way.
Why has it been so important to you to raise money for charities?
Basically, we're working with charities that don't have millions and millions of dollars. They're all grassroots and need all the help they can get. There are just so many animals out there that need to be helped, and it's just heartbreaking. I can write a check for $5,000 to a charity, and that's great. It was much better to be able to spread the word to other people. Part of this is just creating more awareness.
Do you have any favorite stories about helping a charity or getting other people involved?
We make wine on our property, and we harvest it every year. My friends love to come out and help us with that. We had a wine tasting back in June for Southern California Bulldog Rescue in San Juan Capistrano. We decided we were going to auction off a harvest party, which means you come to my house, we pick grapes and then we have a big pizza party afterward. We did the live auction, and there was a bidding war. They bid it up and bid it up [so much] that I had to offer a second experience. Now we have two different couples coming and each one paid $2,200 to come and pick grapes. So, we raised $4,400 for Southern California Bulldog Rescue.
Why have you chosen to benefit Southern California Bulldog Rescue with Pups in the Park and other past events?
They've never really been in San Diego. There used to [be] a rescue that helped English bulldogs in San Diego. Something happened, and it's just not around anymore. Now, Southern California Bulldog Rescue has had enough interest from people down here that volunteer and people willing to help. This is one of the first events that they will ever have down here. Hopefully, we can bring a lot of people to my house to fill the need.
What are your goals for "Holli"day...Anyday?
I want to increase awareness for people to realize that they don't need to give thousands of dollars [to charities]. They can be little [donations] or they can host a benefit party at their house and ask people to bring dog food for a local rescue that needs it. It doesn't need to be a big event. ... Down the line, maybe we'll create a sanctuary for animals. That's something we've talked about is bringing in anything from farm animals to domestic animals, but that would be definitely down the road.
Sign up for the Encinitas Advocate newsletter
Top stories from Encinitas every Friday for free.
You may occasionally receive promotional content from the Encinitas Advocate.