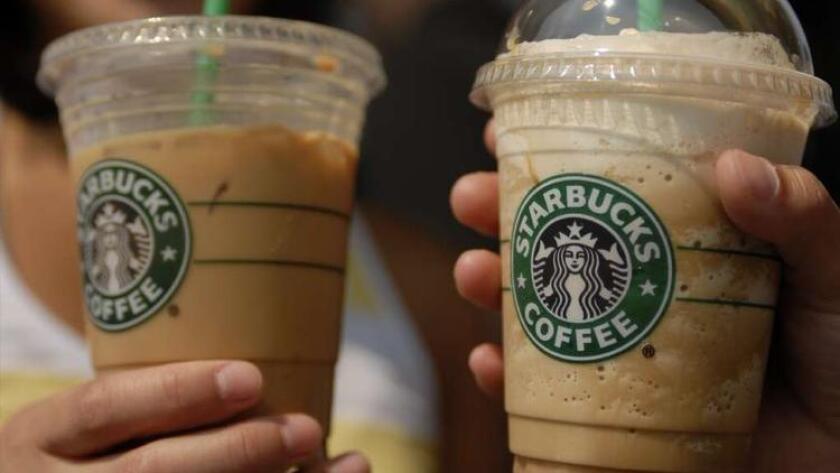 Plans for Encinitas' second drive-thru Starbucks got a green light Thursday, Feb. 15, from the city's Planning Commission, but the board set multiple conditions on the project to alleviate traffic congestion concerns.
Encinitas already has one of the region's busiest drive-through Starbucks. It's in Leucadia just west of Interstate 5 on Orpheus Avenue. This new quick coffee option is proposed to take over a now-vacant, former KFC restaurant in the Vons shopping center on El Camino Real.
A Starbucks already exists in that shopping center, but it's tiny, it's 25 years old and it's tucked inside a wing of the shopping center near the Pep Boys Auto Parts shop where parking is limited. And it will close once the new Starbucks opens, manager Adam Franzese said.
The new spot will be a "comfortable, neighborhood-gathering place" with twice as much seating and a larger patio area, he said, adding that they'll be overhauling the KFC building to make it meet LEED standards for environmentally friendly, "green" buildings.
Commissioners said the building renovation plans looked wonderful, but worried about the drive-thru's potential impact on traffic congestion both within the shopping center and on El Camino Real.
One factor weighing on commissioners' minds was that the city's first drive-thru Starbucks turned out to be wildly popular and had far more of an impact on surrounding roadways than initially forecast.
Commission Chairman Glenn O'Grady, who drives by that facility regularly, said he could support a drive-thru coffee place on El Camino, but not with the way the shopping center's Mountain Vista Drive entrance currently exists.
Fellow Commissioner Kevin Doyle said he wasn't keen on the drive-thru element at all, noting that the city has recently approved a Climate Action Plan that calls for reducing greenhouse gases produced by vehicles.
"Drive-thrus really aren't good for us," he said.
Doyle and O'Grady ultimately voted against the Starbucks plans. The three votes in favor came from Commissioners Al Apuzzo, Greg Drakos and Bruce Ehlers.
The three men agreed that the Mountain Vista Drive entrance, which dates from before the city's incorporation, is a nightmare for pedestrians to navigate, but said they could accept the drive-thru proposal with some modifications, including additional signage and pedestrian walkway improvements.
While getting into and out of the shopping center has its challenges, there is far more space in this planned drive-thru lane and in this shopping center than what the Leucadia Starbucks has, so vehicles waiting for their caffeine fix shouldn't end up backing up on to El Camino Real, they said.
Ehlers called it "almost the perfect compatible use" for the site, given that Starbucks' busiest time is from 6 to 10 a.m. when many of the other stores in the shopping center aren't open.
Apuzzo said he thought the new facility might help reduce the volume of traffic at the Leucadia Starbucks.
--Barbara Henry is a freelance writer for The San Diego Union-Tribune
---