Kindergarten teachers share "Four Steps to Friendship"
Longtime Rhoades School kindergarten teachers Julie Sugarman and Mary Ruppert have published their first book, "Rexy and the Four Steps to Friendship," helping to spread the valuable lesson taught daily in their joyful classrooms.
The pair of teachers and best friends have been teaching kindergarten in classrooms next door to each other for the last 21 years and have been wanting to write this book about "Rexy the Dinosaur" for about as long. Sugarman first mentioned the book idea to Ruppert as a potential 50th birthday present—she will turn 65 in two weeks.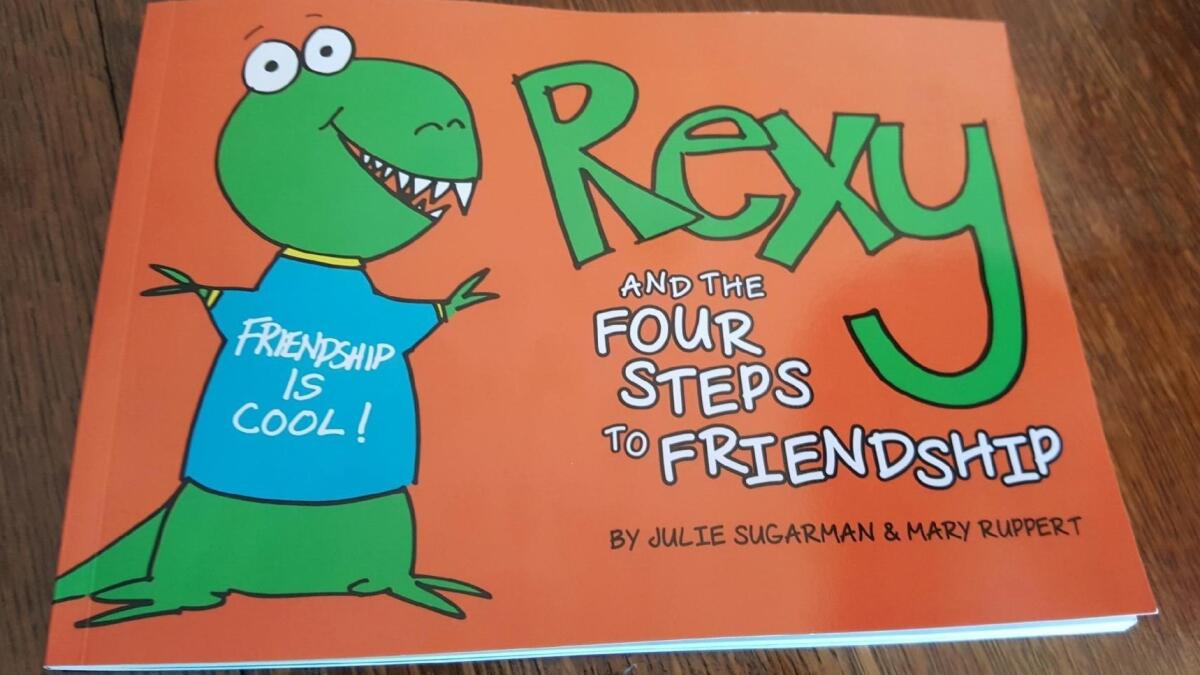 It may have taken 15 years but the book was finally completed two weeks ago, thanks to assistance from Erica Dei, the parent of a former student who owns the local graphic design studio Giodom. Dei loved the concept of the Four Steps and helped bring the pages to life with bright colors playing up the teachers' story and Ruppert's cute illustrations.
In addition to Rexy the Dinosaur, the book also stars characters Poodle, Cat, Iguana and Bird, who use the steps to encourage Rexy to share.
"Writing a kid's book is something that we have always wanted to do," said Ruppert, an Encinitas resident. "I'm so happy to wrap up the school year with a wonderful group of kindergartners and our book."
Sugarman, who lives in Cardiff, has been a teacher for 27 years. Before coming to The Rhoades School she worked at Hanna Fenichel in Solana Beach and earned her master's degree in early childhood development from National University.
When Ruppert arrived, she had spent two years in the gifted and talented program in the San Diego Unified School District. She started out as a substitute teacher at Rhoades and Sugarman gave an enthusiastic endorsement to the administration: "You have to hire this girl."
As Ruppert was a newbie first year kindergarten teacher in 1996, she leaned a lot on her partner Sugarman. They quickly became close friends and over the years have gone through so much together inside their happy classrooms and out, including when Ruppert became a mother, adopting her daughter Joy from China.
They affectionately call each other "Sugie" and Ruppie," they finish each other's sentences and speak in rapid-fire rapport.
"I'm a morning person," Sugarman said.
"I'm not," Ruppert added.
"I'm an energizer bunny," Sugarman chirped.
"She brings me coffee every day," Ruppert said with a warm smile for her friend.
Their special connection has extended to their children and soon grandchildren: Sugarman was Joy's kindergarten teacher and next year Ruppert will teach Sugarman's grandson, the child of her son Jake.
It was Sugarman who initially developed the Four Steps to Friendship.
"All day long children were pulling on my shirt saying 'Billy took my pencil!'"Sugarman said.
As she often isn't witness to incidents like pencil theft, Sugarman wanted to come up with a fun and memorable way to teach children to be independent problem solvers.
If the students work the four steps, conflicts can usually be resolved. The steps include: Use your words, use your words again, move away and ask for help.
"Now the whole school uses it," Sugarman said of the steps. "It promotes communication and conscientiousness."
Sugie and Ruppie have come up with many clever ideas on how to bring fun into their classroom curriculum. They teach equivalent equations with Bucket Bunny, a scale with a bunny face drawn on it.
Every year the pair writes a dramatic play for the kindergartners to perform, like this year's "Polar Opposites" about a penguin and a polar bear finding common ground despite their differences. For each play, they write their own lyrics to popular songs. In 21 years they have never repeated —meaning they have penned 21 original productions and songs.
As Ruppert loves to doodle, she would draw cartoon characters on all of the students' worksheets. "She's so talented and it's so fun," Sugarman said.
"So are you, Sugie," said Ruppert, not allowing a compliment to squeak by without repayment.
One common visitor in the kindergarten rooms is Rexy, the stuffed dinosaur. By the kindergarten lore developed by Sugarman and Ruppert, Rexy has been in kindergarten for over five million years.
Rexy comes to life through the teachers and he speaks with a thick Southern twang (somewhat of a nod to Sugarman's Tennessee roots). The teachers act out scenarios and the students help come up with the right response, using the Four Steps. Rexy's most common retort is "nanny nanny boo boo" or "you can't come to my birthday party!"
"We teach them to use the child's name and ask in a direct way instead of yelling 'Hey! Stop that!'"Ruppert said.
Through Rexy they teach social skills and problem-solving but, most of all, forgiveness.
"We teach them that tomorrow is another day, we all make mistakes," Sugarman said.
"They love seeing Rexy, he makes mistakes but he shows them it's OK not to be perfect," Ruppert said.
So far they have sold 115 copies of the book and, not surprisingly, Sugie and Ruppie have "endless" big ideas for what comes next. They want to write more books, including a comic book for older students, they want to have a store with Rexy merchandise and they would love to create a video game. But most of all they are thrilled that after what felt like five million years, they can hold the long-awaited book in their hands and spread the positive message they share in their "kindergarten family".
"I think it's a great book that promotes friendship in an environment where sometimes it feels like nobody ever listens," Sugarman said. "It helps students understand that having emotions and feelings is normal. Understanding, thinking, problem-solving and controlling our body and emotions is the challenging part to solving conflicts."
To order a book, visit thefourstepstofriendship.com.
Sign up for the Encinitas Advocate newsletter
Top stories from Encinitas every Friday for free.
You may occasionally receive promotional content from the Encinitas Advocate.