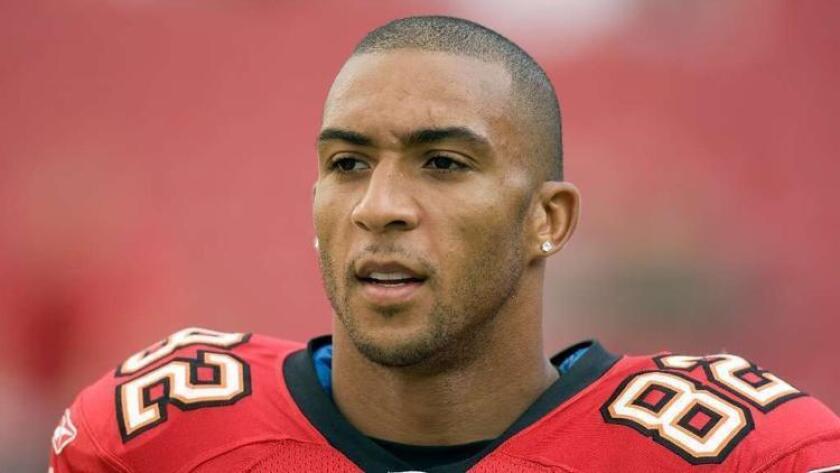 The publicist for former NFL player Kellen Winslow Jr. said Saturday, June 9, that a neighbor who reported him as an intruder in the home of an Encinitas couple who was not there was "overreacting."
Winslow, 34, was taken into custody Thursday, June 7, after deputies responded to reports of a possible burglary in the Park Encinitas Mobile Home Park on El Camino Real near La Entrada, sheriff's officials said.
Around 2:40 p.m. that day, a resident reported seeing a stranger walk into a neighboring residence. The neighbor confronted the intruder, who subsequently got into a black SUV and left, sheriff's officials said.
Deputies stopped Winslow, the son of Chargers Hall of Famer Kellen Winslow.
He was booked into custody on one count of burglary. He soon posted $50,000 bond and was released from Vista jail. His next court date is Thursday afternoon, June 14.
"It came down to a neighbor overreacting," the publicist, Denise White, CEO of EAG Sport Management in El Segundo, said in an email Saturday.
White said her client was at the park to look for homes for his mother-in-law, and that his wife attends church with the elderly couple that live in the mobile home where Winslow was spotted.
"Nothing was touched, taken, moved or stolen," she said.
On Friday, June 8, a sheriff's official said the case remained under investigation.
Also on Friday, June 8, White supplied a statement from Winslow's defense attorney, Colorado-based Harvey A. Steinberg, who said Winslow "emphatically denies committing any burglary."
"He would have no need to burglarize or steal anything from anyone at a trailer park," Steinberg said, adding that Winslow looks forward to being "vindicated" in court.
Winslow grew up in San Diego and attended Patrick Henry and Scripps Ranch high schools before attending the University of Miami. The sixth draft pick in 2004, he played in the NFL for 10 seasons, until 2013.
--Teri Figueroa is a reporter for The San Diego Union-Tribune
---