New County Supervisor Kristin Gaspar jumps right into the fray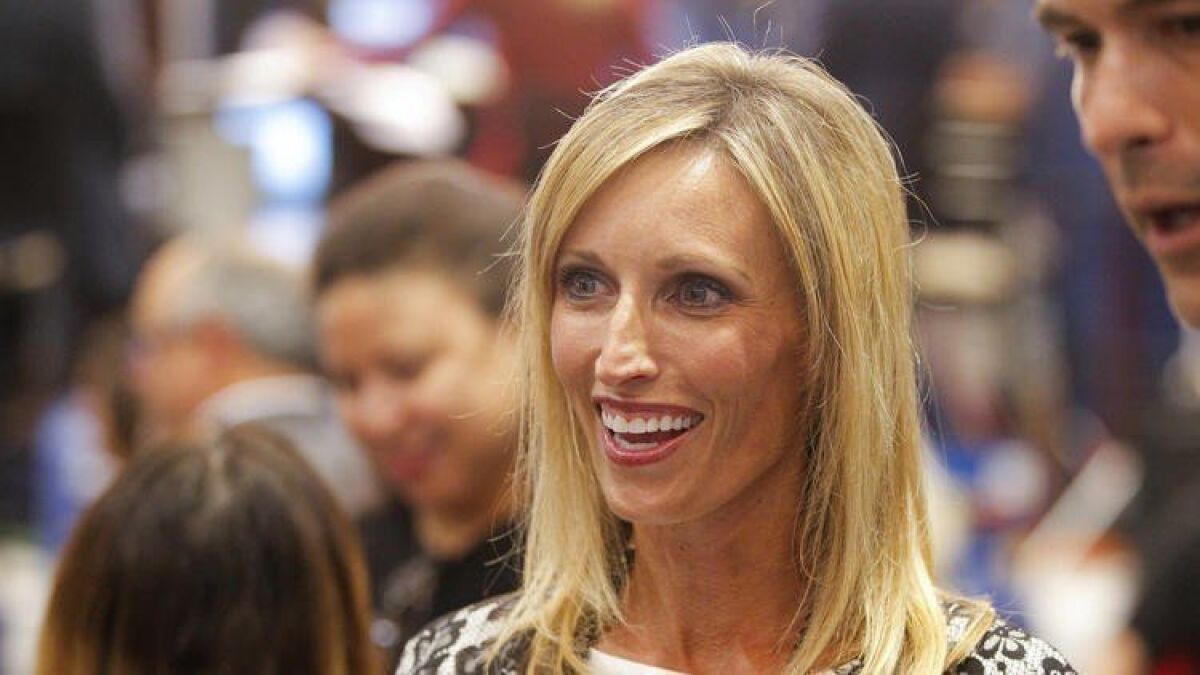 As the newest member of the San Diego County Board of Supervisors, Kristin Gaspar quickly found herself in a high-pressure situation. At her first meeting on Jan. 10, she cast the lone "no" vote on a 12.5 percent raise for herself and her board colleagues, as about two dozen people spoke against the measure.
Gaspar, who made the jump to the county board from Encinitas, where she served as mayor, had only been sworn into her new position the previous day. But as she sat on the board dais and prepared to cast her vote, putting her in opposition to her new colleagues on her first full day in office, she said she did not feel overwhelmed.
"Encinitas has many controversial issues. I felt a little bit like I was back at home. It's an environment I feel comfortable operating in," said Gaspar, whose election win over former Supervisor Dave Roberts, himself an ex-mayor of Solana Beach and a Democrat, put the Board of Supervisors back in all-Republican hands.
As Gaspar explained at the Jan. 10 board meeting, having been in office for less than 24 hours, she did not feel like she could properly evaluate whether the raise was justified.
"It's a tough thing to do," she said of voting against all four of her fellow board members. "It's not necessarily how you'd like to cast your first vote. I tried the best I could to explain the reasons I couldn't support the raise."
Even her electoral victory wasn't without tension - Roberts led in the tally immediately following the election, but as absentee and provisional ballots were counted, Gaspar's vote total increased. Ultimately, she won by 1,272 votes, out of a total of 229,318 cast.
As only the second new member of the Board of Supervisors in two decades, Gaspar's learning curve will be steep. Over the next four years, all four of her board colleagues - Dianne Jacob, Greg Cox, Ron Roberts and Bill Horn - will be termed out, meaning that by 2020, four new members will join the panel, making Gaspar the senior member if she is re-elected for a second term.
"It's a big change and we have to be ready for it," said Gaspar.
But she noted that she also experienced similar changeover in Encinitas when veteran members left the council after her first term.
During the campaign, Gaspar highlighted dealing with homelessness and mental health as among her key issues, and she said they will be a big focus of her upcoming term on the Board of Supervisors. On her first day, she met with San Diego Mayor Kevin Faulconer to discuss homeless issues.
Tackling homelessness doesn't necessarily mean spending more on the problem, she said, but instead critically assessing available services.
"We're spending a fortune on this issue. Is there a better way?" she said. "It's about linking people to services and getting them back on their feet."
Another challenge will be dealing with the ramifications of Props. 47 and 57, two voter-approved measures that will result in the release of state prison inmates, Gaspar said.
Other key issues include fire response times in rural areas, and managing the county's $5 billion-plus annual budget.
In her first weeks on the job, Gaspar said, she is working to familiarize herself with county departments and staff, as she has moved from a city with 250 employees to an agency with a workforce of more than 17,000.
"It's just a larger scale. It's just going to take a little time to better know the organization," she said.
Gaspar said she realizes that many of her objectives, such as reducing homelessness, won't be fully achieved in her first term.
"In four years time, it really is only enough time to lay down a framework and establish goals for our region," she said. "I would be grateful to serve two terms in office if the voters are so willing."
In her new role, Gaspar represents about 650,000 people who live in supervisorial District Three, which includes not only Encinitas but Del Mar, Solana Beach, Carmel Valley, Escondido, Rancho Bernardo, Scripps Ranch, Carmel Mountain and Tierrasanta.
Gaspar said she will be spending time in District Three, listening to constituents and, "making sure the decisions I'm making are in line with the priorities of the residents in the communities where I serve."
But even as she takes on new and larger responsibilities, Gaspar said, her heart will remain in her hometown of Encinitas.
"I now enjoy watching Encinitas City Council meetings from the comfort of my sofa," she said.
Sign up for the Encinitas Advocate newsletter
Top stories from Encinitas every Friday for free.
You may occasionally receive promotional content from the Encinitas Advocate.