San Dieguito's metal Mustang riding high again
The San Dieguito High School Academy's iconic metal Mustang is back on the road as proud alumni and San Dieguito Union High School District staff celebrated an unveiling ceremony on April 26. The big reveal of the rearing horse towering 16 feet over Santa Fe Drive represented the end of a long ride — first installed back in 1979, the sign came down in 2013 following the reconstruction of the school fields. As the mighty Mustang was too damaged with rust to return to its post, the San Dieguito Academy Alumni Association took on the challenge to bring the horse back to its original luster.
"This project was a true community effort," said Ken Harrison, class of 1973 and chair of the San Dieguito Academy Alumni Association.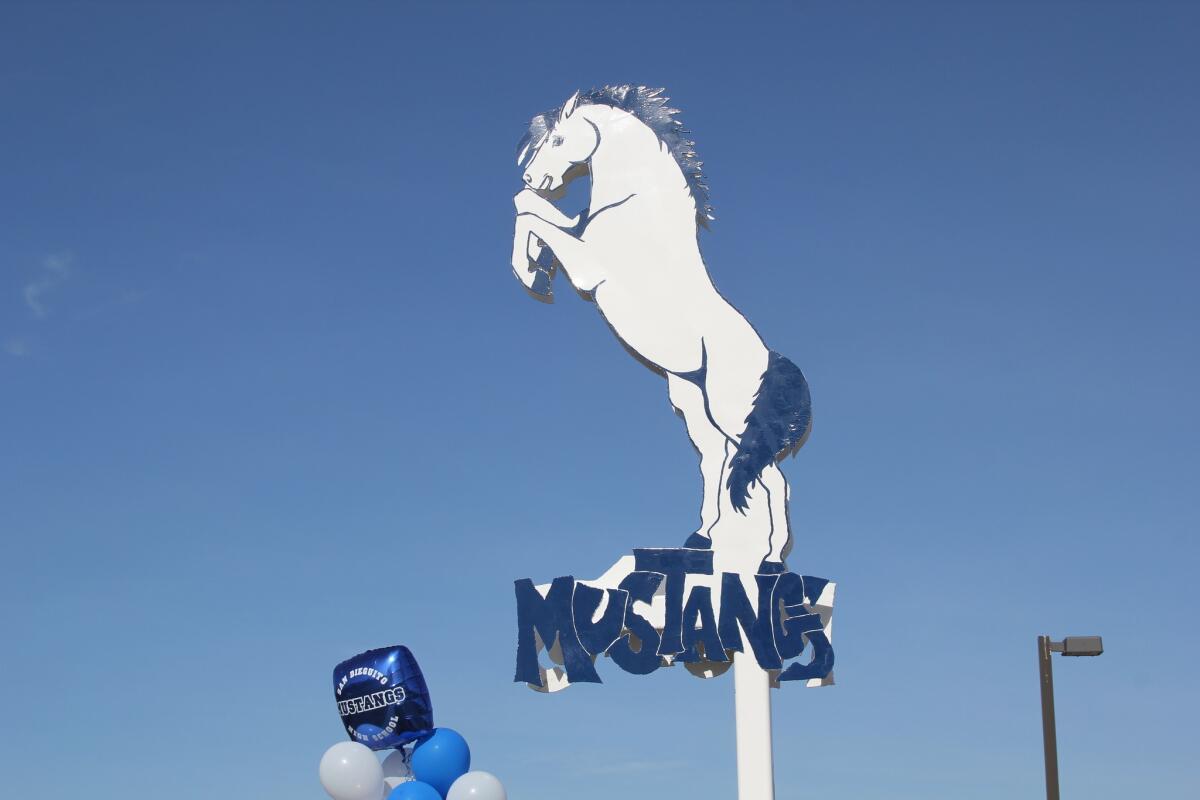 The Mustang's origins go back to 1979 when San Dieguito seniors Jeff Boman and Cliff Phillips in Roger Taylor's metal shop class had the idea to create a mascot for the school. They needed an artist to draw the horse so they tapped Susan LaForest-Williams, then a sophomore in Jesus Soto's art class.
The Mustang stood proud for 38 years before it was removed — it spent some time in the school's metal shop before it was determined that it required more repairs than the students could accomplish.
Alumni class of '61 Susan Ash Bruun, owner of Baker Ironworks in Solana Beach, stepped up to help out with the restoration of the rusted-out horse.
"She personally brought it back to code and made it look beautiful and made sure it lasts forever," Harrison said.
In June 2016, the original artist Laforest-Williams was able to fly in from her home in Los Alamos, New Mexico to put on the finishing touches. She had a tight 24-hour window to apply the signature Mustang blue paint.
Harrison said as LaForest-Williams painted, she remarked: "It's all coming back to me," reuniting with her creative side. She had been the perfect artist for the job as she said she spent most of her days in high school drawing horses.
Installing the Mustang in present day was a bit more complicated than it was back in 1979 due to state building code standards.
The Alumni Association raised over $5,000 for the installation and the project progressed through the planning and approval process with help from Encinitas Deputy Mayor Tony Kranz (San Dieguito class of 1977), San Dieguito Union High School District (SDUHSD) board trustees Mo Muir and Joyce Dalessandro, SDUHSD Superintendent Eric Dill, Director of Planning Services John Addleman and Erickson-Hall Construction — "They took on the project like they were alumni here," Harrison said.
San Dieguito class of 1990 alum Steve Snedeker, now with the maintenance department at the school, helped with the official unveiling of the sign. At the ceremony, Harrison took time to honor both LaForest-Williams and Bruun, presenting Bruun with a legacy brick at the school. While LaForest-Williams was unable to attend the April 26 unveiling, she was represented by her father Robert LaForest, stepmother Rosario and brother Michael, San Dieguito class of 1983.
While it was a long journey to get the mighty Mustang back on the road, Harrison said the return came at a perfect time to help celebrate the school's 80th anniversary this year.
"This is an art image that represents the eight decades of students that have graced these hallowed halls and it will continue to stand for decades to come, prominently at the school's entrance," Harrison said. "It will stand as a proud symbol overlooking Santa Fe Drive, where it will bring smiles and wonderful memories to the hundreds of alumni, parents, teachers and staff and supportive members of our community that travel this road, reminding us of our quality education, lifelong friendships and community united at San Dieguito."
Sign up for the Encinitas Advocate newsletter
Top stories from Encinitas every Friday for free.
You may occasionally receive promotional content from the Encinitas Advocate.