A new name for Sunset High School?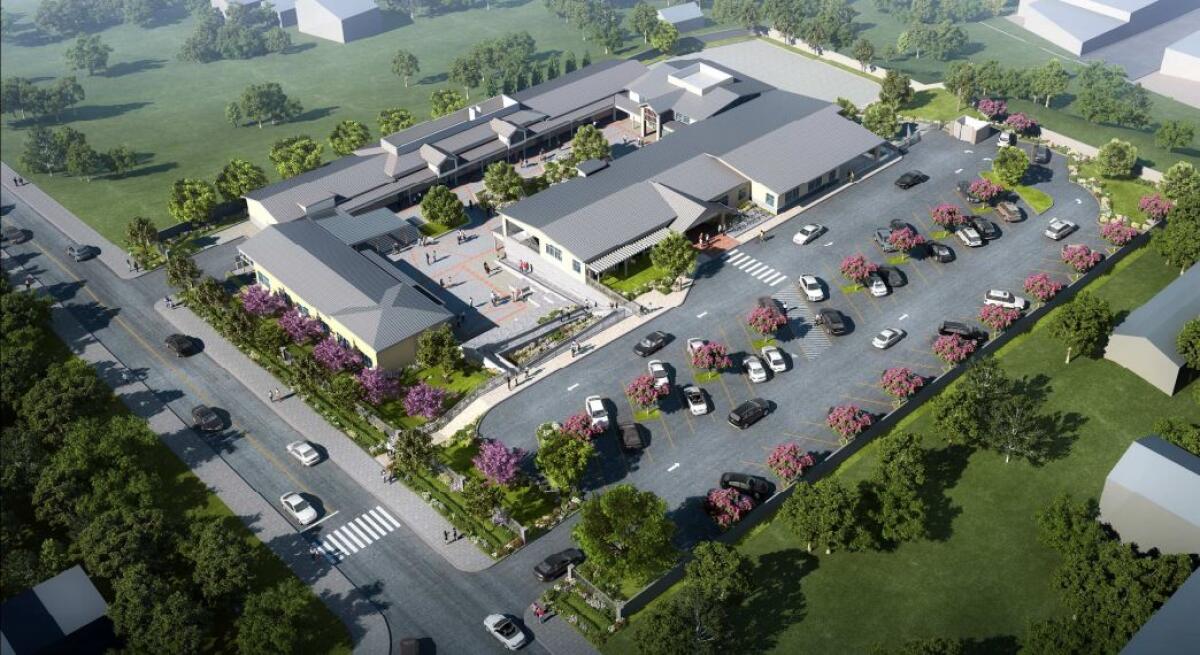 Sunset High School is scheduled to be demolished on July 2, making way for a "sparkling" new permanent home for the school, replacing aging portables and district warehouse structures. Principal Rick Ayala believes that with a new campus there should be a new name, bringing his argument before the San Dieguito Union High School District board on June 20.
Ayala said discussions with staff over the last year have centered on removing a negative perception that is attached to the district's only alternative high school. He said just a few weeks ago he was visiting with a former student who had been on a job interview—the student told Ayala that when the employer found out he went to Sunset, asked "What did you do wrong to get sent there?"
The student responded adamantly that he had done nothing wrong, he had chosen to go to Sunset and had a great and positive experience.
"Sunset really is a special place," said Ayala, who has been the principal at the school for 11 years. "It's always been a place that is nurturing and accepting, however, for some reason there has been a negative perception from the outside community when it comes to the Sunset brand."
"It's time to move forward and we owe it to our current and future students to rebrand ourselves," he said. "The next big step it to open up a new school in 2020 with a new school name."
The Sunset campus is close to 40 years old and has included all temporary buildings since its opening. At the June 20 meeting, the board approved a guaranteed maximum price of $18.6 million for the new Sunset.
The reconstruction will bring several resources the school has never had including a multi-purpose room, a state-of-the-art science classroom, space for art and culinary classes and outdoor gathering spaces including a learning garden four times as large as the existing one. Three new special education classrooms will also be built.
During construction, Sunset students will attend school in portable classrooms on the San Dieguito Academy High School campus.
According to John Addleman, executive director of planning services, over the last year and a half the district has conducted outreach with surrounding neighbors as well as the city of Encinitas as they refined the design.
"The community is looking forward to having a fully-functioning parking lot," said Addleman of the new lot with 87 spaces and an extended student drop-off area, helping to get cars off of the narrow Requeza Street.
Addleman said another community perk is the architecture and landscaping that match the residential look of the neighborhood and the new 13-home development immediately adjacent to the school. The school will incorporate white stucco and elements of Hardie board wood and the landscaping will increase the number of trees on site from 14 to 65. The campus will have an open, park-like look on the edges.
"Overall, it should generate a more warm and welcoming feel," Addleman said.
Sunset high school is technically a continuation school but it is considered an alternative to the comprehensive high schools in the district. About 95 percent of students are there voluntarily—some to accelerate their progress to graduate early, some to recover credits and get caught up and others because they'd rather be at a small school. Sunset students are required to attend school four hours a day, five days a week.
Students make their own schedules and generally enroll in two to four classes at a time and work at their own pace. There is a built-in advisory period for counselors and teachers to connect and guide students—at their intimate graduation ceremonies, teachers take the time to speak about each student personally, reflecting the relationships that are formed.
Since his first year at the school, Ayala has overseen many positive changes at the campus. While San Dieguito is a district of choice and students have options for where they attend, Sunset wasn't in the mix when it came to choosing a high school. Ayala said over the last 11 years, staff has worked to promote themselves and personally worked with counselors at the traditional high school schools to identify students who could benefit by being at Sunset.
Often times he would find students and parents were "offended" by the suggestion and they did their best to dispel the stereotypes.
"We didn't give up and we continue to reach out," Ayala said. "Slowly but surely we have chipped away at the negative perceptions and we are seeing more students reaching out to us to initiate the process of coming to Sunset."
Ayala said the school backs up what they have sold, students are happy with their decision to come to Sunset and the results have followed. He said students have completed more classes than ever, they've had more graduates than ever before and the student connectedness rates are highest in the district. Ayala said they have fewer disciplinary issues than any school and he considers it the safest and most accepting school in the district,
"Sunset is better now than it's ever been and I challenge anyone to prove otherwise," Ayala said.
Ayala said the majority of the staff supports a name change, however, he understands that many in the community are opposed to changing the name. He said as word of the proposed name change circulated on social media, statements were made about alleged activities on campus in the past that were "embarrassing" and only validated his argument about the need for a change.
At the June 20 board meeting, several Sunset graduates were in attendance to oppose the name change.
Wendy Woodard, a member of the class of 1982 at Sunset, grew emotional when speaking about her time at the school.
"I know the history of Sunset and I want to see it respected," Woodard said. "I'm proud to say I was a Sunset student. If there is a stigma attached to Sunset, it needs to be taken care of from the inside out, not by a name change."
Former student Michelle Hardwick also spoke with pride about the Sunset and the education that helped give her an edge when she went to college.
"As a taxpayer in the community, I don't think that Sunset needs to be rebranded. I think it is great the way it is," Hardwick said. "I would like to support keeping the name, I don't think there's any shame with it."
Board member Kristin Gibson said she didn't know a lot about Sunset when she arrived on the school board last year but in her visits to the campus she has found it to be "a jewel." She said while the stigma may exist in the community, it does not exist in the district board room.
SDUHSD Superintendent Robert Haley said the district needs to do a better job of promoting Sunset as a valid parent and student choice in the high school selection process.
"We have a lot of students who just need that sheltering with a teacher, adviser and the small environment," Haley said.
Haley stressed that this is just the beginning of the conversation regarding the Sunset name. Ultimately any name change decision would have to be made by a vote of the school board. He said the district plans to take its time with the process and ensure every voice is heard.
Ayala said by changing the name he has no intention of erasing the history of the school. With the proposed renaming and rebranding he said he has the best interest of current and future students at heart.
A Sunset information night for students and parents is planned for Aug. 14.
Sign up for the Encinitas Advocate newsletter
Top stories from Encinitas every Friday for free.
You may occasionally receive promotional content from the Encinitas Advocate.