Leucadia 101 receives 'Summer Fun on the 101 Day' proclamation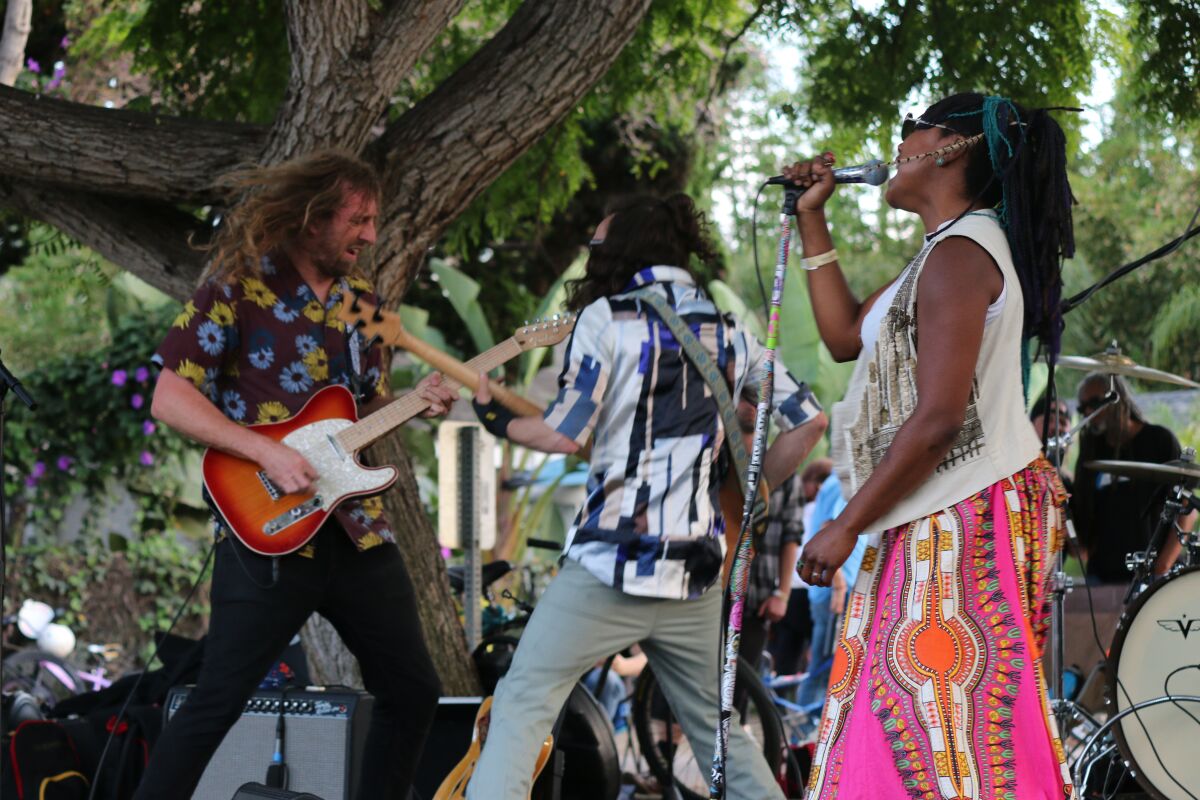 Leucadia 101 Main Street Association recently announced it received a proclamation from the County of San Diego marking June 22, 2019 "Summer Fun on the 101 Day" in all of San Diego County. The event is an epic Encinitas music festival that is free and open to the entire community. The proclamation was presented by Corrine Busta, community representative for Supervisor Kristin Gaspar/Third District, to Leucadia 101 Executive Director Annika Walden and Leucadia 101 Promotions Chair and Ruthless Hippies Founder Michael Schmitt at the 10th annual Summer Fun on the 101 held at Leucadia Road Side Park.
A kick-off event to summer, Summer Fun on the 101 was conceived by Schmitt whose passion for music and a love for community inspired him to create a music festival that was free and accessible to all. He got the inspiration when attending the LeucadiArt Walk back in 2009. He and his friends raised $2,500 on kickstarter to pay the bands, and they held the event right outside of Surfy Surfy. Soon after, Schmitt asked Leucadia 101 to adopt the event. Over the years it has grown and become a beloved family event.
"I was totally blown away to receive a proclamation from the County Board of Supervisors calling June 22 'Summer Fun on the 101 Day in San Diego", said Schmitt. "I'm so grateful for the years of support and grant funding that the county has invested in our little community celebration. It's great to see our local government both supporting and recognizing the arts--in particular our incredible local music scene."
The proclamation states "…the County of San Diego is committed to recognizing those organizations that are dedicated to the best ideals of public service, and Leucadia 101 Main Street is one such organization; Now Therefore, be it proclaimed by Chairwoman Dianne Jacob and all members of the San Diego County Board of Supervisors on this 22nd day of June 2019 that they commend Leucadia 101 Main Street for providing not only valuable resources to the community but outstanding service, leadership, and commitment to local residents, and do hereby declare this day to be " Summer Fun on the 101 Day" throughout San Diego County."
Summer Fun on the 101 is made possible by county grants, volunteers and generous community sponsors, many whom are Leucadia 101 business members, including: Swell Property, Lost Abbey, Boochcraft, California Music Studios, Allies Party Rentals, Bing Surfboards, Bonafide Provisions, EDCO, Leucadia Beach Inn, Electra Bicycles, Pandora's Pizza, Peter Curry, SDG&E, Scripps, Surfhouse Boutique Hotel, and Storage West.
This year's event line-up included: The Elements, Casey Hensley, Peter Sprague Group, Austin Burns & Dillon Casey (of Second Cousins)?, The Mattson 2, New Leaf, Sarah Rogo, and The Anodynes.
In addition to music, the event festivities included bubbles, a beer/hard kombucha garden, a dad joke contest, opportunity drawing, and hula hooping contest.
The money raised by the events fund college scholarships for two local San Dieguito Academy graduating seniors pursuing musical studies. In May, scholarships were awarded to Dylan Herrera and Caeden Schlosser.
The Leucadia 101 Main Street Association is a nonprofit community-based organization that works in partnership with its neighborhood, business owners, property owners, the City of Encinitas and the County of San Diego to preserve and revitalize the Leucadia North Coast Highway 101 Corridor. They offer a wide variety of events each year that are aimed at creating a unique atmosphere for their residents to explore the community and stimulate the local economy.
For more information, visit www.leucadia101.com. —News release

Sign up for the Encinitas Advocate newsletter
Top stories from Encinitas every Friday for free.
You may occasionally receive promotional content from the Encinitas Advocate.