San Dieguito Academy artist tapped to bring her artwork to Solana Beach school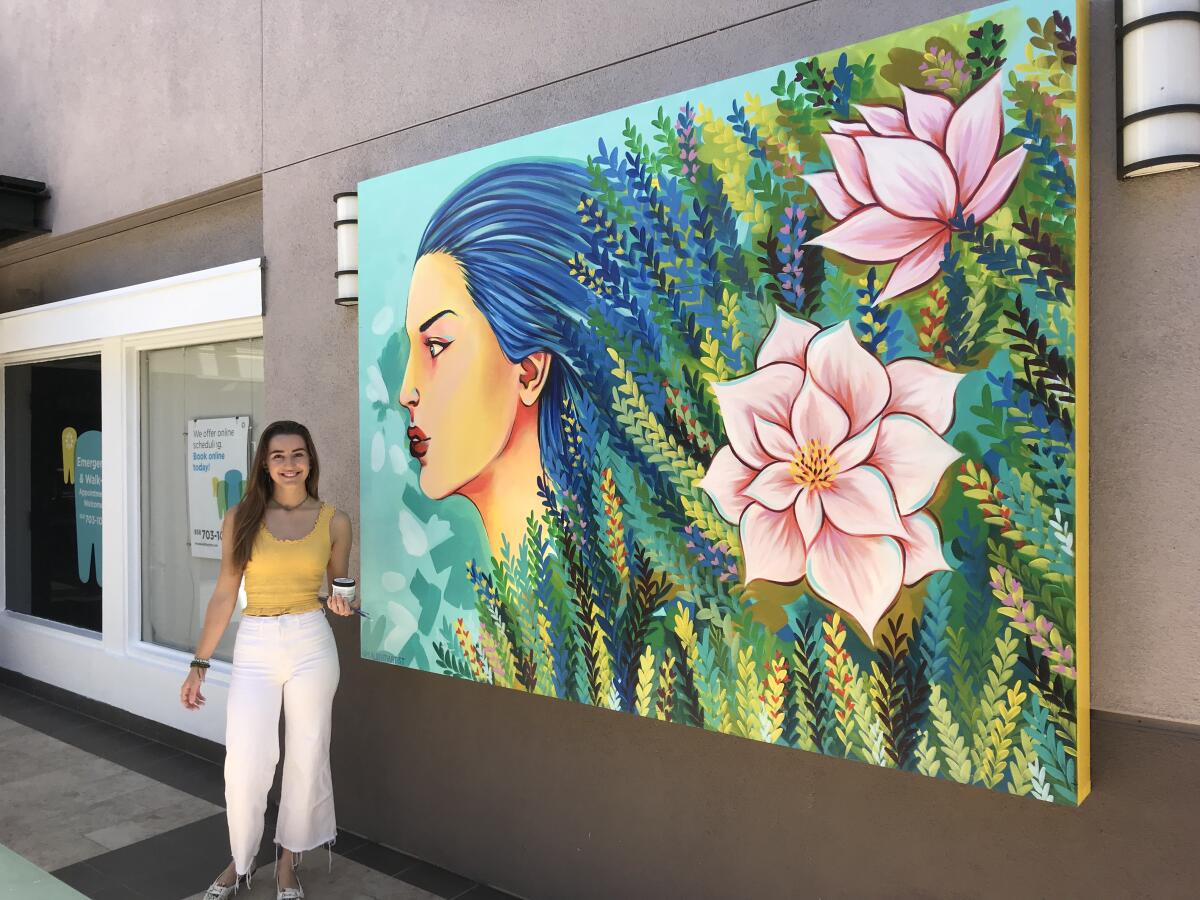 Marina Alberti, a senior at San Dieguito Academy High School, was one of three local artists selected to help beautify the Skyline School campus in Solana Beach.
At the Solana Beach School District's Oct. 10 board meeting, the board awarded bids to mosaic artist Helen Segal, Cardiff artist Annika Nelson and Marina to bring pops of color and playfulness to the campus on Lomas Santa Fe Drive.
"I'm so happy," Marina said. "I went to Earl Warren so it made me really excited to do something so close to where I went to school. And I'm really happy that I get to do it with the different artists, all have different styles and I'm excited to work with them and collide everything together."
Marina's ideas for Skyline include botanical themes, marine life and aquatic scenes, collaborating with Skyline students when possible, such as children's handprints making up the blue of the ocean.
"A school that is vibrant and bright makes everyone's day a little better," said Marina, 17. "You don't want school to look like prison."
Marina might have been the youngest artist selected for the Skyline project but she has plenty of experience in public art.
The high school senior has done Arts Alive Encinitas banners on Coast Highway 101 with koi fish and lotus flowers, painted electrical boxes in Cardiff on the corner of Newcastle Avenue and Chesterfield Drive, and was recently selected as one of 20 artists to paint a mural at Flower Hill Promenade in Del Mar. She completed her mural at the center for the Oct. 5 Art, Wine and Wander event.
Marina also won the 49th District's Congressional Art Award presented by Congressman Mike Levin this summer and her self-portrait, with a crown of flowers on her head, will be on display at the Capitol Building in Washington, DC.
"It's in a hallway where it will be seen by millions of people," Marina said of what is known as the Cannon Tunnel, which connects the Cannon House Office Building to the Capitol.
Known as an "artsy kid" all her life, Marina started painting when she was six years old and her mother, Caroline, brought home a little paint set with blank canvases.
Soon Marina had filled up those first few canvases with paintings and her mom had to buy more. Caroline has always supported her daughter's work—she even volunteered to teach art classes at Marina's schools Cardiff Elementary and Ada Harris.
"I kept going and making paintings. I never really questioned it, I knew I wanted to be an artist, it was never anything else," Marina said. "It was almost like my destiny."
When it comes to painting murals, Marina is not intimidated by the size of a large blank canvas.
"I usually just go for it. I love going bigger," she said, noting even when she's trying to fill a smaller canvas her artwork unapologetically takes up a lot of space.
Marina is currently in the AP studio art class at SDA and this year enrolled in an art class at Mira Costa College. At home, Marina keeps herself busy in the art space she has created in her bedroom. Her Instagram @m.albertiartist, which helped secure the Flower Hill gig, has all of her latest projects: a skateboard deck adorned with prickly cacti, a large-scale pair of eyes and sketchbooks filled with bright colored blossoms, palm trees and ocean swells.
While plans for the future are not yet set, Marina hopes to major in art in college and pursue art education, "I just want art to be a part of my whole life.
Sign up for the Encinitas Advocate newsletter
Top stories from Encinitas every Friday for free.
You may occasionally receive promotional content from the Encinitas Advocate.