Former Encinitas resident, Air Force 2nd lieutenant competes in Military World Games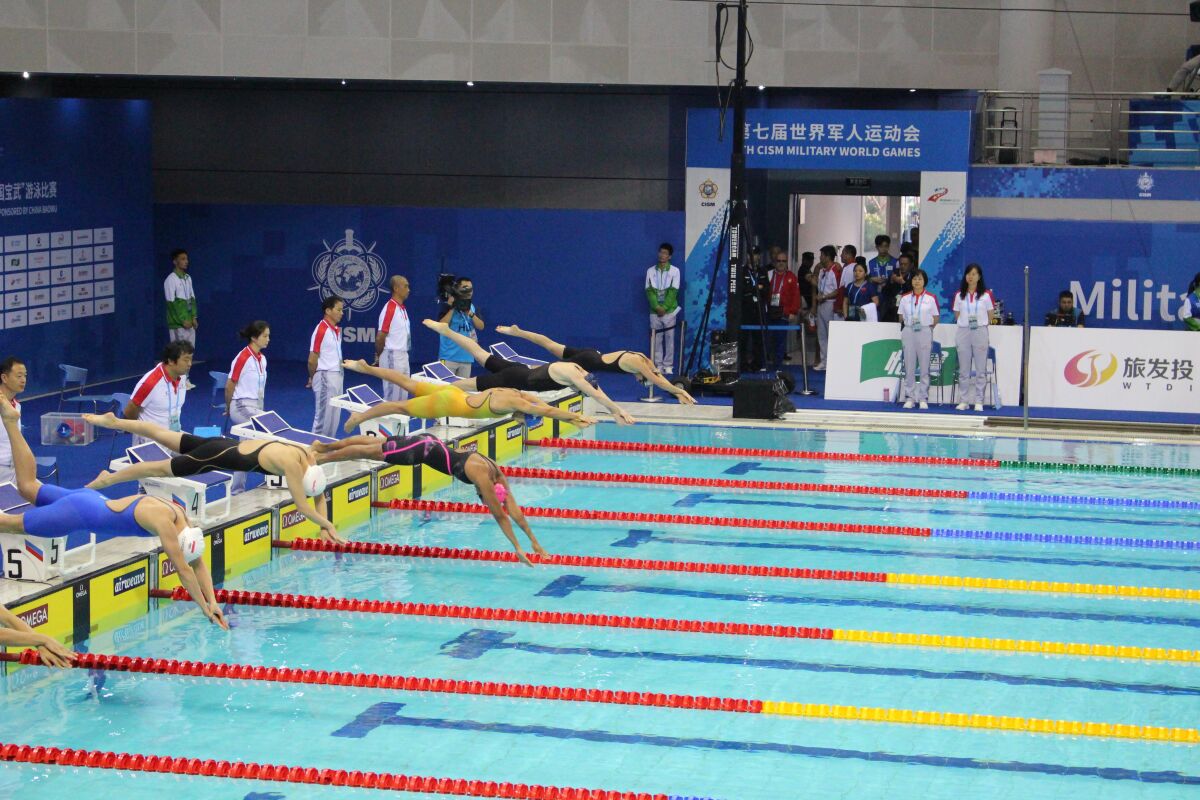 U.S. Air Force 2nd Lt. Shane Knight's talents took her to China last month as a member of Team USA for the seventh Military World Games.
From taking to the water as a child in North County to competing on her college swim team, U.S. Air Force 2nd Lt. Shane Knight's talents took her to China last month as a member of Team USA for the seventh Military World Games.
About 10,000 active military members from more than 100 countries participate in the games, which take place every four years. The U.S. sent 17 teams and about 280 athletes and staff, according to the Department of Defense.
Preparations began with a training period in Coronado before the team headed to Wuhan, China, for the start of the games Oct. 18.
"That was a good time to be able to bond," said Knight, who grew up in Encinitas, attended La Costa Canyon High School and moved to Carlsbad during her sophomore year.
Knight, now based in Colorado, swam as a student-athlete at Queens University of Charlotte in North Carolina, where she graduated from in 2017. Her mother, Beth, is a swim instructor whose past accomplishments include eight consecutive women's overall victories in the La Jolla Rough Water Swim. (Her streak was snapped in 1992, when she competed while eight-months pregnant with Shane's older brother, who swam at Duke University and serves in the Navy.)
In the World Military Games, Knight swam in four different freestyle races. But the U.S. did not medal in swimming, with many of the other countries able to send their top swimmers who also serve in the military, she said.
According to a U.S. Department of Defense news release, the U.S. earned one gold medal, by Air Force Reserve Major Judith Coyle in the women's senior division triathlon, in addition to four silver and five bronze medals.
The host country led the medal count with 239 total, including 133 gold medals, according to the Military Games website.
The games are organized by the International Military Sports Council, known by its French acronym, CISM. The first Military World Games were held in Rome in 1995. Men's and women's teams compete in sports, including swimming, basketball, volleyball, golf and cycling.
For the first time, China was selected as the host of the games. With ongoing tensions between the U.S. and China over trade, Knight said the Chinese citizens she and her teammates met during their trip were "hospitable."
"Sports can bring people together, even though you have conflicts with other countries politically," she added.
The latest controversy between the two countries involved the owner of the NBA's Houston Rockets, Daryl Morey, sending a since-deleted tweet supporting pro-democracy protesters in Hong Kong.
"We were able to put it on the backburner and let the sports be the main priority," Knight said.
The closing ceremony Oct. 27 conveyed a message of "sharing friendship, building peace," according to a news release by the executive commission that planned the games.
Sign up for the Encinitas Advocate newsletter
Top stories from Encinitas every Friday for free.
You may occasionally receive promotional content from the Encinitas Advocate.