Artists' beach art hopes to inspire happy, positive vibes
A cheerful bit of beach art was left for all to enjoy at the sand at San Elijo and Cardiff State Beach last weekend.
Local artists Carol Arêas, Rosie Wertz and Nadia Quiros spent about 40 minutes playing together on "nature's sandbox" using rakes, rocks and flowers to create a huge Kawaii-style smiling sun and a kite. Childlike and simple, the artists hoped to depict "the warm and positive nature of the sun and the feeling of being totally in the moment when you're flying a kite and being a playful kid."
"Always so much love exudes when you share a creative experience with people," wrote Wertz on her Instagram post of the project.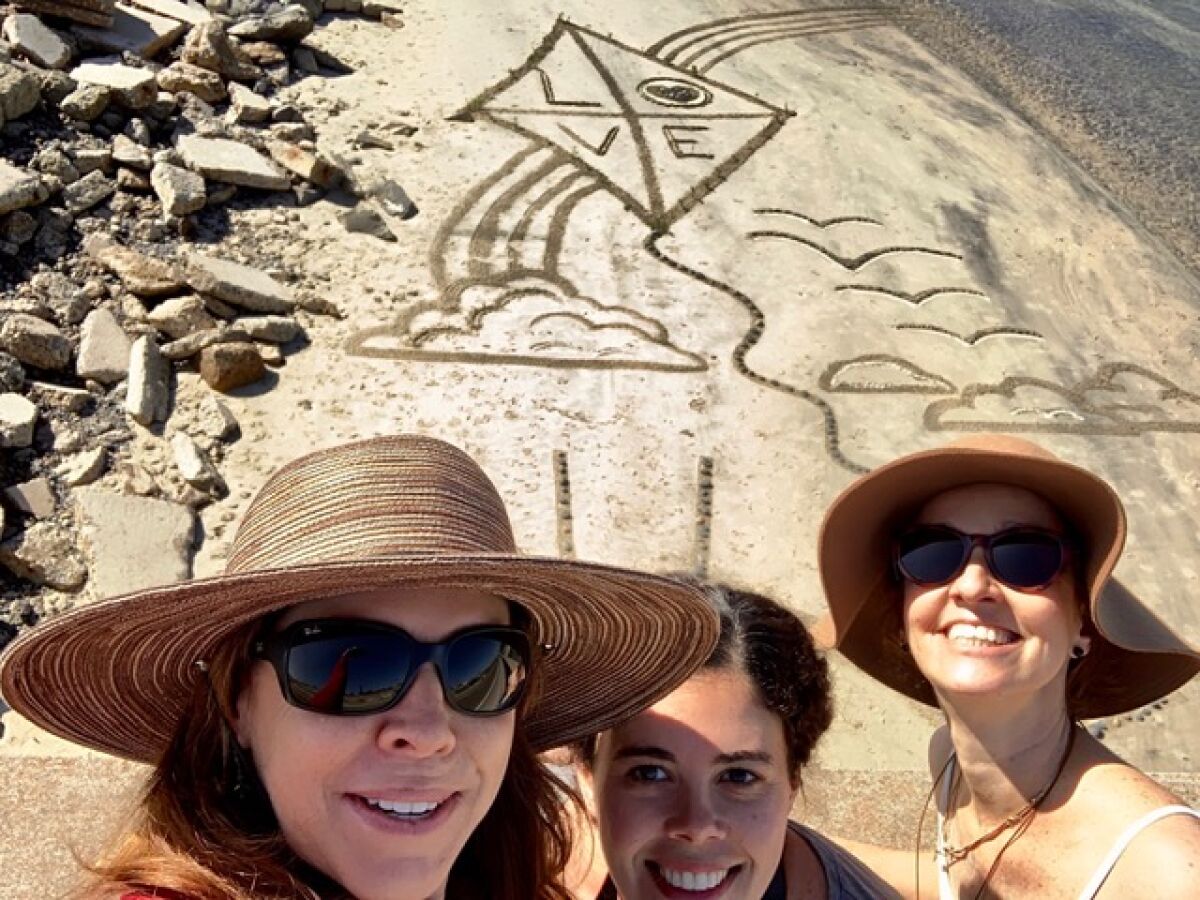 The beach art was a first for Arêas, an Encinitas resident and founder of The Word Rocks Project. Arêas started Word Rocks nine years ago after she moved to San Diego from Brazil. Feeling lonely and detached from her family and friends, she started sharing rocks painted with colorful and positive messages with her son, Antonio, as a way to feel more connected and put some happiness out in the world. It has now evolved to an Instagram page with 19,000 followers.
"I'm passionate about crafting with a purpose and abandoning art to bring joy, colors and positivity to people's lives," Arêas said.
Instagram is how she connected with Wertz and Quiros, whose beautiful beach art she had often admired. Wertz, an Ocean Beach resident, runs an Etsy shop called Rosie Glow Designs, making floral and nature-inspired pieces such as mirrors and sun catchers.
Quiros, an Encinitas certified mindfulness instructor, breathwork coach and art therapy life coach has been working with the sand canvas in Encinitas and Cardiff since 2015, when she started offering wellness workshops that engage the senses, expand gratitude and connect with nature.
"Leave no trace is what I love about sand art, it flows away with the tide but is a beautiful way to connect with a moving meditation," Quiros said.
Quiros has left behind beach mandalas and large-scale messages of love, gratitude, peace, rainbows and mermaids at spots like Grandview Beach, Pipes and Moonlight Beach. For her next project, Quiros will be working with the Changing Tides Foundation and Sea Together Magazine on March 14 at Beacons Beach.
Keep tabs on their next feel-good projects at @RosieGlowDesigns, @LoveSoulShine and @WordRocksProject on Instagram. "Maybe people will get inspired to do the same!" Arêas said.

Sign up for the Encinitas Advocate newsletter
Top stories from Encinitas every Friday for free.
You may occasionally receive promotional content from the Encinitas Advocate.