13 people rescued off Del Mar coast after suspected 'dump and run' from smuggling boat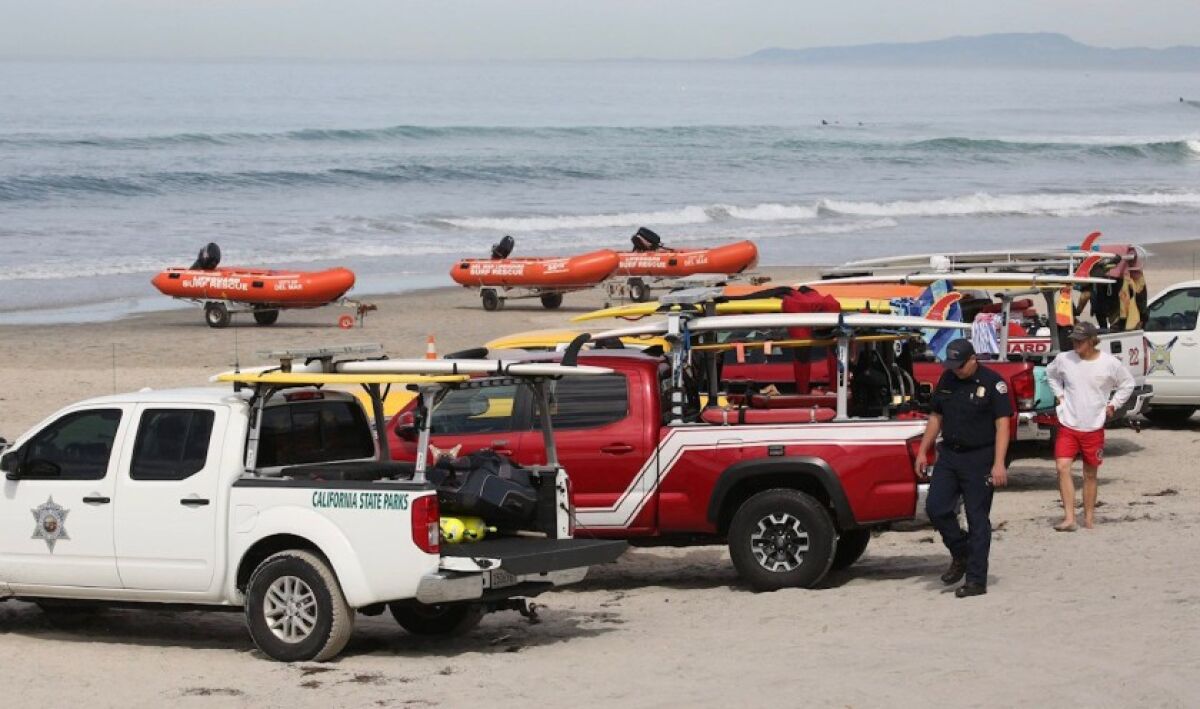 Lifeguards, the Coast Guard, other agencies continued to look for three more migrants who were dropped off in the ocean early Friday
An intense search off the coast of Del Mar lasted about 12 hours Friday, Feb. 28, for several people feared missing from a panga smuggling boat.
Ten people made it to shore and lifeguards rescued three others before dawn on Friday, Feb. 28. All were from Mexico. They were treated at hospitals for mild hypothermia from being in the cold ocean waters before sunrise, said Mike Stein, fire chief for Del Mar, Encinitas and Solana Beach.
Those who were rescued told authorities there were 16 to 18 people on the boat, and crews from several agencies spent much of Friday searching for anyone else who might still be in the water. That search was called off about 4:30 p.m. "pending new (information) or developments," according to a tweet from an official U.S. Coast Guard account.
Stein called the smuggling incident a "dump and run," in which a panga boat operator out of Mexico unloads the passengers off the coast so they have to swim to shore.
A Border Patrol agent said the passengers were dropped off 50 yards from shore, beyond the surf line and too far for some of them to swim.
Stein told reporters, including OnScene TV, that the U.S. Coast Guard was searching the ocean along with an Oceanside harbor police boat and lifeguards from San Diego and Del Mar in boats and a San Diego fire rescue helicopter. Dive teams from the Sheriff's Department and Border Patrol were brought in.
Residents near Sixth Street and Stratford Court in Del Mar called 911 about 4:30 a.m. to report hearing cries for help coming from the water, sheriff's Lt. Steve Bodine said.
Deputies checked the beach and saw several swimmers coming out of the ocean. Lifeguards were summoned to help others get to shore. Footage from 10News showed at least one surfer also helping with rescues.
Stein said rescuers had no way of knowing whether the boat passengers who were unaccounted for had made it to shore and left, or were still in the ocean. Some or all of the rescued swimmers were in life jackets.
The 13 who were taken to hospitals were released later in the morning and taken to a Border Patrol station, Border Patrol Supervising Agent Kurtis Kantura said.
The Border Patrol took them all into custody: two women, eight men, a 15-year-old girl and two boys ages 13 and 15.
Kantura called the Del Mar coast a "hotspot" for smuggling boats because shoreline cliffs and small coves are hidden from view from nearby streets.
"Right now, we're seeing a huge surge in maritime smuggling" of drugs and people from Mexico, Kantura said.
The supervising agent said the current fear of the coronavirus adds to concerns about unauthorized migrants coming into the community.
"This is another example of smugglers placing profit over human life," San Diego Sector Chief Patrol Agent Aaron Heitke said in a statement. "They forced women and children into deep ocean water and abandoned them. If not for the actions of our agents and partnering agencies, the results could have been tragic."
— Pauline Repard is a reporter for The San Diego Union- Tribune. Staff writer Alex Riggins contributed to this report.

Updates
4:26 p.m. Feb. 28, 2020: This story was updated at 4:14 p.m.
Sign up for the Encinitas Advocate newsletter
Top stories from Encinitas every Friday for free.
You may occasionally receive promotional content from the Encinitas Advocate.