North County Justice Allies deliver baskets to frontline workers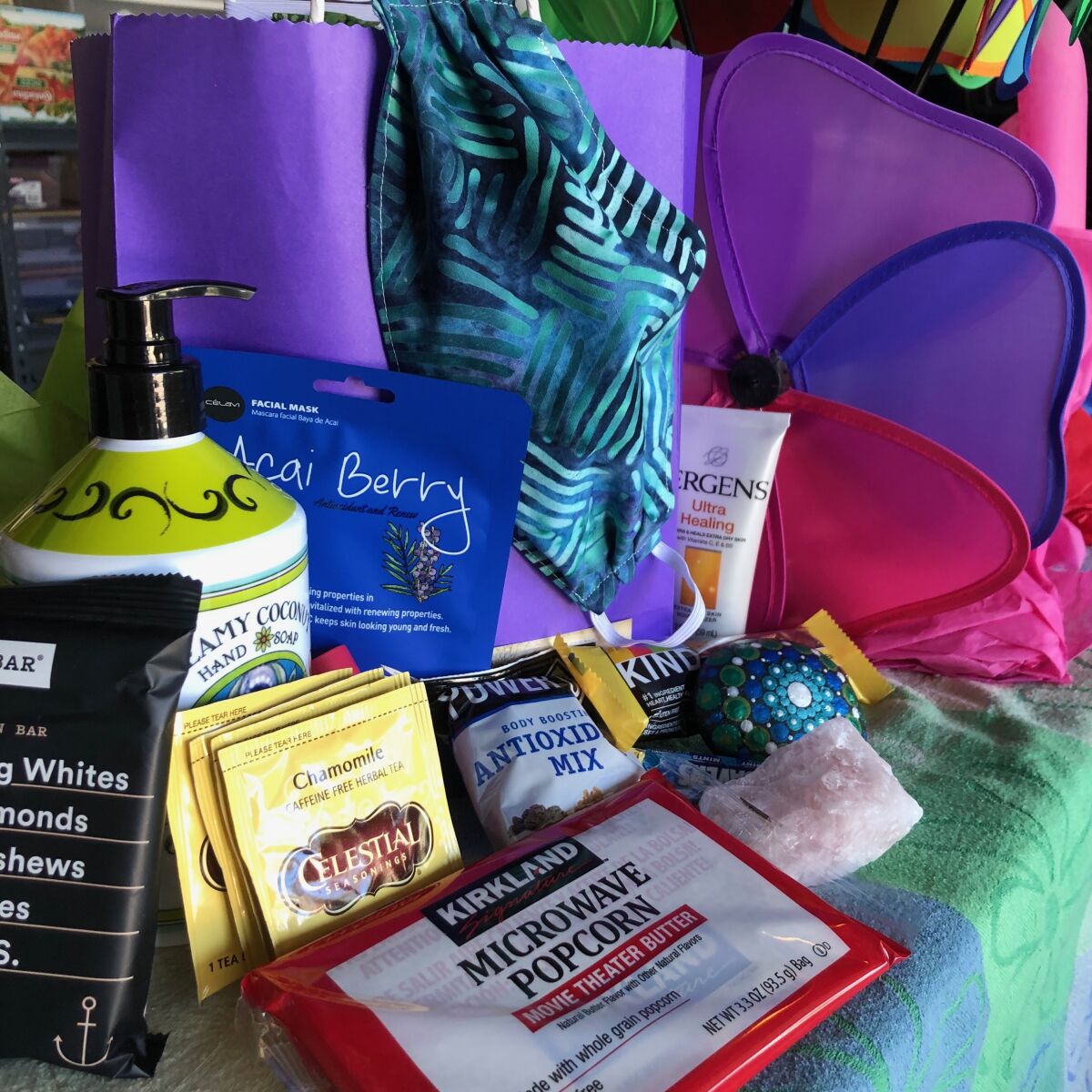 As a gesture of appreciation to health care workers on the front lines of the COVID-19 crisis, North County Justice Allies donated 40 gift baskets to Scripps in Encinitas.
"We're usually a group that's out there marching and protesting and supporting," said Liz Young, one of the original members of the group. "That's how it started. We were like, how can we go show this mass support, and this is what we came up with in this time."
She added that group members wanted to "let them know that they are appreciated."
The drop off was made by a small group wearing masks, gloves and maintaining proper social distancing, including North County Justice Allies founder Lisa Nava. The baskets included items such as painted rocks, tea, lotions, rose quartz, chocolate and other indulgences.
"They were thrilled. Really, really touched," Young said.
The organization also dropped off 40 baskets to Scripps in La Jolla, and plans to deliver another 40 to Chula Vista. Chula Vista, with 526 total COVID-19 cases entering this week, has been one of the most impacted cities in San Diego County. Its 196.6 cases per 100,000 residents is third most in the county, behind National City and El Cajon, according to county data.
Encinitas had 33 confirmed COVID-19 cases as of the beginning of the week, and there were a total of 187 confirmed cases among the North County coastal cities from Oceanside to Del Mar.
There were another 33 confirmed cases in La Jolla's primary zip code, as well as seven in the zip codes that cover the UC San Diego campus and the UTC neighborhood.
North County Justice Allies, a 504(c)4, launched after the 2016 presidential election. The group participates in events to elevate marginalized communities and issues, such as women's rights, LGBT rights, and immigrants.
As the coronavirus pandemic continued to spread throughout the world, social distancing and other public health guidelines put an end to rallies, protests and other large in-person events for the time being. The public health orders are designed to minimize the strain on hospital workers, many of whom face higher risks of infection and have had to isolate themselves from their families.
Various organizations and individuals have found ways to deliver personal protective equipment, food and other supplies to health care workers who are battling COVID-19, the disease caused by the novel coronavirus.
"We're just deeply grateful for the essential work they're doing on the front lines these days," Young said.
For more information, visit ncjusticeallies.org.
Sign up for the Encinitas Advocate newsletter
Top stories from Encinitas every Friday for free.
You may occasionally receive promotional content from the Encinitas Advocate.