Encinitas to tackle Streetscape project in phases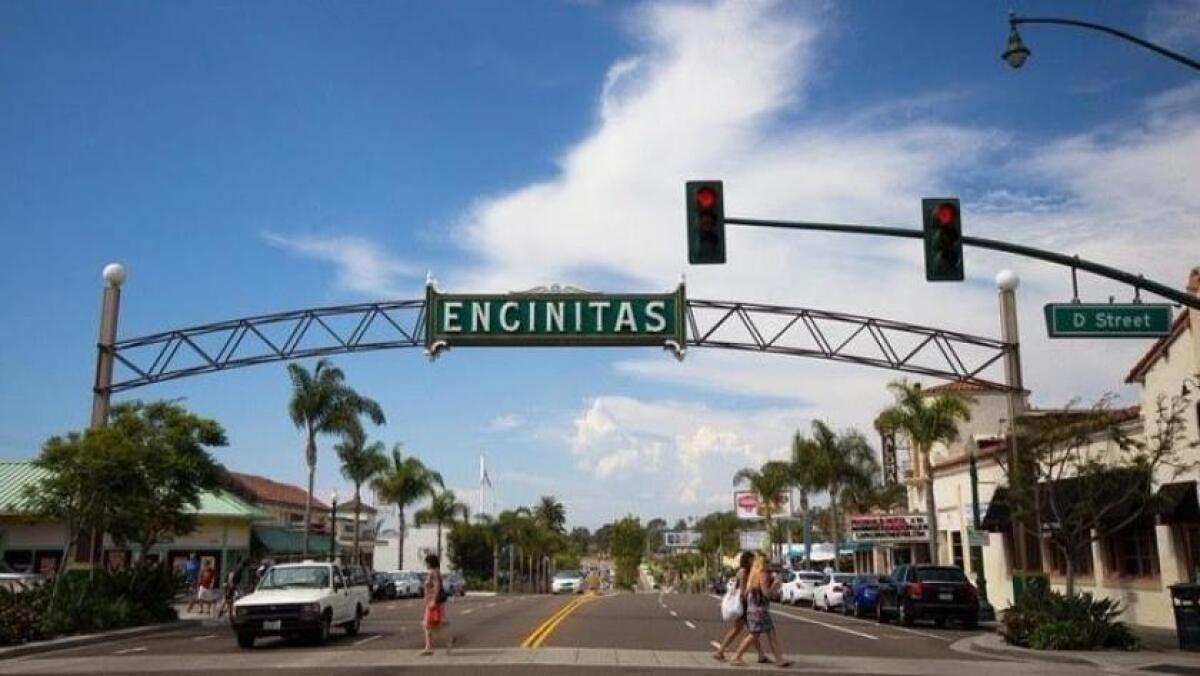 Given the uncertainty of the coronavirus pandemic's impact on Encinitas in the coming months, it's best to break the long-planned Leucadia Streetscape project into phases, the City Council has decided.
In a special workshop Wednesday, May 27, city employees presented the council with several options for what could go into a first phase of work, if the project was broken up. The council unanimously picked "Option 1-C," which calls for overhauling the stretch of Coast Highway 101 from Marcheta Street to Basil Street, adding a storm drain system near the future railroad undercrossing at El Portal, and building three parking pod areas.
That option, which is estimated to cost $7.7 million, will be included in a draft city spending plan for the next fiscal year. The council will review the proposed spending plan June 10 and vote on it June 24. The new fiscal year begins July 1.
In December, city officials were planning to borrow $30 million and start the entire project — overhauling the full, 2.5-mile section of Coast Highway 101 from La Costa Avenue south to A Street and adding six traffic circle roundabouts — late this year. Then, the global pandemic hit.
Now, council members said, the prudent thing is to pursue the project in stages and keep an eye out for any potential grant funding. Option 1-C is the right approach "given the fiscal constraints," Councilman Tony Kranz said.
Councilwoman Kellie Shay Hinze said Streetscape needs to be a priority for Encinitas because the renovation work is expected to bring long-term economic benefits to Leucadia area businesses, while Councilwoman Jody Hubbard said the proposed parking pod areas would be "super important" customer parking areas for the restaurants and retail businesses.
City staff presented the council with two other versions of the Option 1 proposal. The "A" version only included the roadway overhaul and was estimated to cost $5.75 million, while the "B" option, which was estimated to cost $7.35 million, included the roadway work plus the storm drain, but not the parking pods.
Also put forward was a slightly bigger project option, with the same three project choices. That proposal called for the roadway work to stretch farther south to A Street, instead of stopping at Marcheta. Under that scenario, the trio of options ranged in price from $8.7 million to $10.65 million.
In other action Wednesday, May 27, the council directed city staff to move forward with a program to give $2,500 grants to up to 200 small businesses that have been facing economic hardship due the pandemic. The program will be included in the coming fiscal year's budget, and the funding will come out of the $1.12 million the city will receive from the county via the Coronavirus Aid, Relief, and Economic Security Act, the council decided.
Initially, city employees had suggested setting a cut-off limit of 50 employees or less for small businesses to receive the grant money, but council members said they preferred a lower figure, so more of the city's smallest businesses would get the money.
"If you could hone that employee number down a little bit, I'd feel a lot more comfortable with it," Hubbard said.
Assistant City Manager Mark Delin said city business records indicate there are about 480 businesses with 50 or fewer employees in Encinitas and about 365 of them have 20 employees or less. Council members ultimately selected 25 employees or less as the cutoff, and asked Delin to look into how many businesses that would be.
In order to qualify for the money, businesses will need to have premises in the city and to have been required to cease operations or to have faced significant alteration in their regular business activities during the stay-at-home order. Restaurants and retail stores would qualify, while private offices, such as attorneys, would not because they could continue to conduct their work via phone and computer, Delin said.
Council members debated whether to only give the money to businesses that had been in operation for at least two years, but ultimately decided not to pursue that restriction. Mayor Catherine Blakespear said she could support the 25 employees or less limit, but not a years-of-operation one, saying that new businesses also benefit the city.
Councilman Joe Mosca said the $2,500 grants may seem small, but restaurants and retail shops can use any help they can get during these troubled times.
"I think this is a great step in the right direction," he said.
-- Barbara Henry is a freelance writer for The San Diego Union-Tribune
Sign up for the Encinitas Advocate newsletter
Top stories from Encinitas every Friday for free.
You may occasionally receive promotional content from the Encinitas Advocate.