Popular downtown Encinitas burger joint gains green light for renovation project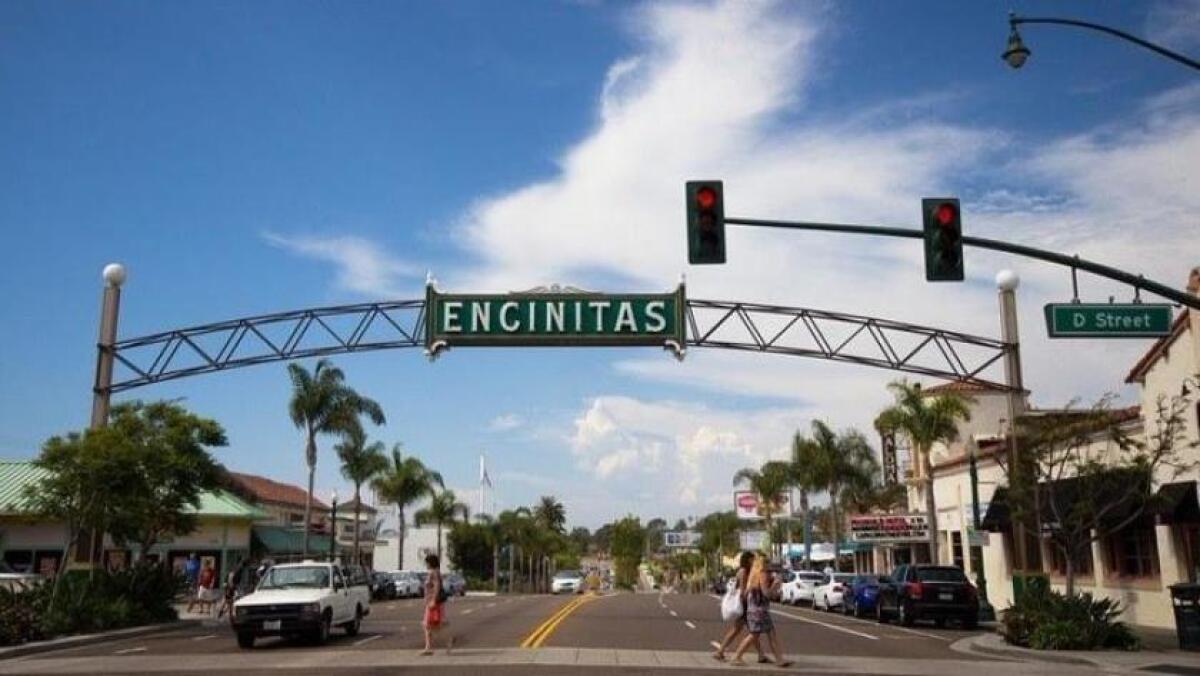 Angelo's Burgers plans to add nearly 900 square feet, eliminate one drive-through lane, create outdoor seating area
ENCINITAS —
Angelo's Burgers, an iconic fast food spot that's been serving folks in downtown Encinitas for decades, won permit approval from the Planning Commission Thursday, June 4, to renovate its building, with a few conditions.
The red, white and yellow restaurant, which occupies a prime corner spot on South Coast Highway 101 at West E Street, is proposing to expand its interior space by nearly 900 square feet. Plans also include adding a small outdoor dining patio, revamping the restrooms, installing windows that open, and eliminating one of the two drive-through lanes.
Planning commissioners unanimously approved issuing multiple city permits for the proposed construction project, including a minor use permit and a design review permit, and they backed the restaurant owner's request for a state Alcoholic Beverage Control board license to sell beer and wine.
"It's good to see something done with it --- it's a very tired looking building," said Commissioner Brett Farrow, an architect.
Commissioners said they had two key concerns with the proposal. They worried that allowing beer and wine sales might increase downtown's existing alcohol-related problems, including drunken driving and late-night noise. And, they said, they were concerned that the elimination of one of the drive-through lanes might result in back-up congestion on Coast Highway as vehicles waited to place food orders.
"We have a concentration problem in downtown Encinitas," Chairman Bruce Ehlers said as he discussed the number of existing alcohol-serving establishments in downtown.
He added that he once helped take down decorative banners along Coast Highway late one night and couldn't believe how many intoxicated people were on the streets and how many sobriety checkpoints sheriff's deputies were running.
"It was an eye-opener of incredible proportions," he said.
Ultimately, the commissioners agreed to support Angelo's state alcohol license request, if the proposed alcohol service hours were limited to 11 a.m. to 10 p.m., similar to what's been required for new restaurants in the downtown area.
When it came to the drive-through issue, commissioners were divided over the suitability of a traffic cuing report submitted by the restaurant's owners. Commissioner Kevin Doyle said he found the analysis "absurd" because it was based on the restaurant's small square footage, not on average daily trips for a typical fast-food, drive-through facility. He said he worried that the drive-through backup could spiral out of control and cause extensive congestion on area roadways, similar to what's happened near the Starbucks drive-through on Leucadia Boulevard just west of Interstate 5.
"I'm just concerned that you're going to be too successful; you're in an awesome location," Doyle told the restaurant's owners.
Other commissioners said they worried about creating vehicle congestion in the area, but didn't have a problem with the traffic report the restaurant submitted. Ehlers said it was "reasonable" to use a square footage estimate, given that Angelo's not a major chain like Starbucks and won't be pulling in thousands of cars off of Interstate 5.
As they approved the permit requests, commissioners added some conditions aimed at preventing traffic congestion, including extra signage and a restriction that vehicles going through the drive-up lane not block the sidewalk.
There are four Angelo's Burgers along Coast Highway 101, three in Oceanside and one in Encinitas, and they're owned by the Regakis family.
In an Oceanside Blade-Citizen newspaper article posted on the company's web site, Tony Regakis recounted that he immigrated to the United States from Greece in 1969 with no money and "no shoes." After nearly a decade of working in the restaurant industry in Los Angeles, he opened his first burger place in Oceanside and named it after a cousin because the name "Tony's" was already in use by two other restaurants in the city, he said.
A real estate specialist quoted in that article credits Regakis as being instrumental in the campaign to get Oceanside's "Hill Street" renamed as Coast Highway.
During the Thursday, June 4, meeting, Regakis told the commissioners that the drive-through portion of his Encinitas restaurant has been popular recently because of the coronavirus-related restrictions on indoor dining, but said he expects that will change. In the past, the place has been more of a walk-up destination for many people who are spending the day downtown, often attending street festivals or visiting the beach, the commissioners noted.
--- Barbara Henry is a freelance writer for The San Diego Union-Tribune

Sign up for the Encinitas Advocate newsletter
Top stories from Encinitas every Friday for free.
You may occasionally receive promotional content from the Encinitas Advocate.