Meet the candidates: Encinitas City Council District 2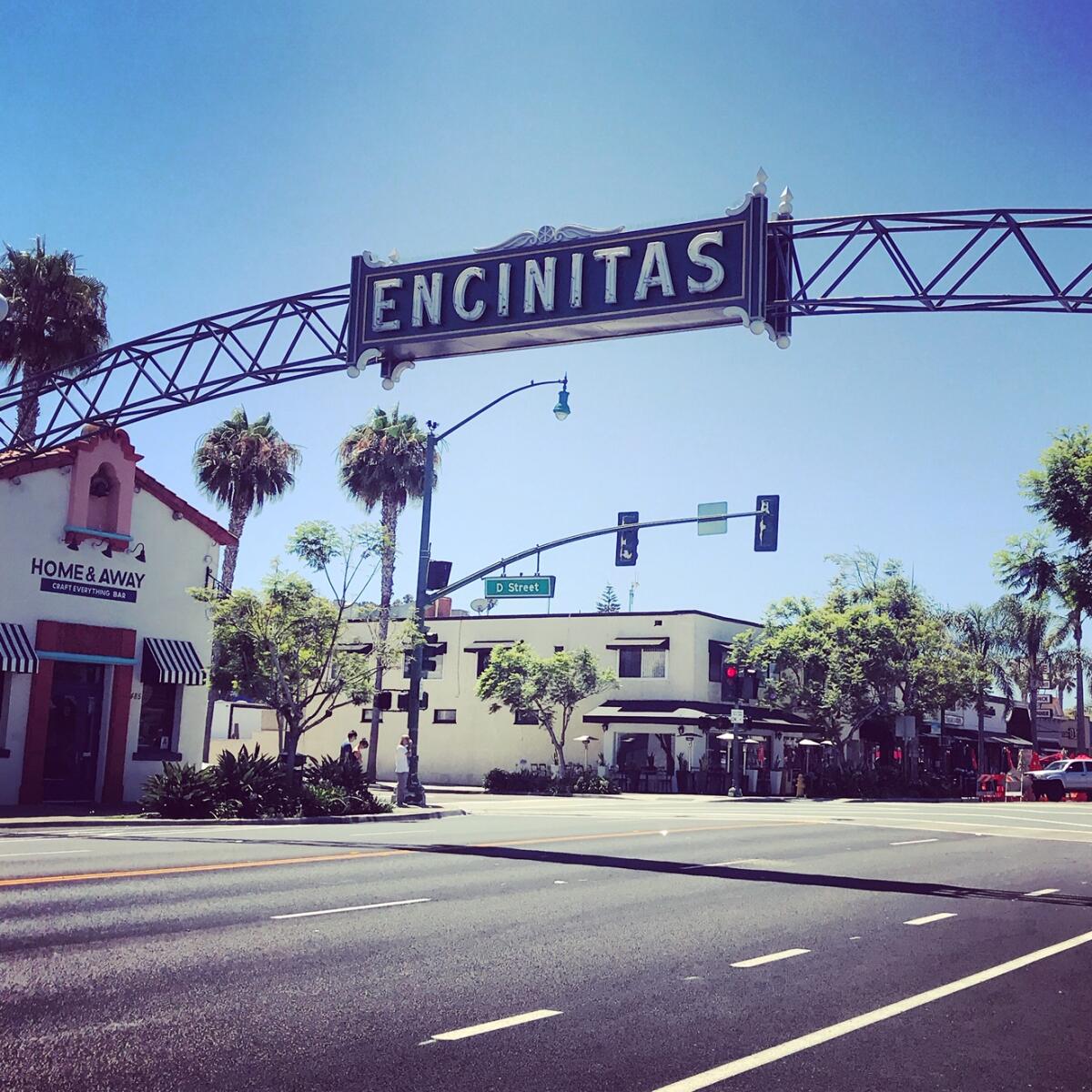 On Nov. 3, Encinitas residents will make decisions on two city council seats. In District 2, city council candidates include incumbent Kellie Hinze and candidate Susan Turney. In alphabetical order, see their bio information and responses to three questions below.
Name: Kellie Hinze
Occupation: Current Councilmember, former Elementary School Teacher, former Executive Director of Leucadia 101 Main Street Association.
Education: Graduate of San Dieguito Academy, B.A. in Psychology from UCSC, M.Ed. with Bilingual emphasis from UCSB, M.A. in Global and International Studies from UCSB
Community Service: Board Member Facilitating Access to Coordinated Transportation (FACT), Former Board Member of Encinitas Preservation Association, Annual Point in Time Count Volunteer for The Regional Task Force on the Homeless, Working Group Member for Coastal Mobility and Livability Study.
1. What do you think are the biggest issues facing the City of Encinitas?
Our community faces unprecedented hardships: a pandemic, climate change, local businesses under strain, and to exacerbate it all, an incompetent and heartless national response that fuels division in communities at a time when we need to be working together more than ever.
With the economic stress of a pandemic and a failing job market, we face a recipe for historic levels of hardship. For decades the City struggled to identify strategies to create affordable housing. Now we are additionally grappling to create housing options to keep middle class families in our city. Getting through these challenges will demand city leadership that is tenacious, visionary and unifying.
As we live through this historic period of hardship, we need to be focused on preserving the aspects we love most about our community while bolstering our resilience and relying on fact-based information to make decisions.
2. How would you propose to address those issues?
I'm honored to be part of a City Council that's already investing in infrastructure for safe, emission-free travel, renewable household energy and safeguarding our neighborhoods from heavy floods, drought and fire danger.
The challenge of meeting the state's requirements for our next housing element cycle is at the front of my mind. I believe we can comply with affordable housing laws that create deed-restricted affordable housing and housing for Encinitas' middle-class families, young professionals, artists, first-time homeowners and aging seniors. Keeping the community whole in this way will protect our treasured character.
I stay focused on the fact that regardless of a resident's income level, they deserve to be treated as a part of this community with dignity and compassion. As elected officials, I believe it's our job to create policies that allow for communities that are more inclusive. That paves the path for more diversity, which enriches all communities.
3. Do you agree with the way the City of Encinitas operates? If not, what changes do you think need to be made.
Encinitas is the second safest city in San Diego County and among the top 50 safest in the state.* Out of the 18 cities that comprise the region, Encinitas ranks 3rd (or 4th depending on the week) for the lowest COVID cases. Together with our professional staff, Encinitas leadership is strong in the face of crisis.
We are secure in our financial health with our reserves fully-funded and despite COVID's challenges, long-awaited quality of life projects are underway. Construction of the El Portal Undercross is a great example. Next, Council will be able to set our sights on funding a rail crossing north of Leucadia Blvd.
Encinitas deserves strong, trusted leadership. Despite the toxicity of national politics seeping into local elections, I believe in the collaborative spirit of Encinitas residents to overcome the challenges we face together if we elect leaders who demonstrate integrity and respect for diversity of opinion.
*bit.ly/2ZYzP2n
Name: Susan Turney
Occupation: Business Development Manager
Education: Master of Business Administration (MBA)
Community Service: 15 years helping neighborhoods with housing and public safety issues
1. What do you think are the biggest issues facing the City of Encinitas?
a. The biggest issue is providing affordable housing to comply with state law, while not sacrificing Encinitas to massive projects that are mostly market-rate. Our Prop A Right to Vote on these plans is currently threatened by the council's court action to eliminate a public vote.
b. Public safety and prioritizing the budget to support it. We have long-ignored deferred repairs to drainage, road, and infrastructure, threatening health and safety. Projects that exacerbate flooding and create emergency ingress/egress issues should not be approved. The new Cardiff cycle track, with more than 20 accidents since opening, should be closed immediately and the design corrected.
c. Lack of transparency in government affects every aspect of Encinitas governance. Residents don't feel heard and are kept in the dark on decisions that affect them. Many believe that council decisions are predetermined and do not trust the routine 5-0 votes that lack minimal council discussion.
2. How would you propose to address those issues?
a. Create compliant housing plans that increase the amount of affordable housing and reduce the total of upzoned units needed. Other cities do this. The result is less traffic and overflow parking, and a lower infrastructure burden. Fight bad state housing bills; I'm actively doing so as a member of a statewide coalition.
b. Safeguard the public by prioritizing deferred maintenance and infrastructure repairs over expensive trophy projects. Major capital improvements have been ignored, such as Leucadia drainage and the Olivenhain-Cardiff sewer trunk that leaks into the San Elijo Lagoon. For the $13 million El Portal underpass we could have had four prefabs instead to increase access and keep people off the railway tracks.
c. Support transparent governance: no closed-session meetings unless required by law and no predetermined outcomes at council meetings. I support a Sunshine Ordinance for increased oversight on processes, record retention policies, and greater council member accountability.
3. Do you agree with the way the City of Encinitas operates? If not, what changes do you think need to be made.
a. I see two main areas for improvement. The first would correct the deliberative process. Public meetings should be held at which clear, measurable objectives are created. We can then develop a pool of alternatives to reach these objectives and choose the best solution from among the alternatives. The council's fear of "analysis paralysis" should not force rushed decisions. We should be thoughtful and do things right the first time. This may initially take longer, but in the long run ensures the right outcome at less cost, as there is no need to revisit and fix mistakes. The second area for improvement is in staff's support of the council in decision making. Rather than having staff lobby for their preferred recommendations, staff should be neutral and present options backed by analysis and the expected results explained for each. With input from the public, the council can make the best choice.

Sign up for the Encinitas Advocate newsletter
Top stories from Encinitas every Friday for free.
You may occasionally receive promotional content from the Encinitas Advocate.