Encinitas unveils mosaics along Santa Fe Drive
Growing up in Encinitas, artist Jennifer Hewitson remembers her father as an avid environmentalist and bird watcher.
"I followed in those footsteps as far as valuing our wild spaces, and San Elijo Lagoon is certainly a favorite," she said.
Those memories inspired a sketch of the lagoon and multiple bird species that migrate through the region. That sketch became a three-by-five foot mosaic, "Pacific Flyway," one of 53 now on display along Santa Fe Drive's Interstate 5 redesigned underpass in a public art project led by the city of Encinitas and Caltrans.
Hewitson and other local artists, from high school students to longtime professionals, submitted works that fit the "Encinitas Up Close" theme, designed to capture the people, history, wildlife and other cultural elements of the seaside city.
"I often am inspired by where I live and work," Hewitson said.
The artwork complements the recently completed construction of new bicycle lanes and sidewalks along Santa Fe Drive, part of a Build North Coast Corridor series of infrastructure projects by local and state government agencies. Concrete barriers separate the newly installed mosaics from traffic in the underpass, where they are lined along both sides of the street.
Artist Cheryl Tall, who lives in Carlsbad and has a studio in Leucadia, paid homage to marine life in her mosaic "Nai'a," which depicts a dolphin in the ocean under a sunlit sky. She completed two works with a few of her students that were selected for the underpass project.
"Encinitas is all about the ocean and the lifestyle that goes with it," Tall said.
After viewing the complete array of mosaics, she added that she felt "proud that it does reflect our community."
Pietro Martinez, a San Diego artist who lived in Encinitas for about five years, also had two works selected for the project. They show two oceanic characters he conceived: Ruby the Shark, who appreciates ocean conservation efforts, and Daisy the Whale, whose hobbies include singing and traveling. Martinez said that he admired the ways all 53 mosaics encapsulated the community.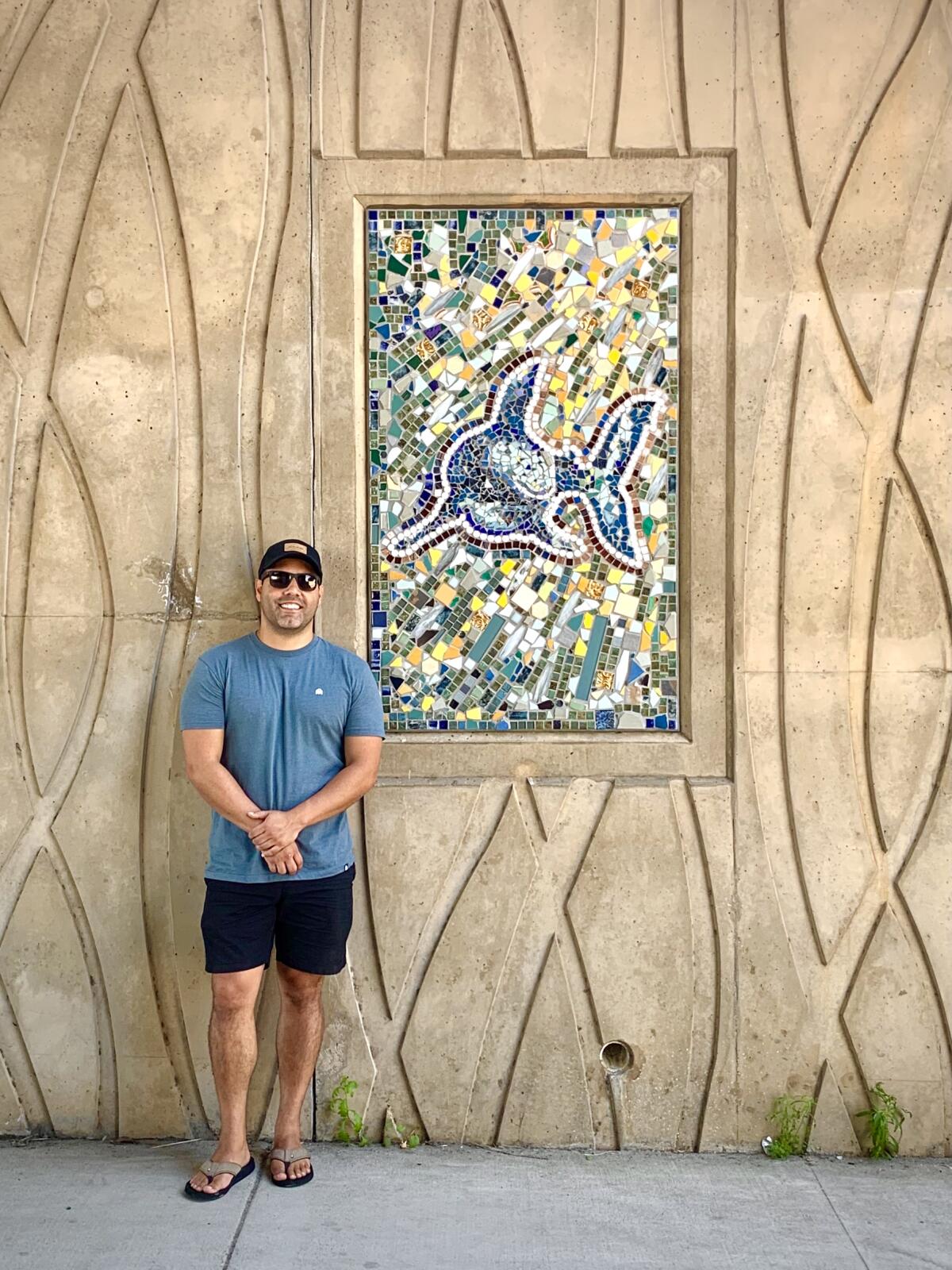 "There are historical pieces, pieces that arc back to the different neighborhoods," he said. "There are a couple pieces that have the Spanish or Mexican heritage that were part of the past. And there's stuff like mine, which is more coastal-general animals or sea life. I thought they had a really good selection process."
The city of Encinitas created an online walking tour for the Santa Fe Drive undercrossing with images of each mosaic, statements by the artists and their biographies. Residents can walk the exhibit in person or visit encinitasca.gov/euc. A link to the walking tour is also available on the public art page at encinitasca.gov.
Sign up for the Encinitas Advocate newsletter
Top stories from Encinitas every Friday for free.
You may occasionally receive promotional content from the Encinitas Advocate.