Local student Nick Simpson named 2021 Coca-Cola Scholar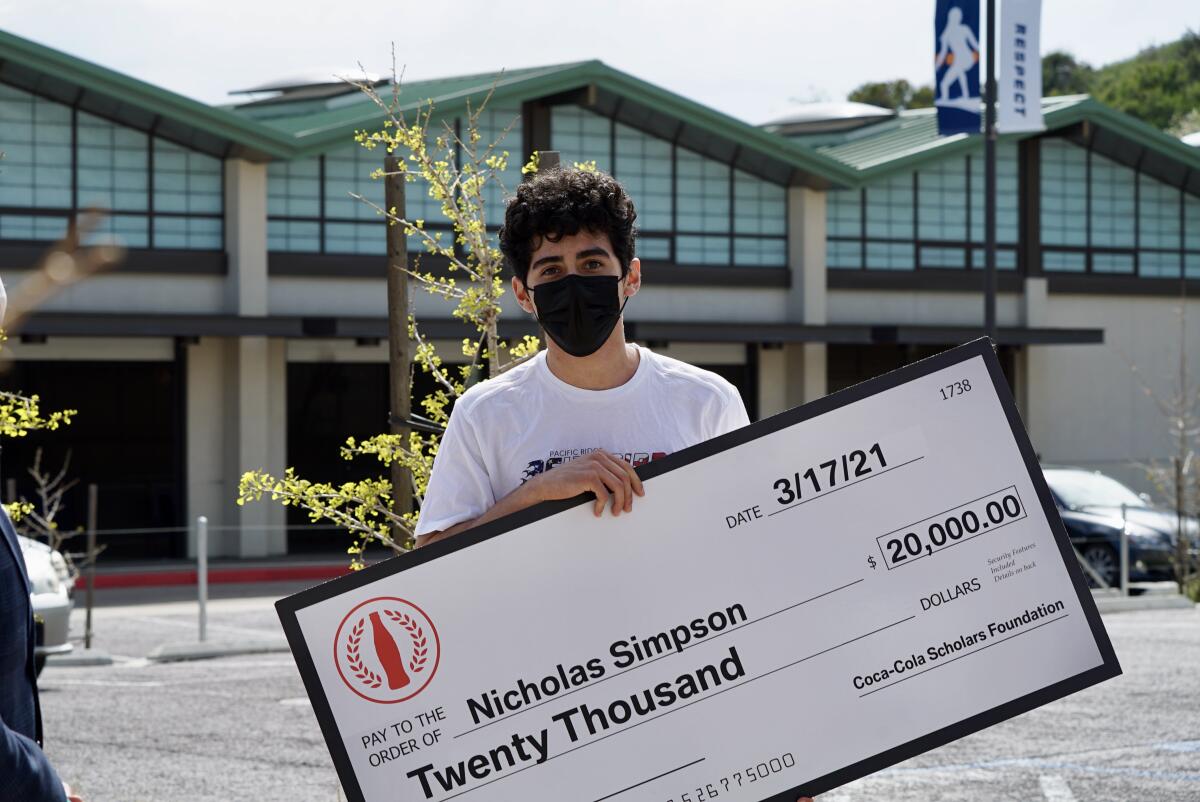 Nick Simpson, a senior at Pacific Ridge School in Carlsbad, has been recognized as one of the country's most outstanding high school leaders by the Coca-Cola Scholars Foundation and has been awarded a $20,000 college scholarship. As a member of the 33rd class of Coca-Cola Scholars, Nick not only exemplifies superior leadership, service, and academics, he is a change agent, positively affecting others in the community. Nick is one of 150 selected from 99,403 applicants from across the country to receive this scholarship.
A joint effort of Coca-Cola bottlers across the country and The Coca Cola Company, the Coca-Cola Scholars Program is the largest corporate-sponsored, achievement-based scholarship program in the United States. With the addition of the 2021 class, the Coca-Cola Scholars Foundation will have provided more than 6,450 Coke Scholars nationwide with over $75 million in scholarships over the course of 33 years.
"We believe that identifying these young leaders throughout the country and encouraging their passion for serving others not only empowers the students, but also lifts up those around them." said Jane Hale Hopkins, president of the Foundation. "The Coca-Cola system is dedicated to giving back to the communities they serve, and the Coca-Cola Scholars Foundation is proud to be a part of that commitment."
Nick was also one of five of this year's Scholars selected to receive a surprise celebration from the foundation. Emerging from volleyball practice, Nick was met with a Coca-Cola truck emblazoned with his name, the official Coca-Cola Bear mascot, a giant check for $20,000 and loving family members and faculty. Nick joins Anisha Mudaliar '11, Stephanie Sapp '12, Tony Ibrahim Hart '13, and Delaney Miller '14, as Firebirds who have been honored by the Coca-Cola Scholars Foundation.
"Having so many of the people I care about surrounding me during such a special moment — many of whom have supported me from the 7th grade and earlier — was a feeling that I will never forget," Nick said. "I showed up to volleyball practice like any other day and left with a $20,000 check and memories I will never forget! I am still stunned by the generosity of the Coke Scholars program and I am very grateful to all those that have helped me get to this point, namely my dad and Ms. Susan Woods."
In addition to receiving college scholarships, those students selected as Coca-Cola Scholars will be welcomed into a vibrant and growing family of alumni that have become a powerful force for positive change in the world. Through networking, collaborations, and friendships, the group strives to make a greater impact together. Recent initiatives include a podcast called The SIP, Coke Scholars Care (Coke Scholars doing good in the midst of the pandemic), and the fifth year of a coaching program that partners seasoned alumni with first-year Scholars as they transition to college. Every five years, all alumni are invited to a Coca-Cola Scholars Leadership Summit.
Learn more at www.coca-colascholarsfoundation.org.
Sign up for the Encinitas Advocate newsletter
Top stories from Encinitas every Friday for free.
You may occasionally receive promotional content from the Encinitas Advocate.