Encinitas family pursues help for impaired son
3-year-old has shown signs of communicative behavior
Tristan is three years old. He cannot speak.
Unlike other children his age, he cannot mold his mouth to produce words.
He cannot point. He is unable to manipulate his arms, hands and fingers to indicate what he might want or need.
So, he screams and cries.
"He's been screaming for the last month or two," said his 9-year-old brother Colton. "When he's not screaming, he walks around to places and we don't know what he's doing.
"So we have to go watch him all the time and make sure he's not doing something he's not supposed to do."
Tristan is trapped in a world to which only he has access. Whatever he experiences in that inner cell, he is unable to communicate.
There is no key to unlock that world. At least not yet.
Parents Michaelle Jinnette and Kevin Witt of Encinitas and Tristan's brothers Colton, 7-year-old Caden, and 5-year-old Traelock pray that through science a method will be developed to open Tristan's mind to the outer world.
There have been signs based on past behavior that it may be possible.
To that end, the parents launched an online GoFundMe campaign more than a year ago. The goal is to fund research in search of a remedy for Tristan as well as other children suffering his plight.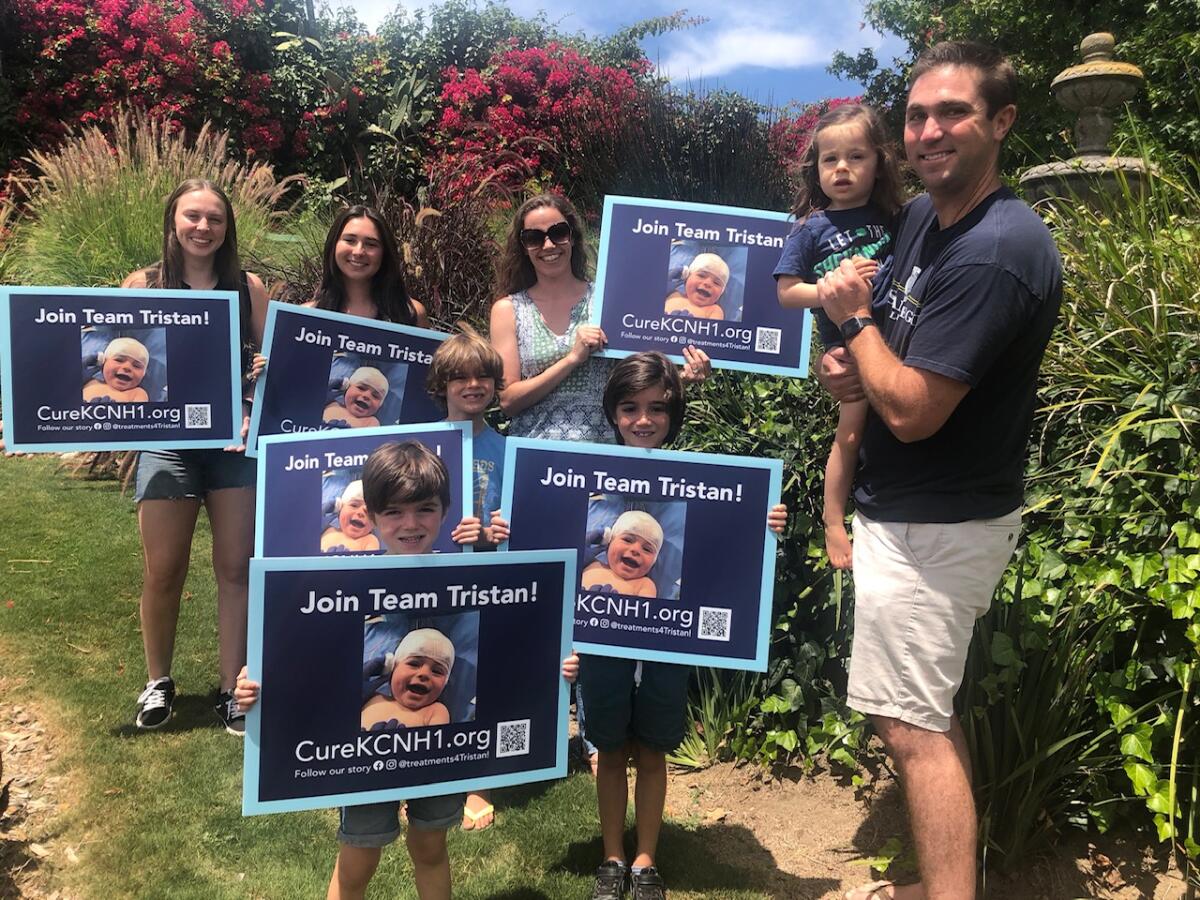 The parents are sharing information and collaborating with such organizations as the nLoren Foundation and Northwestern University in Chicago.
The couple renewed that fundraising plea this year in conjunction with Rare Disease Day, Tuesday, Feb. 28. In addition to the GoFundMe account, the couple has activated a nonprofit organization: www.curekcnh1.org
"Since then, we have raised almost $300,000," Michaelle said. "We got some big donations and a $75,000 grant. Once we had raised some funds, we were able to start funding some research."
Tristan is among a minuscule number of children around the world diagnosed with KCNH1, a gene mutation also known as the Zimmerman Laband Syndrome. The condition can result in severe intellectual disabilities and epilepsy.
While KCNH1 is rare in itself, Tristan's case is wholly unique, as far as his parents and doctors know.
"He's the only one in the world with his particular mutation," Jinnette said. "There's maybe 50 to 100 individuals in the world with KCNH1 mutations. Some of them have the same ones. Tristan's is unique."
Yet, as the family has experienced, Tristan appears to have the potential for a breakthrough.
That hope has renewed Michaelle and Kevin's commitment to pursue a panacea for Tristan as well as others afflicted by KCNH1.
Leading up to last year's Rare Disease Day, the family witnessed something they'd never seen from Tristan, despite ongoing efforts to stimulate him to function. He began to use his hands to signal that he wanted food.
They felt as if a miracle had happened. Yet, within a month, the behavior had disappeared, the parents said.
Then last summer, after Tristan had received doses of a promising drug therapy, he once again exhibited signs of comprehension.
"For two weeks, he was learning things and that doesn't happen every day," Michaelle said. "For a typical kid, it's not a huge deal, but for him, it's massive."
During the treatment, she recalled, her husband asked Tristan if he'd like to read a book.
"He went over to a book on the floor and tried to pick it up," she said. "I broke down instantly, it was so shocking."
Said Witt, "We didn't think he even knew what a book was."
Among other behaviors, they said, Tristan walked down stairs, used a spoon, opened doors and spoke some words.
"It was completely mind-blowing," Witt said. "Probably for two weeks, literally every day, he did something else.
"He's never had any spacial awareness, so opening a door or going down stairs was amazing. He was making eye contact with me, which he's never done before."
Even the therapists were amazed, the couple said. Yet again, the newly gained skills began to fade and eventually disappeared, leaving the family sad and bewildered.
"He works so hard and then he loses things," Jinnette said. "In the spring, he was able to repeat back 10 words, and then he lost it all. ... That was really discouraging."
She said researchers working with the family believe Tristan may have developed a tolerance to the treatment. They are studying how the treatment may be tweaked to regain its efficacy in Tristan's case.
Meanwhile, the family continues its fundraising efforts and collaboration with medical experts in hopes that science will provide answers not only to KCNH1 but other conditions that could benefit from gene therapy. Recently, the couple sponsored a conference of medical experts discussing KCNH1 and the various tracks that are being pursued on the path toward a cure.
"We are trying to help Tristan and the other KCNH1 kids, but it's very true that these are very cutting-edge techniques and technologies," Jinnette said.
"Anything we do to help can absolutely help others with both rare and common diseases because these technologies are so cutting-edge. Any one that we find that is effective is a medical breakthrough."
With Witt continuing to work full-time as a teacher at San Dieguito Academy, the family has its proverbial hands full caring for their boys, with much extra attention devoted to Tristan, while raising money, exploring KCNH1 research and advocating for KCNH1 patients and their families.
"The Witt-Jinnette family is truly inspiring to everyone whom knows them," said Mariette Hughes, a child psychologist who is a friend of the family.
"It's incredible what they have accomplished in such a short time, yet I know it can feel like they are in a race against time to get Tristan effective treatments during this critical time in his development," Hughes said. "Michaelle and Kevin are pushing the research forward, which will help children with rare diseases for generations to come. ... I am always impressed when I hear what they are doing and it's heart-warming to see their community rally behind them in support."

Sign up for the Encinitas Advocate newsletter
Top stories from Encinitas every Friday for free.
You may occasionally receive promotional content from the Encinitas Advocate.