Green thinking: Encinitas students share their knowledge at Ecoliteracy Showcase
The Encinitas Union School District hosted an Ecoliteracy Showcase at the Farm Lab on May 2. Students from all nine school sites set up booths to showcase their environmental projects from the year and the ways they hope to leave the world better than they found it.
Every school in the district has an ecoliteracy program run by BCK Programs. BCK's standards-based curriculum is centered on sustainability topics that result in real school and community changes—the kids are actually coming up with solutions that make a difference.
This was the second year the district has done the showcase this way, which gives the kids a chance to really explain what they have learned and encourage best practices to parents, school board members, city council members and even Encinitas Mayor Tony Kranz.
"Part of ecoliteracy is community outreach," said Camille Sowinski, managing partner BCK.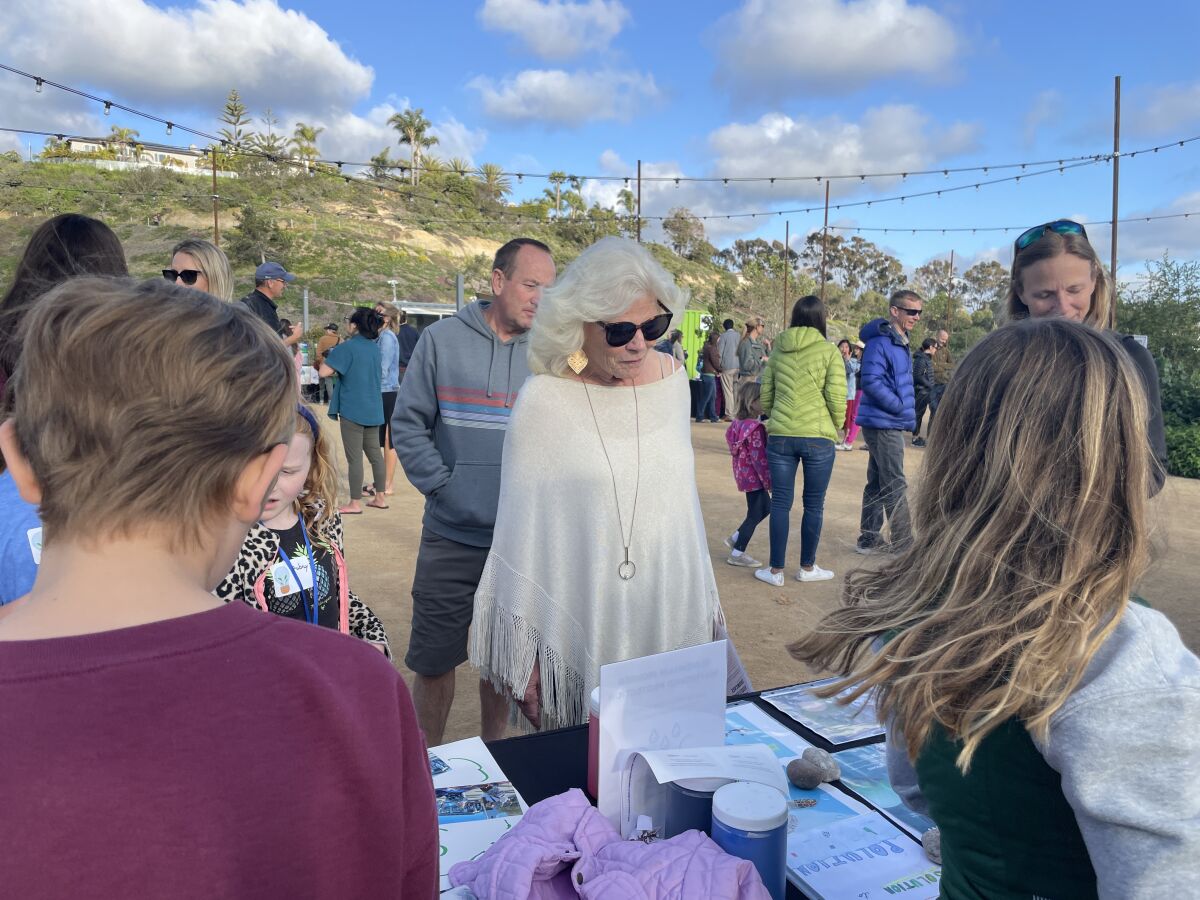 All of the students' projects were on display at the beautiful outdoor setting at the Farm Lab. Paul Ecke students shared how they helped reduce waste at the Leucadia's Farmer's Market, El Camino Creek students pitched their silverware pilot to reduce plastic utensil use at school and their design of a bioswale for watershed protection.
Olivenhain Pioneer displayed the stormdrain murals they created—on one, the grate of the storm drain is painted to look like part of a sea turtle shell: "Don't put trash on my back".
With the state's universal meals program, milk is provided for free for all students at lunch. With their project this year, Ocean Knoll School students discovered some kids will only take one sip and then toss the carton—resulting in a lot of excess waste. Students collected four gallons of wasted milk during one lunch period. In one week, about 20 gallons of milk were wasted at school.
The students launched an awareness campaign, making posters for the lunch areas to educate students to only take a milk if they were going to drink it and also made announcements to every classroom in an effort to reduce milk waste. They hope to track the successful results of their outreach efforts.
La Costa Heights students also performed a food waste audit and created a lunchtime waste diversion program. The district's Scrap Carts are a big help for waste diversion, kids learn to separate food waste for composting, liquids, cartons, recycling, worm food and trash for the landfill. It has been successful: the district's latest waste audit showed only 2.4% going to the landfill, 22% is recyclable materials, 13.7% is recoverable food and 61.9& goes to the organics recycling bin.
At La Costa Heights, second graders also participated in a litter pick-up program as they learned about keeping their local storm drain systems clean. The students picked up 80 pounds of litter on campus.
At the showcase, students encouraged all visitors to "Ditch the Switch" in order to save energy, handed out warm-up water buckets and procided basic waste sorting tutorials so families could reduce what they send to the landfill, just like they do at school.
Sign up for the Encinitas Advocate newsletter
Top stories from Encinitas every Friday for free.
You may occasionally receive promotional content from the Encinitas Advocate.