Locals hope to bring a lot more Little Moore Cafe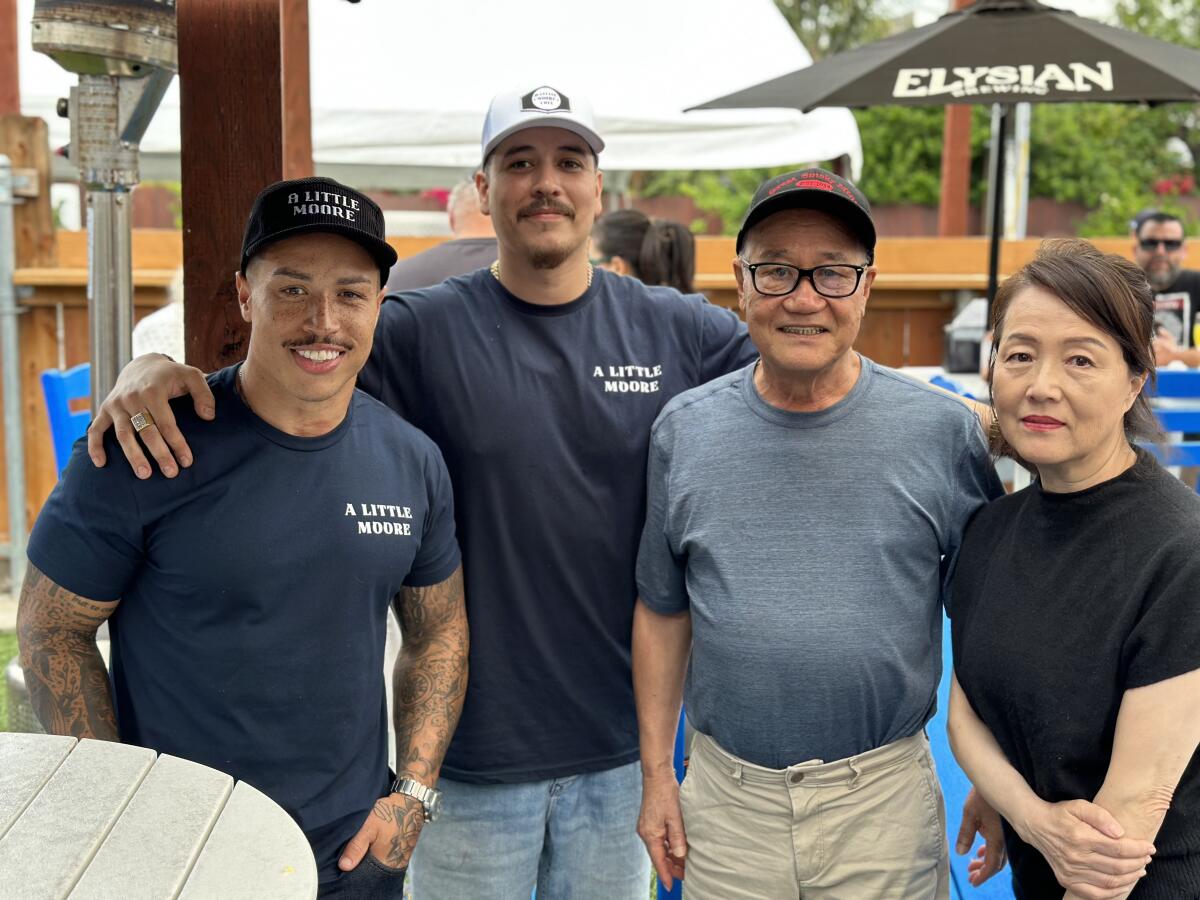 When Leucadia's A Little Moore Cafe closed up shop in March, it left behind a number of "I've been going here since I was a baby" regulars, including the new owners Deon Dickey and Andy Vasquez, who have been going there since they were kids at Paul Ecke Central.
The pair of locals has bought A Little Moore Cafe with their sights set on a revival, operating the restaurant as a Sunday pop up until they can secure a permanent new location. A Little Moore will next pop up for brunch at The Leucadian on Sunday, July 30 from 9:30 a.m. to 2:30 p.m.: Chicken and waffles and Moonlight Margaritas are among the selection of menu items.
A Little Moore's first pop-up on July 9 was a huge success, held on Smoke and Salt's outdoor space at the Leucadian with the coffee provided by Pannikin and the good vibes provided by the loyal locals.
"We are here to preserve and conserve the true Leucadia," Vasquez said.
The mom and pop "old school diner-type" eatery had been on the corner of Diana Street and the 101 for 45 years. For the last several years it was family-owned by Chang Han and his wife Misan. This year, the building was selected as one of the city's four cannabis dispensaries and the landlord chose not to renew the lease.
Vasquez got in contact with the Hans in their last few days and he talked it over with his business partner Dickey: "We just decided that we wanted to keep it around," Dickey said. They closed on the sale of A Little Moore in April.
Dickey, a firefighter with Cal Fire, has worked in the restaurant industry for 12 years and bartends part-time. Vasquez used to work at Leucadia Barbershop next door, so sneaking over to A Little Moore Cafe for some eats became a morning ritual.
Vasquez's family has long roots in the restaurant industry.
"Being raised by my grandparents I had the opportunity to see what hard work can provide for you and your family. I also had the chance to see my grandpa build and create his own restaurant hotel in Mexico, so doing something like this has always been a dream of mine," Vasquez said.
Vasquez said he and Dickey work off each other's energy and drive to have the motivation and discipline to accomplish what they are trying to do. The goal is to keep the restaurant in Leucadia or Encinitas although they have not found a new location yet. Dickey said they aren't in a rush and plan to do the pop-ups to get some exposure, keep the name out there.
With the pop-ups, Dickey said there are some fun new recipes they want to throw on the menu but they also hope to "bring back old school stuff with our twist on it."
At the upcoming pop-up, the menu will include The Hans BLT and The French OG, their signature breakfast sandwich, which is two sweet hunks of cinnamon French toast stuffed with scrambled eggs, cheddar cheese and bacon with organic maple syrup and whipped cream cheese spread.
The Kilo Breakfast Burrito comes fully-loaded with eggs bacon, sausage, tater tots, cheese, avocado and fresh-made salsa.
One pancake platter, the Bob's Grand Slam Special, is named after Dickey's grandpa, who bought a home in Encinitas back in the early 1960s and used to eat at A Little Moore until he passed away.
The cocktail menu features Bloody Marys and a Breakfast Shot, made up with Jameson, Butterscotch Schnapps, Lazy Acres fresh squeezed OJ and fresh in-house bacon.
"Keeping A Little Moore in Leucadia isn't going to buy us a house in Rancho Santa Fe," said Vasquez. "We're not doing it for the money we're doing it for the community and for what it means to be a Leucadian."
Follow along with A Little Moore on Instagram, @ALittleMooreCafe. The Leucadian is located at 1542 N. Coast Highway 101.
Sign up for the Encinitas Advocate newsletter
Top stories from Encinitas every Friday for free.
You may occasionally receive promotional content from the Encinitas Advocate.