Pole vaulter Sasha Strem soars at Junior Olympics
Sasha Strem, a 12-year-old pole vaulter from Encinitas, took the silver medal in her age group at the 2023 USATF National Junior Olympic Track and Field Championships. At the July 24-30 meet at Hayward Field in Eugene, Ore., Sasha cleared a 10'8" jump, reaching a height close to her 11' personal best.
A recent graduate of Flora Visa Elementary school, this month Sasha is headed to Diegueno Middle School to start seventh grade.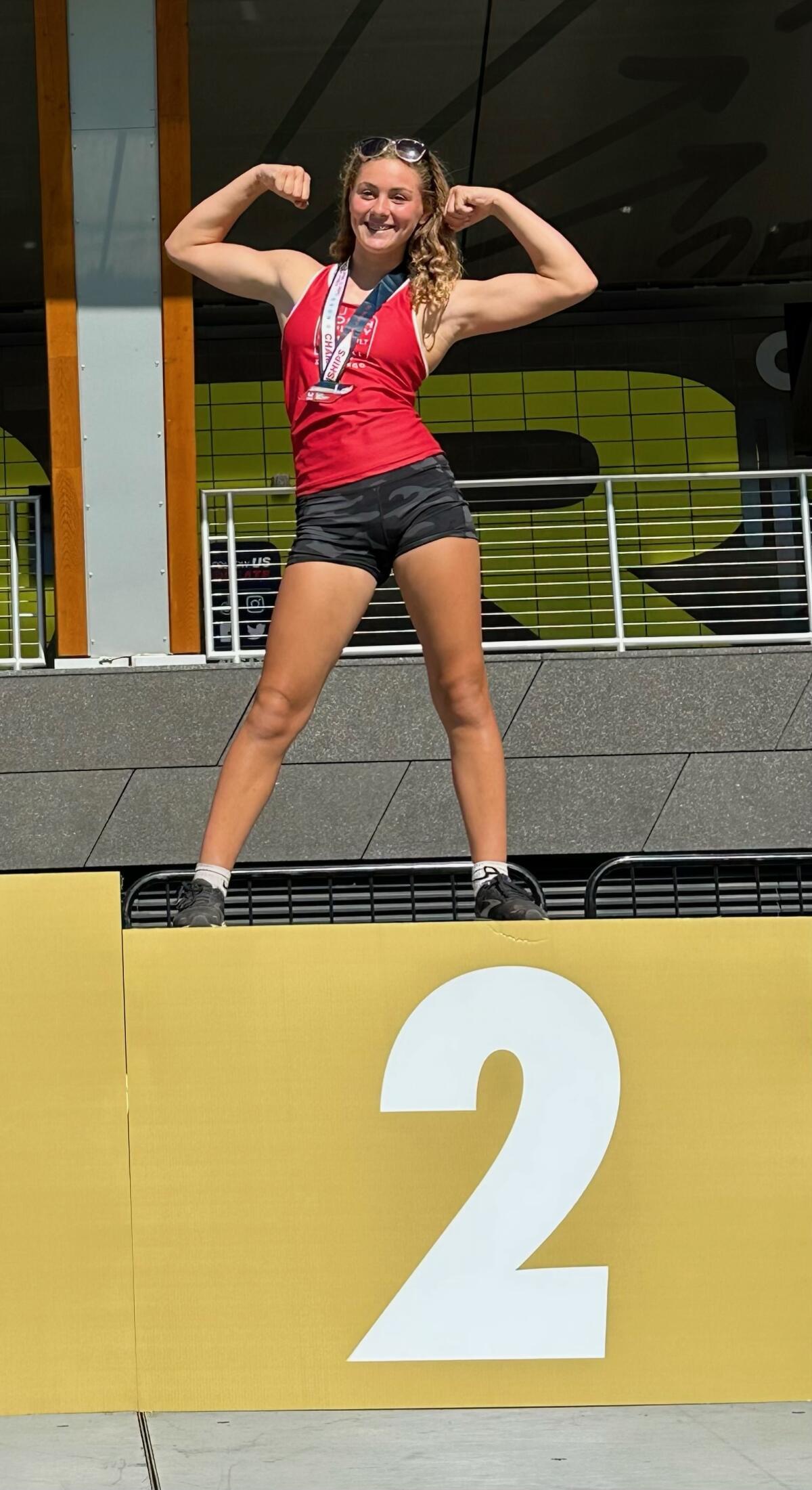 She began pole vaulting in the middle of the pandemic—her father Brian got into the event when he was in high school and pole vaulted at Cornell University. At the family house there are some photos of her dad vaulting that proved aspirational: "It always looked like fun and I always wanted to do it," Sasha said.
Sasha, who had done a little gymnastics and plays soccer, started off simple, learning the basics with a private coach. She next moved on to the North County Pole Vault Club in Escondido, where the coaches helped her develop the skills needed to safely take flight. The physics of pole vaulting are unique and sprinting down a runway to launch into the air backward on a pole might seem scary to the average person.
"It's not scary," Sasha said. "It's just excitement that you're actually doing that and getting that high up into the air."
For her training, Sasha practices two times a week with the club and on the weekends she goes to the track to work on her sprinting with Cassandra Cinzori, a recent San Dieguito Academy grad. Cassandra currently holds the school record in the 100-meter dash and ranks second all time in the pole vault —she will compete for Northeastern University in the fall.
"She really fixed by running form," said Sasha.
To get to the Junior Olympics, Sasha competed at two qualifying meets, the USATF-sanctioned Junior Olympics Regional and Sectional, held in San Diego and Lancaster respectively. In a small sport, Sasha placed in the top eight at both meets to make it on to the next level of competition.
The nationals were held at Eugene's Hayward Field, the mecca of American track and field.
"It was phenomenal, the facilities were great and there was a positive energy throughout the stadium," Sasha said.
All of the girls were talkative and all shared the same passion for the sport. "It was so cool to hear their backstories because they came from all over the United States," she said. The girls were "super close friends" by the end of the competition, but Sasha still wanted to beat them.
Sasha ended up placing second out of the 25 girls in her age division—she reached the same height as the girl who won first but lost out because of previous misses.
"It was really cool, it felt super rewarding," said Sasha, who got to climb the podium for a full medal ceremony.
"It was pretty great to watch as parents," said her proud father Brian.
Sasha's goal is to clear 11'6". At North County Pole Vault Club, she is considered an "Emerging Elite" athlete and she is hoping to rise to the "Elite" level by high school, where she plans to compete for SDA.
This upcoming season she plans to work on perfecting her pike at the top ( "I can be a little sloppy sometimes," she admits) and revving up her running speed: "The faster you are, the more energy you have to carry the pole," she said.
After a lot of competition and practice in the last several months, Sasha is taking August off from training before getting back to it in early September.
"Sasha is an incredibly talented athlete and some of that is clearly already shining through. She has the drive and work ethic that is needed to become an incredible vaulter," said North County Pole Vault Club Coach Kayla Smith. "It's been amazing to work with her at a young age and see her grow so much. I can tell she has a lot more in her, much higher heights to reach, and I'm very excited to continue working with her to reach higher levels of success."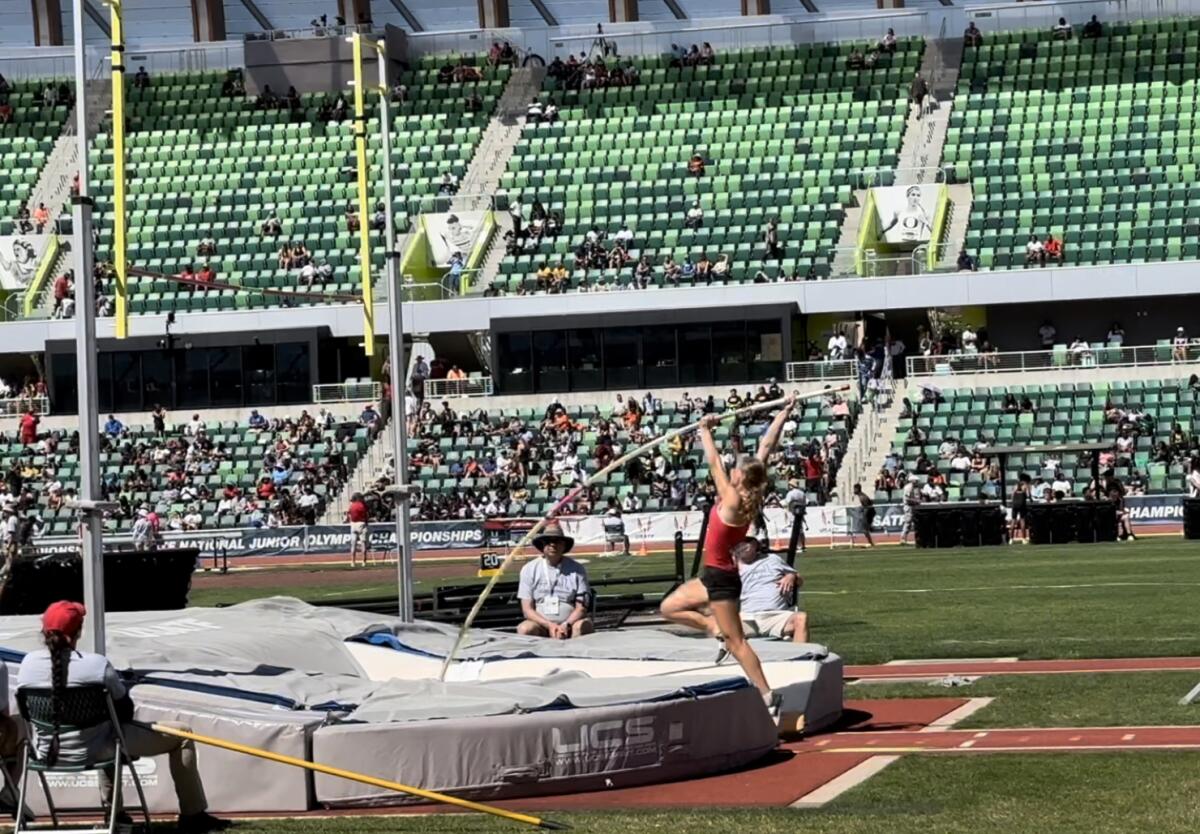 Sign up for the Encinitas Advocate newsletter
Top stories from Encinitas every Friday for free.
You may occasionally receive promotional content from the Encinitas Advocate.