Encinitas council decides to remove Leucadia traffic circle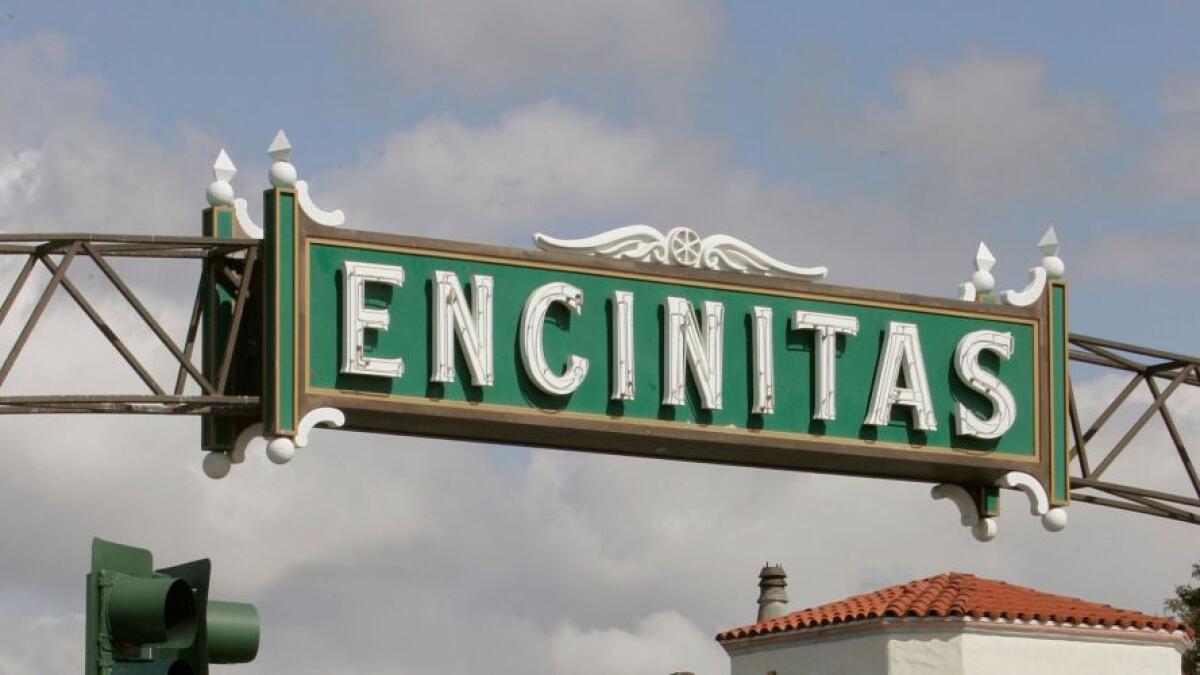 Decision comes in response to neighborhood complaints
Three years after installing a low-cost, traffic circle at a Y-shaped intersection in a residential area of Leucadia, Encinitas will yank it out and try stop signs instead.
On Wednesday, Aug. 9, the City Council voted 4-1, with Councilwoman Kellie Hinze opposed, to remove the plastic bollards and yellow paint that delineate the traffic circle at the intersection of Andrew Avenue, Eolus Avenue and Hillcrest Drive. The council directed city staff to replace the circle system with stop signs on each of the three roadways.
Hinze opposed this move, saying she would prefer yield signs because she believes stop signs will give pedestrians and cyclists a false sense of security. She cited an incident in Carlsbad where an e-biker was killed after a vehicle failed to stop at a stop sign in a residential neighborhood.
People who live near the Y-shaped intersection of Andrew, Eolus and Hillcrest told the City Council they couldn't wait for the ugly, low-budget traffic circle with its plastic marker posts to vanish.
Derek Sciacqua told the council it has been a source of trouble ever since it was installed, mentioning that large trucks get stuck in the plastic bollards daily and drivers sometimes go around the circle in the reverse direction. He said the Y-intersection was never a source of traffic accidents until the circle system markers were installed.
"None of us thought it was necessary to fix a problem that didn't exist," he said.
The city's traffic engineer, Abe Bandegan, confirmed that there was no history of accidents recorded at the intersection, but said that's not unusual for residential areas where low-speed accidents, or fender benders, are often not reported.
Mayor Tony Kranz said some area residents opposed the city's initial proposal for controlling the intersection — stop signs — some three years ago. That's how the city ended up pursuing a traffic circle, he said.
A full-scale traffic circle with landscaping, special curbs and sidewalks, such as the one on Santa Fe Drive, could cost the city upwards of several hundred thousand dollars, so Encinitas went with the low-cost, quick-build option — paint, and later some plastic bollards, Bandegan said.
Many area residents and Councilman Bruce Ehlers said they would like to return the intersection to its original state where it was an uncontrolled intersection. Bandegan said that he couldn't recommend that from a safety position.
The mayor said Encinitas would now be liable if it removed its current traffic control measures and didn't replace them with anything else.
"It just takes one (accident) — dead people (equals) much money," Kranz said.
Sign up for the Encinitas Advocate newsletter
Top stories from Encinitas every Friday for free.
You may occasionally receive promotional content from the Encinitas Advocate.