Encinitas teen advocates for plant-based school lunches in Washington D.C.
Encinitas resident Michael Christensen spent part of his summer lobbying for more plant-based options in school lunches in Washington D.C. as part of the Plant Powered Youth Steering Committee.
The 18-year-old La Costa Canyon High School senior was one of only 11 students from across the country selected to be a part of the coalition to raise their voices at the capitol.
Christensen's advocacy is fueled by his own experiences of suffering from food insecurity when he was younger; he is passionate about helping other kids going through the same challenges. He wants to make a difference by working with his school nutrition program to have healthier items and more plant-based choices on the menu.
"Plant-based products are better for the environment and healthier all around," Christensen said. "Frankly, kids don't want to be eating meat and cheese for lunch every day, sometimes believe it or not, a kid wants to eat a salad."
Plant-based options could also help those who have food allergies or students who have a more restrictive diet due to religious beliefs.
"Plant-based is the most inclusive, all-serviceable and all-encompassing option that we have in school lunch menus," Christensen said.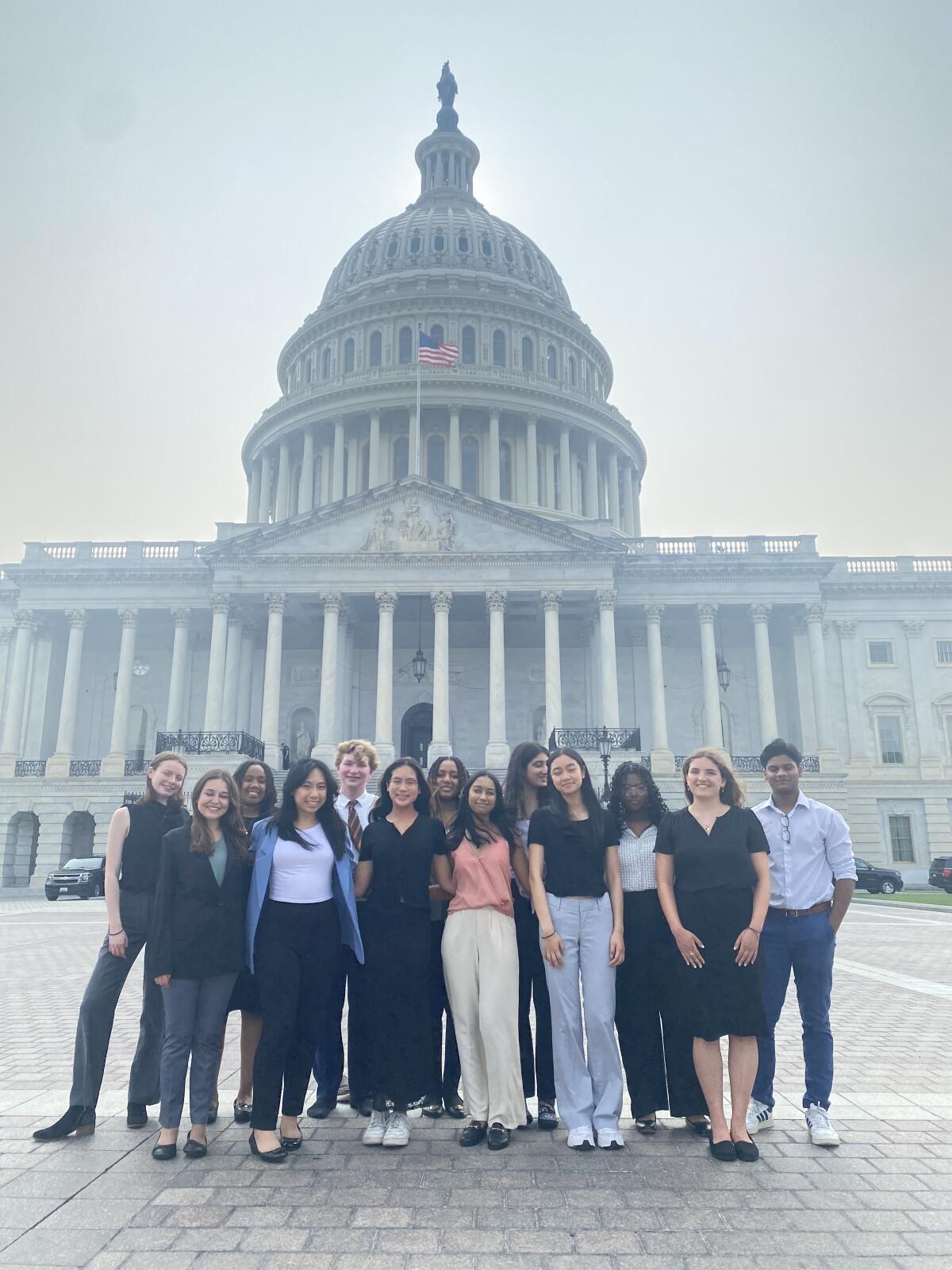 The trip to D.C. was his first time in the nation's capitol and he said it was a very cool experience to be there in person and see where all the action happens. He said it was empowering to join forces with his fellow like-minded and passionate Youth Steering Committee members: "I felt as if I found people who understood what I was trying to do and why it mattered," he said. "They just knew why these things were important for all of us."
The student coalition was in D.C. for four days and as a member of the California contingent, he lobbied with the staffers of Senators Alex Padilla and Dianne Feinstein, and even the executive office of the president. They met with Representative Jamaal Bowman of New York and Christensen personally got to meet with one of Congressman Mike Levin's staffers.
"It was very easy to communicate with them, they were very open-minded to us," Christensen said. "They were very supportive and very surprised and grateful to see kids our age getting involved in the government."
Additionally, the students met with the Education and Workforce Committee and the USDA, which led to one of the more challenging discussions of the trip.
"I hadn't realized how many bills restrict the ability of other programs until then. The Whole Milk For Healthy Students Act, for example, would ignore all of our efforts to promote healthy, inclusive meals in the lunch programs," Christensen said of the bill which would change the restrictions on milk offered in schools. "In contrast, the Farm System Reform Act would fully support our efforts to promote environmental health."
Back at home in the San Dieguito Union High School District, Christensen hopes to take what he learned to help make a change in the district's kitchen. He doesn't want to disparage the work of the nutrition services department as he understands they have a limited budget and resources, but he thinks there is room to improve the menu. A salad bar, he thinks, would be a welcome addition to options like chicken nuggets and pizza.
"I want to be the change and start somewhere," he said.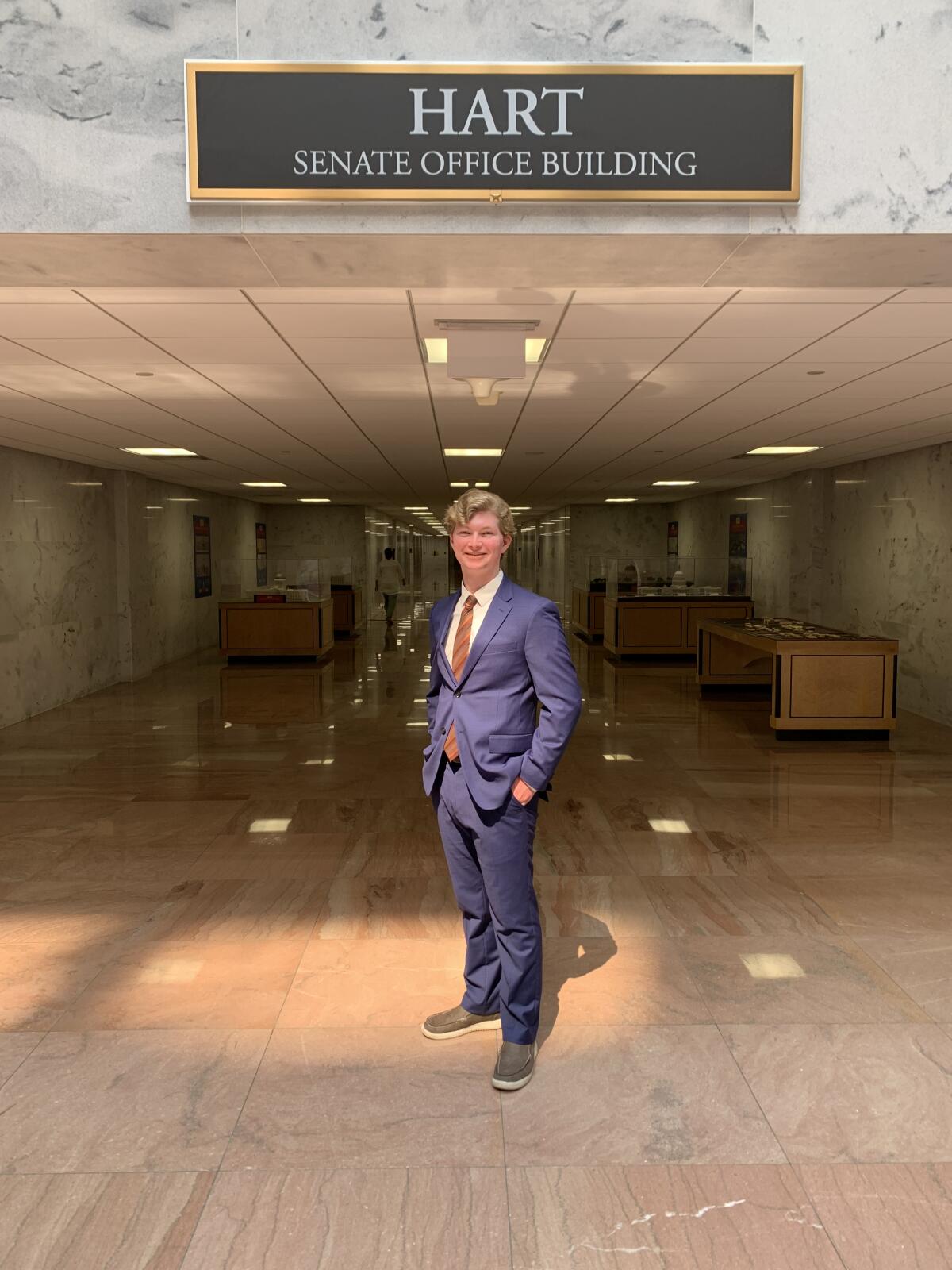 Christensen's long-term goal is for the district to create a pilot program that could be replicated across the country—he would like to build a community partnership with local businesses to have sustainable food options at school.
With five AP classes this fall, Christensen is staying busy. An aquatics athlete he has played water polo for the last two years and been on the swim team—he is also a sousaphone player in the marching band.
He is interested in pursuing pre-med or biology in college but the experience in D.C. was inspirational.
"I'm willing to try out courses in government and lobbying to see as a potential career now. It's a lot of work and it's slow going to make progress but it is actually kind of fun," Christensen said. "During the trip, I was able to learn to lobby and be an activist for my own truths and ideas. I can now move on with my life forever advocating for what I know is right, in all aspects of my life."

Sign up for the Encinitas Advocate newsletter
Top stories from Encinitas every Friday for free.
You may occasionally receive promotional content from the Encinitas Advocate.