Encinitas to consider lower speed limit on Coast Highway, traffic roundabout on Quail Gardens Drive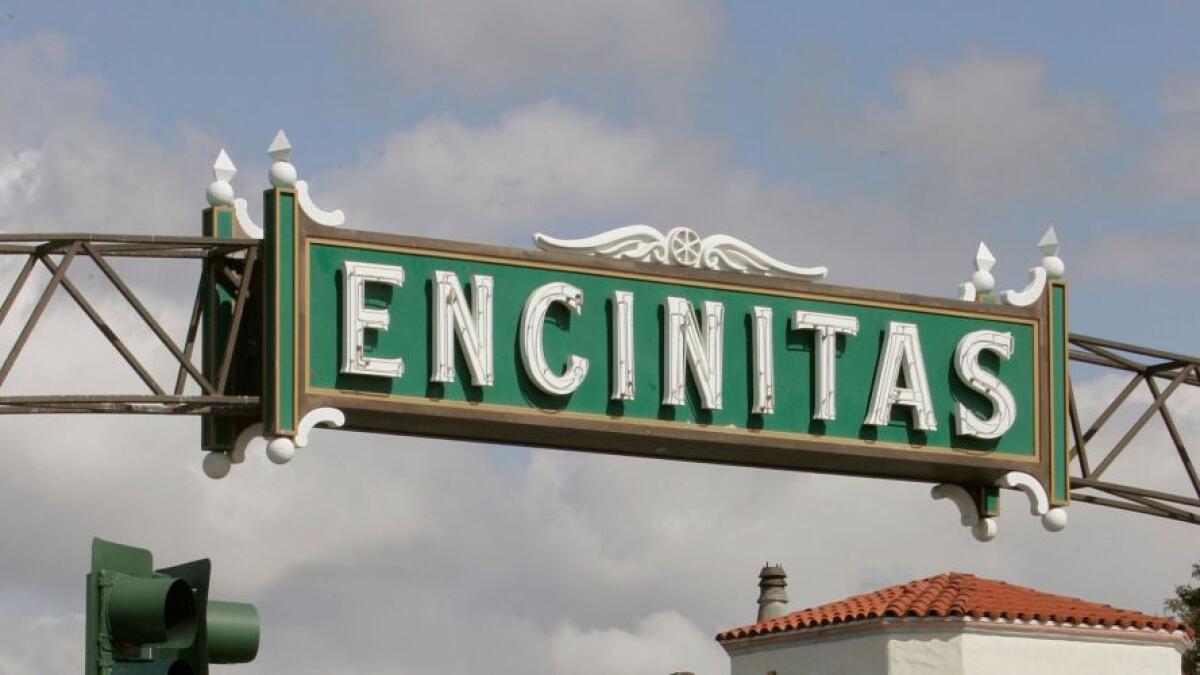 Many changes to city's roadways in the works to improve cyclist, pedestrian safety, traffic engineer reports
A slower speed limit on part of Coast Highway 101 and a rubber traffic circle roundabout on Quail Gardens Drive are among the many, now-pending Encinitas roadway projects that aim to make conditions safer for cyclists and pedestrians.
During two meetings Wednesday, Sept. 13 — a special afternoon session on the status of the city's emergency declaration on cyclist safety, plus the regular evening meeting of the City Council — city traffic engineer Abe Bandegan provided status reports on various roadway-related projects. Among other things, Bandegan said that city employees are:

Exploring whether recent changes in state traffic laws will allow them to establish a "business district" along South Coast Highway 101 between D and K streets, and use this new district status to justify lowering the speed limit to 25 mph in that area;
Working with major property owners, including the Magdalena Ecke Family YMCA and the Encinitas Union School District, to add traffic circle roundabouts, bike lanes and signage to Quail Gardens Drive and Saxony Road;
Considering creating "bike boxes" — green-painted areas in front of stopped vehicle traffic — to help cyclists make left turns at three busy Encinitas Boulevard intersections.
"It's basically a left turn done in two-stages," Bandegan said as he described the bike box concept, examples of which can be viewed on the National Association of City Transportation Officials web site at: https://nacto.org/publication/urban-bikeway-design-guide/intersection-treatments/bike-boxes/
In late June, days after a 15-year-old e-bike rider collided with a van and was killed, the City Council declared a local state of emergency on bike and e-bike safety. Modeled on one that Carlsbad approved in 2022, the new declaration commits Encinitas to expanding its cyclist education programs, increasing enforcement of traffic regulations and exploring ways to make roadways safer. The special meeting Sept. 13 was the first status report since the declaration was enacted.
In the weeks since the city's emergency declaration was approved, Encinitas has installed digital signs near schools and major intersections encouraging people to drive and bike responsibly. The city also has printed 300 small caution signs that people can post on their properties. Those free signs now can be picked up at either City Hall, 505 S. Vulcan Ave., or the city's Community & Senior Center, 1140 Oakcrest Park Drive, the city's newly hired mobility manager Nick Buck said.
North Coastal Sheriff's Capt. Christopher Lawrence said deputies have noticed an increase in safer riding behavior among young e-bike users while doing enforcement patrols. Deputies have written 66 citations and sent 59 people to bike education courses, he said.
Lawrence added that he hopes to end 2023 with far fewer bike collision reports than 2022. In 2022, there were 44, with 39 reported injuries. So far this year, there have been 15, he said.
Brodee Champlain-Kingman, the San Dieguito High School Academy e-bike rider who was killed, was an experienced cyclist who was wearing a helmet and following the rules of the road when he was struck while making a left turn off of a high-speed section of South El Camino Real onto Santa Fe Drive, his family members and friends have noted. They, and many other cycling enthusiasts, have stressed that Encinitas needs to do more than just educate cyclists about safety — it needs to reduce vehicle speeds to keep more cyclists from getting killed.
On Sept. 13, the city's traffic engineer got initial approval from the City Council to move forward with plans to overhaul Quail Gardens Drive and Saxony Road to reduce issues with speeding vehicles. The council backed plans for two bolted-down, rubber traffic circles — one on Saxony Road near the Paul Ecke Sports Park and one on Quail Gardens Drive at the Ecke Ranch Road intersection where the San Diego Botanic Garden and the school district's Farm Lab are located. Proposed changes for Quail Gardens Drive also include stop signs at its intersection with Via Zamia Way and Channel Island Drive, and both roadways would gain new striping, bike lanes and signage.
Area residents said the school children visiting both the Farm Lab and the gardens are bused between the two locations because of traffic safety concerns, and said the proposed changes should improve pedestrian safety.
Rubber traffic circles also will only likely sustain minimal damage if drivers hit them. And, the one proposed for Quail Gardens Drive could be repositioned later to better accommodate YMCA buses, if necessary, Bandegan added.
Lauren Hall, the regional YMCA director, told the council that the YMCA supports the idea of traffic calming for the roadway, but has some concerns about the proposed roundabout. YMCA officials want to work on those issues with city staff in the coming months, she said.
Sign up for the Encinitas Advocate newsletter
Top stories from Encinitas every Friday for free.
You may occasionally receive promotional content from the Encinitas Advocate.