For Encinitas skateboarders, park a long time coming
Local skateboarders have long been relegated to parking lots outside of businesses and schools. That's meant frequent visits from the Sheriff's Department.
Encinitas, while home to skateboarding icon Tony Hawk, lacked places to legally shred for years. But after much advocacy, skateboarders have a new place to call home.
The recently opened 44-acre Encinitas Community Park has a skatepark, dog park, ballfields and other amenities. Yet when the security fences came down last week, the 13,000-square-foot skate plaza seemed to draw the most people.

"It will take a few months to sink in — it's still pretty surreal to see it here," said Thomas Barker over boards clattering against the skatepark's ramps, rails and bowl. "All the skateboarders finally have a place of their own."
Barker, 29, has led the charge for a community skatepark in recent years. He rallied skateboarders to City Hall via a Facebook page called "Encinitas Needs a Real Skatepark." Offline, he met with city officials and handed out fliers at skate shops ahead of critical council meetings.

"I can just sit here and watch people skating all day long," he said while gazing at the plaza. "That's the best part."
A grand opening celebration for the entire community park, located at 425 Santa Fe Dr., is slated for 10 a.m. to 2 p.m. Jan. 10.

For a time, it appeared the skatepark would never be built. In 2001, the city bought the community park property. Yet the site sat vacant for more than a decade because of lawsuits and funding shortfalls.

And when the city finally went out to bid for the entire community park in 2012, many skateboarders feared the skatepark would be passed over to make space for more ballfields or other amenities.
In response, skateboarders "came out in full force" to a council meeting in the summer of 2012, Barker said.
"Teenage boys and people in their 20s are hard to corral, and they still showed up," Barker said. "It made all the difference."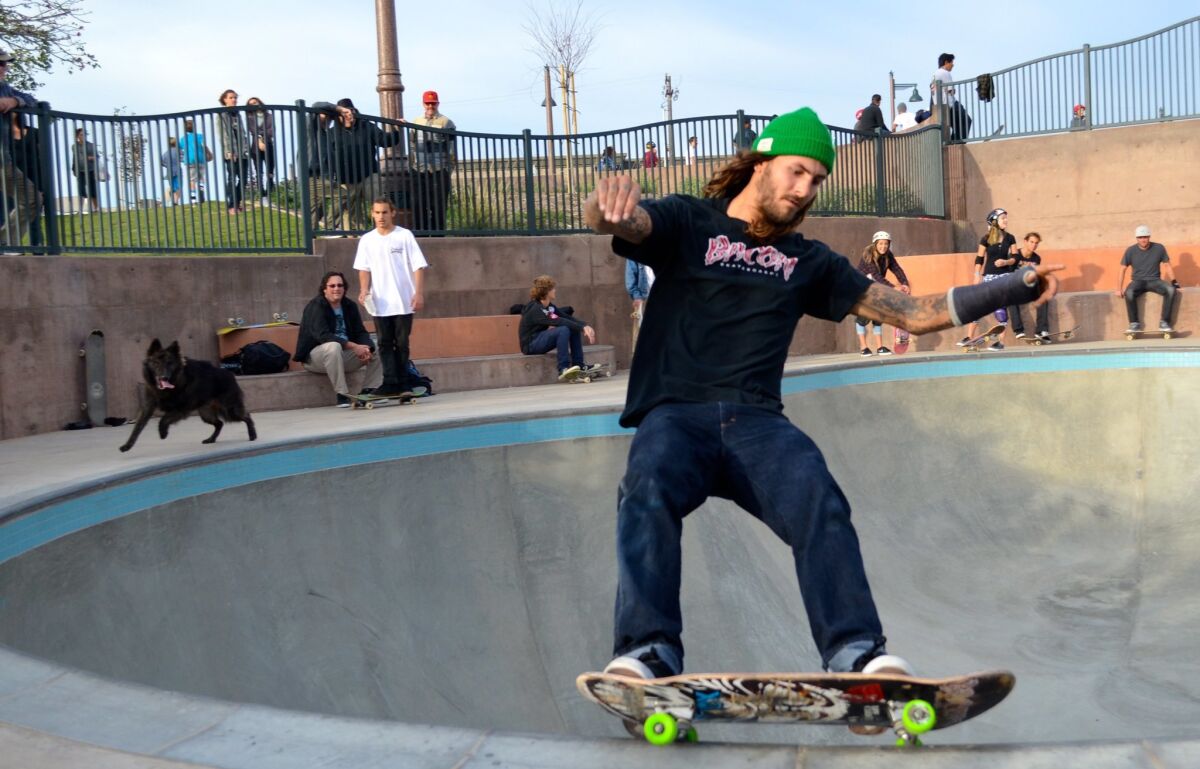 At the meeting, many noted that Encinitas has produced quite a few pro skateboarders and action-sports companies. Paradoxically, the city offers few places to skate, they said.

"We pointed out you wouldn't give all the baseball players in the city one or two fields," Barker said.

The Magdalena Ecke YMCA skatepark has a street course, bowls and a world-renowned halfpipe. However, there's a fee to skate there and it can be jam-packed. Leucadia Oaks Park has a small skate area, but not enough ramps to keep skateboarders busy for more than an hour or two.
Skateboarders risk warnings or even citations for skating in much of the city.
"Deputies have been called to the Petco parking lot so many times, I'm sure they're thrilled with skateboarders moving to the park," Barker said with a laugh.
Jeff King knows all about being chased off spots. He started "Flat Bar Fridays" at the Moonlight Beach parking lot nearly 14 years ago. On rails King provided, dozens of skateboarders showcased their best tricks.
"Kids were skating their hearts out," King said, adding the event kept them "away from drugs and out of trouble."
However, after neighbors reportedly complained about noise, skateboarders began receiving tickets. So, King moved Flat Bar Fridays. Yet the locations were either banned or didn't stick.
He later shifted his focus to pushing for a community skatepark. Frustrated with the city's inaction over the years, though, King eventually gave up. Back then, he said the council might have been reluctant to listen to skatepark advocates, since most were in their teens.
But, King added, Barker and others came of age, learned the ropes of city government and became skilled organizers, so the council couldn't help but pay attention.

"It took generations growing up to get this park," King said.
Along similar lines, Barker said many skateboarders who disappeared after Flat Bar Fridays are reuniting at the community park.
"It's like the community is being put back together," Barker said.
Barker added that he's grateful to fellow skateboarders, along with the Parks and Recreation Department, for pushing the skatepark forward.

City Manager Gus Vina said skateboarders spoke eloquently at council meetings when the community park was up for consideration in 2012.
"They were passionate, made a lot of sense and the council heard them out," Vina said.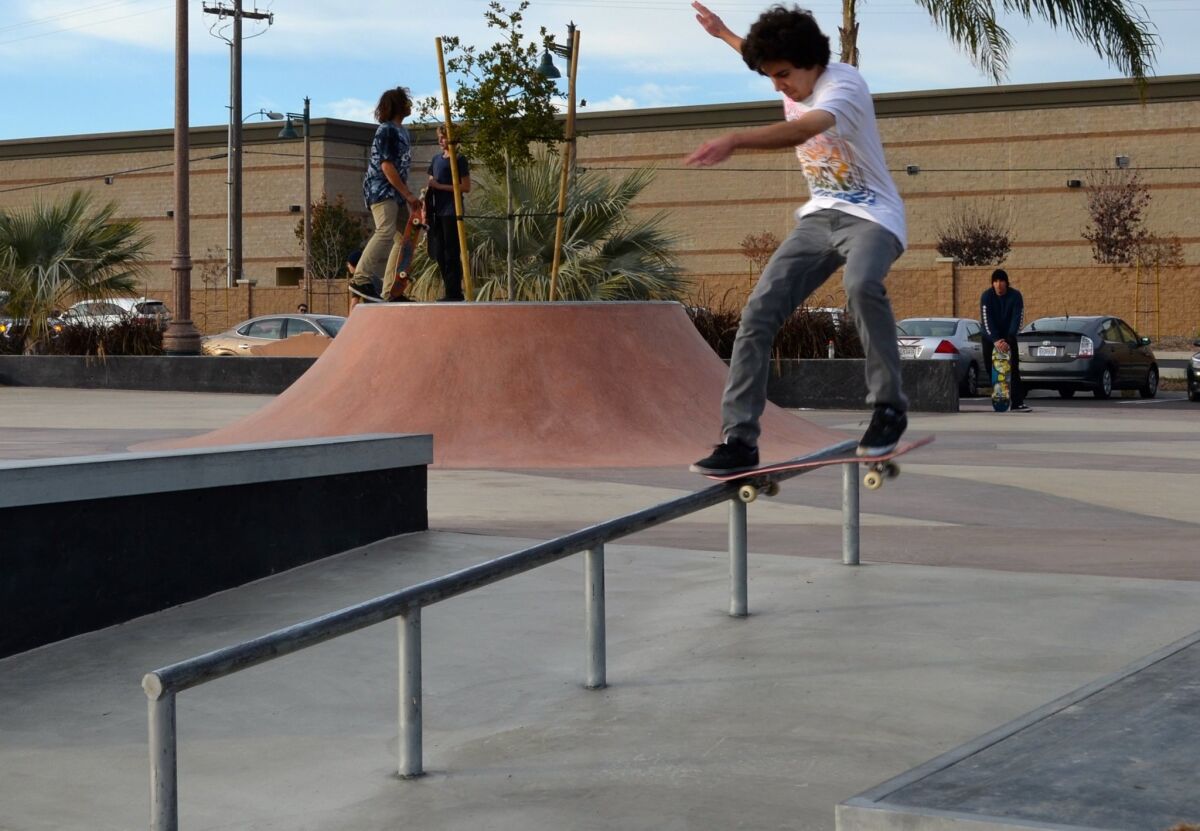 Originally, the city proposed building the community park in phases as funds became available, which Vina said pitted dog park, skatepark and ballfield supporters against each other. Instead, the council opted to construct the entire park all at once for $19.3 million, with $7.8 million coming from existing funds, $7 million from reallocating funds from other projects and $4.5 million in financing.

Some activists criticized the city for using financing and shifting funds around to pay for the community park construction.

However, Vina believes the funding approach was fiscally sound and united the various groups. He added it also allowed the city to build a community park reflecting a broad range of interests, skateboarding included.

Kanten Russell, a local skatepark architect with Stantec, headed the community skatepark design. Given pent-up demand, Russell said he felt "lots of pressure to deliver a great skatepark."
"The feedback, so far, has been very positive," he said.
Before starting, Russell collected input from local skateboarders. His takeaway: Because residents grew up skating on urban terrain, they wanted a skatepark that replicated the feel of riding in the streets.
So some of the skatepark features are pulled from real life. A stair section, for instance, is based on a spot skateboarders frequented near Earl Warren Middle School in Solana Beach, until it was barred off.
"I went for an open environment where it feels like you're skating in the streets — almost like you're not supposed to be there," Russell said.

The skatepark also has benches memorializing two skateboarders who passed away, Alexander Taherkhan and Ian "Poods" Barry.
Mike McGill, owner of McGill's skateshop, has been waiting for the skatepark longer than most.
He talked with city officials about a community skatepark nearly 25 years ago. After nothing came of those discussions, he helped the Magdalena Ecke YMCA raise funds for its first skatepark in the early 1990s.
"Everyone's really excited," McGill said. "It's been a long time coming."