EUSD to test facial recognition sign-ins on students' iPads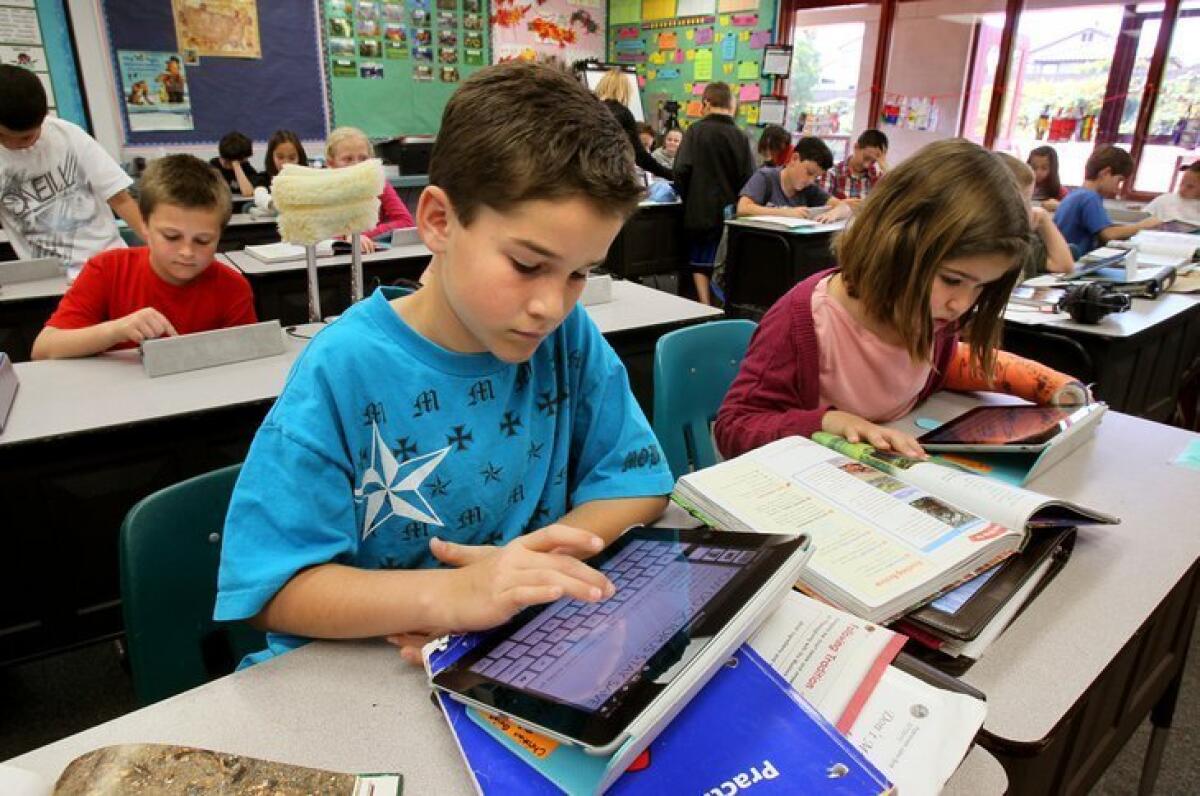 Encinitas Union School District students will soon log in to their iPads via facial recognition technology for a first-of-its-kind pilot project.
With board member Gregg Sonken absent, the EUSD board on March 13 voted 4-0 to approve a $63,000 contract with Salt Lake City-based Virtual Keyring.
The company will develop a program that will authenticate students on their school-issued iPads with biometrics — facial recognition — rather than only keyed-in passwords.
EUSD Superintendent Tim Baird said the technology would log students into all iPad apps within seconds, eliminating a common complaint: having to remember too many passwords for various programs on the devices.
"One of the things we hear frequently from teachers is that there's a lot of instructional time lost with kids having to go through the process of actually logging into their various digital tools," Baird said.
He added that a school day is typically spent at the beginning of the year teaching students how to input passwords and configure their iPads. And teachers dedicate a lot of time to logging in, too.
With this program, it's "walk through one door and you're into everything," Baird said.
Baird explained that the district turned to Virtual Keyring because publishers that created iPad programs have different password protocols, and the district doesn't have the capability to create a single password for all of them.
A small group of EUSD students, teachers and administrators will test the program over a period of two weeks to as long as two months.
If the district deems the pilot program a success, Virtual Keyring will launch at one school and then could move districtwide.
The one-year Virtual Keyring contract is structured so that the district will pay $25,000 of the $63,000 upfront. But if the district isn't happy with the pilot program, it could cancel the contract and would be reimbursed any funds paid to Virtual Keyring, according to district staff.
Virtual Keyring claims the technology is more secure than even strong passwords, since information isn't stored on devices and thus can't be stolen. The company has worked with banks, law firms and more.
The district has about 5,400 iPads, one for each K-6 student. The money for the devices came from Proposition P, a $39 million school bond passed in 2010 for technology and facility upgrades.
How Virtual Keyring works: The camera on an iPad takes several pictures, compares those with an encrypted image on file and verifies the person. The software continuously monitors to make sure it's the same person and automatically logs out if authentication fails.
Baird said this could be perceived as having a "Big Brother-ish feel," but he stressed that the students' images couldn't be stored or shared. Pictures would be encrypted as algorithms, so they couldn't be retrieved as images.
Some school districts have used a fingerprint-based authentication system to keep track of student lunch purchases, stirring privacy concerns.
"That's a different type of system, where that data was actually kept on file," Baird said.
And facial recognition wouldn't be mandatory — EUSD students could still log in through Virtual Keyring with a user name and password, district officials said.
Board member Marla Strich said Virtual Keyring makes sense, particularly because complicated password logins are "among the most frequently voiced complaints that we have heard."
In EUSD materials to parents, board member Patricia Sinay said the district should explain upfront why it's pursuing facial recognition software, because some parents who are unfamiliar with the technology might be reluctant to embrace it.
The agenda item didn't draw any public speakers.
David Delacalzada, district director of information technology, said the EUSD would probably be the first district in the nation to have students log in to iPads with facial recognition.
"This will save a great deal of time and improve the educational and instructional time in the classroom," Delacalzada said.
He said the pilot program would gauge whether students are able to stay logged in, among other criteria.
"We don't want students being logged off inadvertently," Delacalzada said.
Biometric logins are becoming more common. Microsoft's Windows 10, which will debut later this year, can detect faces, fingerprints and irises for authentication, it was recently announced.
The district's iPads have received a lot of attention recently.
In response to parents' complaints, staff members last month installed filters and firewalls so that off-campus students can't download porn or other questionable content. The prior filters were effective only at district schools.