Local drone industry reacts favorably to proposed FAA rules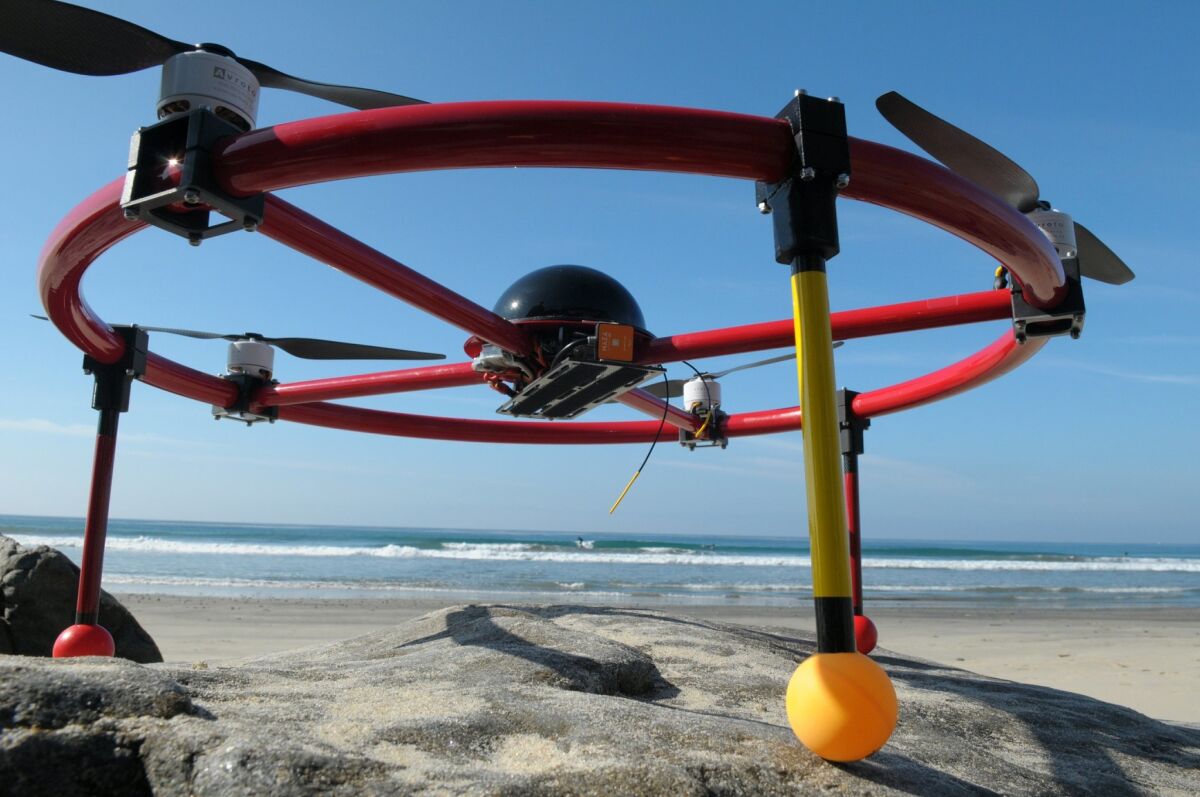 Local drone enthusiasts recently voiced support for the Federal Aviation Administration's proposed rules that would open the skies to more commercial operators.
Currently, the FAA bars commercial flights, though two dozen firms have an exemption. After years of pressure from the fledgling industry, the FAA recently rolled out draft regulations for business use drones that weigh less than 55 pounds.
"I think it's a good middle-of-the-road proposal," said Tom Burns, the co-owner of Burnz Eye view, an Encinitas drone company that shoots commercials and captures real estate images.
The FAA rules would, notably, forbid commercial operators from flying at night and require they take a written aerospace knowledge test. Burns said many in the industry were pleasantly surprised that the FAA isn't calling for a pilot's license to fly a drone commercially.
"These proposed regulations are less restrictive than many anticipated," Burns said.
Another rule would allow drones up to 500 feet above the ground (and even higher with special Air Traffic Control clearance). Burns said the height limit is a "balanced solution," allowing drones to capture aerial views, while also satisfying safety concerns over collisions.
Burnz Eye View has one of the 24 exemptions. Still, because the company's waiver expires in 2017, Burns is closely watching the process.
"The exemptions are more of a stop-gap measure," Burns said.
The FAA rules are expected to be finalized in about two years. The public can comment on them until April 24 at regulations.gov.
Burns said although the FAA is catching up to the industry, unfortunately, there are few options for obtaining insurance at this time. "Hopefully, that changes," he said.
Nationally, some companies have criticized the FAA's plan. Amazon, for instance, said it wouldn't be able to deliver goods via drones, since the rules say operators would need to keep drones within their line of sight.
"Flying beyond the line of visual sight presents a much higher level of risk," said Gus Calderon, a Carlsbad resident who founded Airspace Consulting, which advises companies on drone regulations.
He said the technology for flying outside the line of sight is progressing, noting German firm DHL recently began using unmanned drones to deliver medical supplies to a sparsely populated island in the North Sea. But he added the technology isn't to the point where it would be totally reliable in denser areas.
"As much of an advocate as I am of this technology, I certainty would not want an unmanned aircraft crashing into my window," Calderon said.
Once the technology improves, it's anticipated the FAA will loosen regulations. For now, Calderon echoed others in saying the FAA's rules are more lenient than expected.
"People are baffled by the shift," he said. "The FAA has been so strict — up until now."
Calderon said it's tough to say whether the proposed rules will change much between now and when they're finalized. Some believe there's no way the FAA's draft regulations will win approval, while others think there will only be a few tweaks, he added.
Unmanned Vehicle Systems International, an industry group, anticipates drone businesses could generate $14 billion in economic activity in the U.S. from 2015 to 2018. In a press release last year, the group stated uniform FAA rules and training procedures would unlock the industry's potential.
Michael Curran is an Encinitas attorney who represents drone companies. He said because there aren't federal rules governing small unmanned aircraft on the books, the FAA lacks the authority to regulate or fine commercial drone operators.
He believes the FAA has stifled the industry by advancing false ideas about its regulatory powers.
The FAA has said it indeed possesses such regulatory authority. The agency has pointed to a recent National Transportation Safety Board ruling, which said that existing aircraft regulations apply to small drones.
In any case, Curran said the FAA's proposed regulations, if approved, would bolster the industry by changing public perception.
"People tend to err on the side of caution if they think there's any possibility of breaking the rules," Curran said, adding drone operators would get more work with uniform federal regulations in place.
He added the draft rules are sensible.
Curran said drones are used for everything from crop monitoring to safety inspections. Not to mention, he envisions local lifeguards and other safety officials utilizing them.
"The utility of them is endless," Curran said.