Longtime Encinitas resident named interim city manager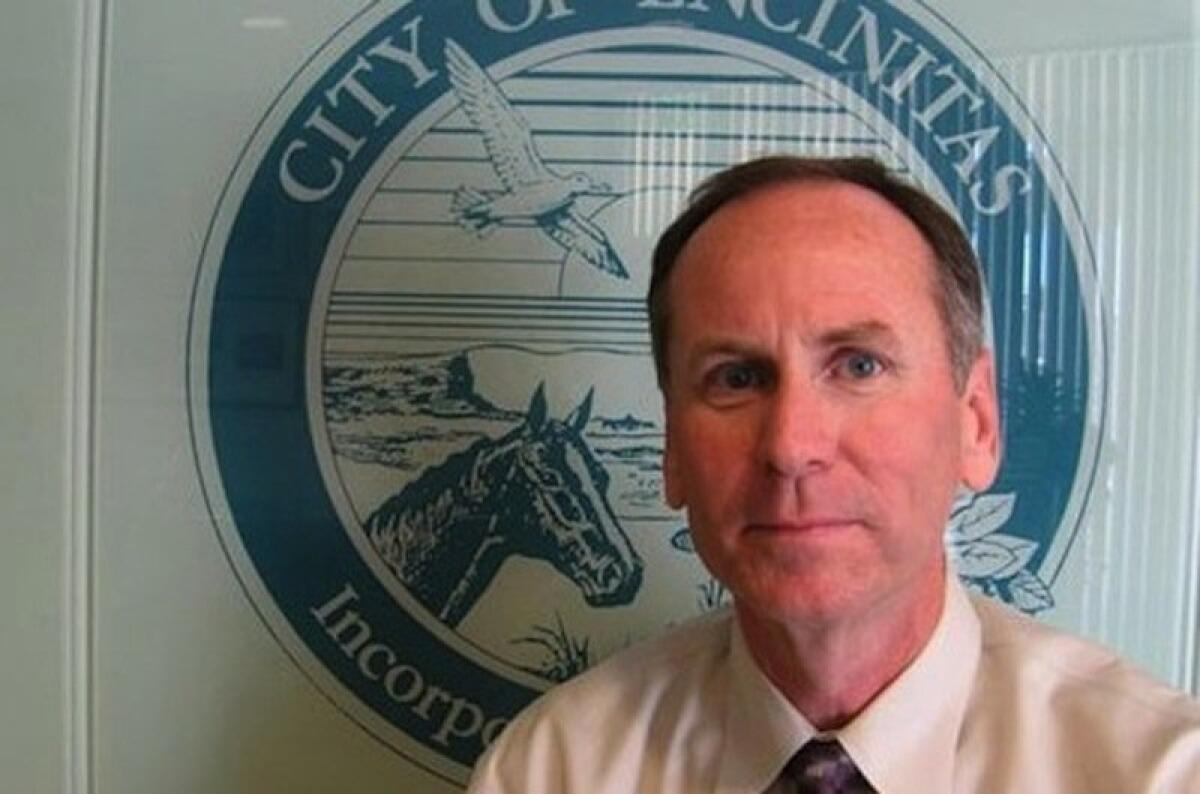 Larry Watt, the city's public works director from 2007 to 2011, was selected as Encinitas' interim city manager in a closed session Encinitas City Council meeting on Jan. 8.
Watt will step in for City Manager Gus Vina, who recently took a job in Northern California. As interim city manager, Watt will oversee the city's day-to-day operations until the council finds a permanent position.
"I've lived here for 35 years," Watt said after the closed session meeting. "I love Encinitas and thought I might have skills that could be useful to the council."
He added: "I was willing, able and anxious to help the city out in this time of transition."
Watt said he's confident he can hit the ground running, adding previously working for the city gave him a strong understanding of the ins and outs of Encinitas' government. Watt also said he's kept up on city affairs and issues by regularly talking with residents and reading newspapers.
He's expected to start the gig in the next two or three weeks. The council is looking to find a permanent city manager to replace him in four or five months.
On that note, Watt said he has no interest in applying as fulltime city manager.
"I'm happy to step forward in this transitional period, but have no desire to be permanent city manager," he said.
Watt said he plans to sit down with the council and ask what issues they want him to focus on. He said he expects councilmembers will bring up the upcoming two-year budget, developing plans for the Pacific View property and the housing element.
"City business is too important to sit still while they're looking for a new city manager," Watt said.
Watt also sits on the Olivenhain Municipal Water District board, a position he'll continue while serving as interim city manager. Due to a potential conflict of interest, Watt won't be able to attend board meetings for the San Dieguito Water District, which is part of the city.
"The Olivenhain water district is located in Encinitas and occasionally does business with the city, so I want to make sure there are no conflict of interest issues," Watt said. "I did discuss that with the council and city attorney during talks."
A subcommittee made up of Mayor Kristin Gaspar and Deputy Mayor Catherine Blakespear recommended Watt and two others for council consideration.
Blakespear said Watt's experience and history in Encinitas qualified him for the position.
"The council felt like we'd be better served not having to introduce somebody to our community, to our city staff, to all our political issues and our substantive policy issues," Blakespear said.
She added his temperament fits the bill.
"You want someone all the council people like, who can generate consensus, and we felt like he had that," Blakespear said.
Councilman Mark Muir did not immediately return a request to comment.
At the closed session meeting, the council also hired the firm Avery & Associates to recruit fulltime city manager candidates. The firm will bring back five to eight candidates for the council to interview.
Blakespear said at a future council meeting the public will have the chance to let Avery & Associates know what traits they'd like to see in the next permanent city manager. She noted for those not able to attend, they'll likely be able to email the firm.
Watt's contract, including his salary, has yet to be finalized. That information will be available when the council formally hires him at its Jan. 21 meeting, Blakespear said.
Before serving as Encinitas' public works director, Watt was the county of San Diego's deputy director of public works and general manager of the transportation division.