EUSD has high vaccine refusal rate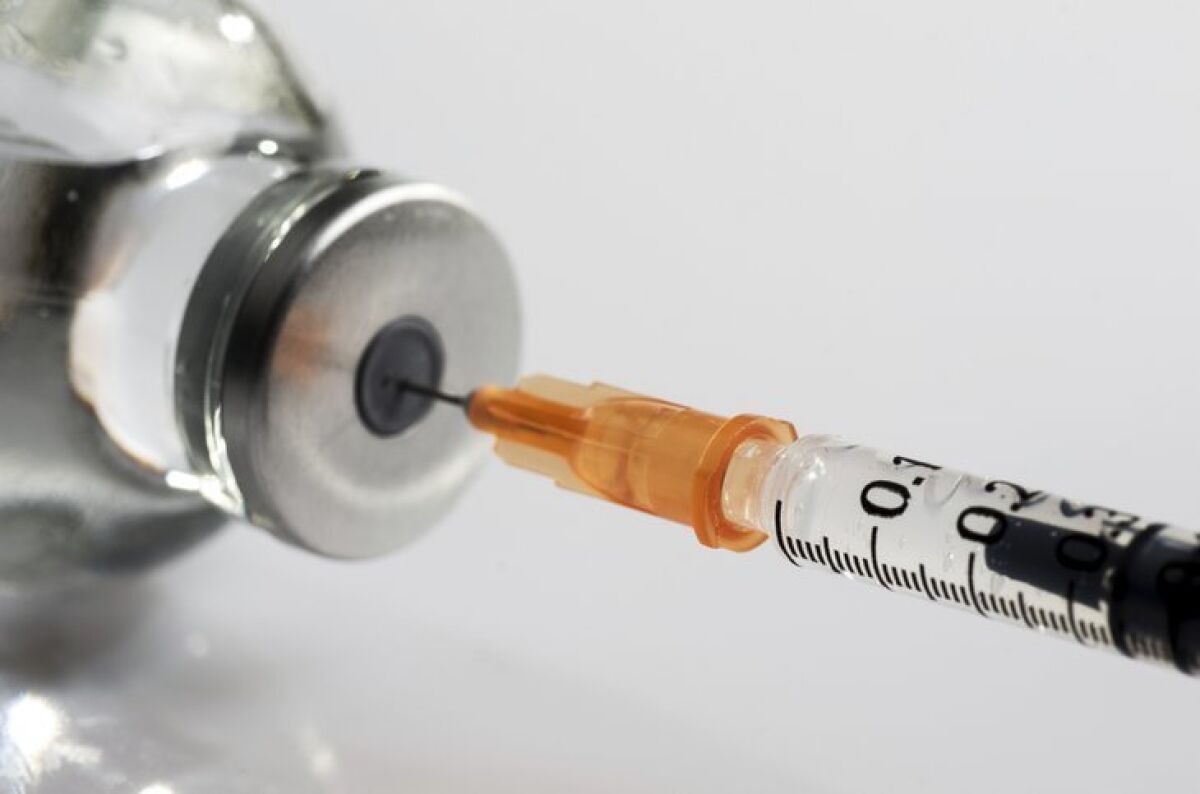 The percentage of Encinitas Union School District (EUSD) parents who opted their kindergartners out of vaccinations dwarfs the California average.
Statewide, 2.5 percent of kindergartners in 2014 had personal-belief exemptions from vaccinations, according to data from the California Department of Public Health.
For EUSD's nine schools, the average was 11.6 percent last year.
Olivenhain Pioneer had the highest rate of personal-belief exemptions in the district, with waivers for 19 out of 122 kindergartners, or about 16 percent.
Immunization exemptions recently took center stage nationally after a measles outbreak that's been traced to exposure at Disneyland. In response, public health officials have reiterated that vaccines are key for containing the re-emergence of the measles, whooping cough and other diseases.
"With this outbreak, it's extremely important they're vaccinated," said Dr. Mark Shalauta, a family medicine specialist at Scripps clinic in Rancho Bernardo. "They're in a classroom full with 20 other kids and they're on the playground with others. Things like measles can spread extremely quickly."
Shalauta, who also sits on the San Diego County Physicians Advisory Committee, said unnecessary vaccine exemptions threaten what's called "herd immunity."
The idea behind herd immunity is that it protects an entire population, particularly those who cannot be vaccinated for medical reasons or infants too young for their first shots.
The threshold for herd immunity varies from disease to disease. For measles, experts say 92 to 95 percent of children need two doses of MMR (measles, mumps, rubella) to achieve herd immunity.
Shalauta said the growing anti-vaccine movement has been linked to the comeback of the measles, which was declared eliminated from the U.S. in 2000. The number of measles cases is up to 107 in California, with 13 in San Diego.
For some children, measles can lead to complications such as pneumonia, deafness and even death in rare cases, according to the Centers for Disease Control and Prevention.
Some parents in favor of personal-belief exemptions believe thoroughly debunked research connecting vaccines to autism, Shalauta said. Or they have various unfounded views about vaccine safety, he added.
"Any answer you want, you can find on the Internet if you look hard enough," Shalauta said. "If you already have a thought or opinion, you can find things to back that up, whether it's scientifically sound or not."
EUSD Superintendent Tim Baird said if any district school gets a case of the measles, unvaccinated children would be required to stay home for a period of time.
"We are following up with families that have not had their students immunized to remind them that their children will be excluded if we do get a case of the measles," Baird said, adding that this a common policy for school districts.
"Obviously, we'd prefer if students were vaccinated, but we follow the law," he said.
A new California law, which took effect last year, aims to reduce the number of personal-belief exemptions. It requires all parents seeking the exemption to first talk with a medical professional. However, parents can still obtain a waiver on religious grounds without speaking with a health care provider, a provision only one EUSD guardian used.
The legislation didn't have much impact on the percentage of EUSD exemptions.
In 2013, before the law took effect, EUSD's exemption rate was 11.3 percent, 0.3 lower than 2014.
Health officials have credited the law with helping to bring down vaccine waivers statewide. In California, vaccination exemptions dropped from 3.1 percent in 2013 to 2.5 percent in 2014.
The number of EUSD exemptions has climbed over the last five years. In 2009, the rate was nearly 8 percent.
California law says that students entering kindergarten must be vaccinated against polio, whooping cough, MRR (two doses) and more, though personal-belief exemptions are allowed.
Overall, 13.9 percent of EUSD kindergartners weren't current on one or more of their vaccinations in 2014. That figure includes personal-belief exemptions and younger students in transitional kindergarten who have yet to get their second MRR shot.
The California Department of Public Health records immunizations every fall, but doesn't track subsequent vaccinations as the school year goes on.
At Olivenhain Pioneer, the school with the highest rate of exemptions, 95.2 percent of K-6 students have at least one MRR dose, Baird said.
The first MRR shot is recommended for infants at 12 to 15 months and is 93 percent effective in protecting against measles, according to the Centers for Disease Control and Prevention. A second dose, usually given at the ages of 4 to 6, boosts the effectiveness to 99 percent.
Dr. Gil Chavez, deputy director of the state's Center for Infectious Diseases, said published studies have consistently shown that personal-belief exemptions tend to be the highest among households that are college-educated and affluent.
This appears to be the case in San Diego County. Personal-belief exemptions were the most common for schools in wealthier coastal communities like Encinitas, according to searchable maps.
"Wherever there exists a pocket of unvaccinated individuals, a disease such as measles can spread more easily among the population," Chavez said.
Also, Chavez noted that higher-income families with children attending private schools typically have more waivers than public schools. Of the city's two private elementary schools, Encinitas Country Day's kindergarten exemption rate was 32 percent, or seven out of 22 kindergartners. Saint John School clocked in much lower with 5 percent.
Public health officials have said those affluent parents who are against vaccines are more likely to seek out immunization research that fits their own views.
"Now we see in the higher socio-economic groups that they think you're hurting the immune system by giving vaccines, even though it's been completely debunked, the thought of vaccines causing autism," said Shalauta, the family medicine specialist at Scripps.
Shalauta said parents who skip over vaccinations are even putting those who have been immunized at risk.
This is because immunizations are generally about 95 to 99 percent effective.
"If the measles is going around like crazy, you're going to get people who are immunized still getting measles as well," Shalauta said.