Encinitas city manager resigns to take new job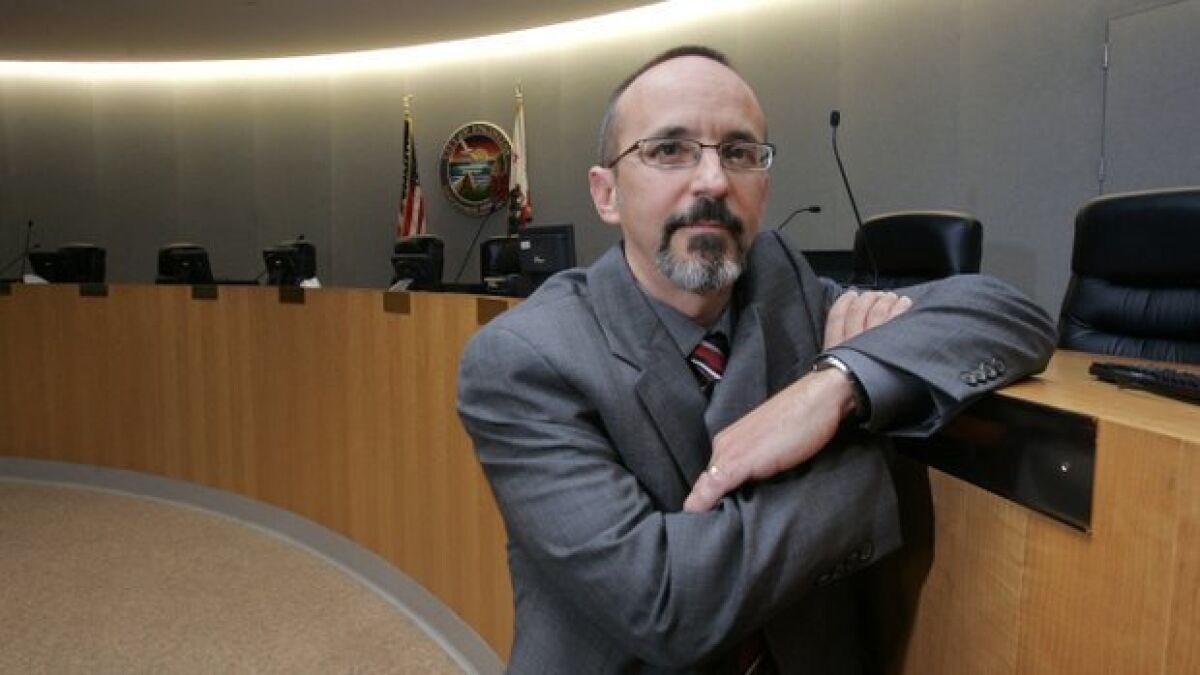 After three years with Encinitas, City Manager Gus Vina recently handed in his resignation to take a new job in Northern California.
As the city's top official, Vina has overseen major projects such as the soon-to-debut Encinitas Community Park, Moonlight Beach improvements and a mini-fire station in Olivenhain.
"I feel very accomplished," Vina said. "I recognize city managers don't do anything on their own, so I'm very gratified for the effort of the staff here in Encinitas."
Vina said during a Dec. 9 interview he couldn't specify which Northern California city he'd be working in until that council is ready to make the announcement. And since the contract with his new employer is still being finalized, the terms have yet to be disclosed.
"It's a great opportunity for me to grow professionally and take on a new set of challenges," Vina said.
Along with professional growth, he said the position would allow him to live near family.
"I was in Northern California for 47 years," Vina said. "Except for a few people who are down here, the family is up north. Some family starts to age, so you want to help out with the situation, and I've got my third grandchild on the way up there. It weighed on the decision."
Vina said contrary to media reports, he isn't leaving the city to escape negative feedback.
"I'm not running from anything," he said. "I'm running to an opportunity that has presented itself."
Vina, who previously served as an interim city manager in Sacramento, replaced previous City Manager Phil Cotton in 2011. The city manager is in charge of day-to-day operations in the city.
During most of his stint, he said capturing public input on city projects and issues proved challenging. For that reason, he's proud that Encinitas recently launched E-Town Hall on the city's website to gain more feedback on city projects and issues.
"This whole notion of how do we improve civic engagement, that's my biggest takeaway," Vina said. "People should be able to engage with government from their living room. There shouldn't be this expectation that you only get heard if you come to the council meeting."
And Vina said he's proud the city embarked on strategic planning to better align the budget with council priorities.
Last year, the council reported it gave Vina an "excellent" performance review in a closed session meeting. And recently, the council held a "check-in" evaluation to get feedback from former Councilwoman Teresa Barth before she left. A summary of those talks wasn't made public.
When contacted about reports of Vina's resignation, Councilwoman Lisa Shaffer said she was briefed on his departure the afternoon of Dec. 8.
Shaffer said she couldn't comment on the recent closed-session meeting, but gave her own assessment of his performance.
"He's done some things very well, and he's had a few bumps, just like every person in a difficult position like city manager," Shaffer said.
Shaffer credited Vina with making City Hall more customer service-oriented, encouraging investment in online technology for the sake of transparency and doing a good job managing the city's finances.
She added it seems he's been popular with various business groups in the city.
"Main Street groups, from what I hear, have been happy working with him," she said. "They appreciate the effort he's put into working with them."
As far as any weak points, Shaffer said Vina should have given the council more notice about the pros and cons of taxable versus tax-exempt bonds to finance the $10 million Pacific View school property purchase.
Three weeks before the Pacific View deal closed, the council switched to more expensive taxable bonds after Vina and city staff unexpectedly announced that tax-exempt bonds would restrict city plans to lease the property.
Shaffer said even if the bond information had been presented earlier, the council probably would have made the same decision, but she added that the council should have had more time to consider the issue.
"The challenge was, he didn't communicate early enough and clearly enough, in case it made a difference in our decision, though I don't think it would have," Shaffer said.
She added: "He's a good guy who worked hard and tried his best. Whether his personality and his style were the right fit for laid-back, funky Encinitas — I'm not sure."
In a recent interview, newly retired Councilwoman Teresa Barth said Vina brought a collaborative approach to the city. She noted he held regular cabinet meetings that included not just city department heads, but also other key people in the city.
"It's not just people working in a silo — it's getting people on the same page," Barth said.
Barth also said Vina "did a good job navigating through a lot of change," citing the financial downturn and the hiring of several new city department heads at the same time.
The council hasn't discussed the process for securing an interim or new city manager.
According to his contract, Vina's annual salary is $216,000, along with benefits.
Vina delivered his resignation letter Dec. 9 to Mayor Kristin Gaspar. With that, Vina's contract expires March 9, unless the council agrees to let him leave earlier.
Because Vina resigned and accepted employment elsewhere, the city won't be required to provide a severance package, as per his contract.
Vina said he's leaving without regrets.
"None whatsoever — life throws you these opportunities," he said. "It was great to fall into this opportunity in Encinitas — it's a beautiful place."