Encinitas artist Jan Trabin finds the beauty inside the ordinary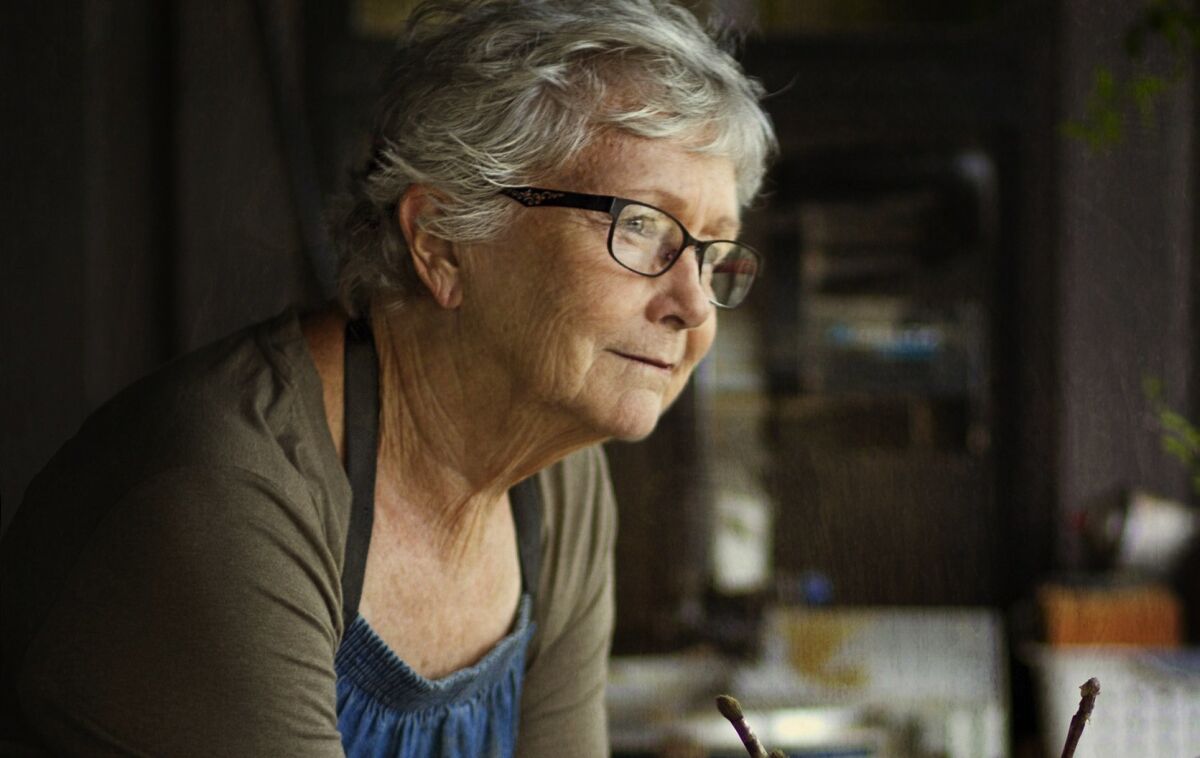 Wearing an apron and surrounded by industrial-engineered tools in her workshop retreat in rural Encinitas, Jan Trabin continues to find — and create — beauty in the discarded everyday materials that she has collected over the decades.
Most recently, Trabin was juried into the Art Walk NTC at Liberty Station that takes place during the weekend of Aug. 15-16, along with just four other North County artists.
Trabin's daughter, Lisa Flores, will join her. The two artists find joy in repurposing the prosaic and have exhibited their artworks together for many years.
In the 1960s, when Flores was a child, Trabin took several of her daughter's childhood drawings and applied them to her own collages, creating one-of-a-kind pieces that evoked an innocence. These pieces were published at the time in Better Homes and Garden magazine and appeared in an article published in the Los Angeles Times.
Flores also worked for her mother's Los Angeles-based showroom — JTA (Jan Trabin Associates) — which Trabin founded in 1980. "We have spent all of our lives sharing artwork," Trabin remarked.
Trabin studied art at Long Beach City College from 1956-1960, then graduated from UCLA's art department with a degree in fine art, followed by working as an interior designer. Her Los Angeles-based high-caliber clients included such notables as entertainer and movie star Olivia Newton-John and singer/songwriter Helen Reddy.
Trabin's showroom design business was housed in a 10,000-square-foot facility and was a 35-year endeavor. She carried hard-to-find items that were not mainstream with an inventory composed primarily of contemporary and ethnic home furnishings and fine art.
"I was surprised to find that there was a good market for them," Trabin said, describing her approach as having "a quirky design slant."
No longer in the commercial world, Trabin is able to devote all her energy to her art. She works with salvaged metals, woods and mesh and creates patinas through chemicals that produce an earthy, yet colorful palette.
The results are a blend of contemporary and rustic qualities translated into wall art and free-standing pieces.
In 2001, after tearing out a wooden deck at her home, Trabin transformed what many would consider as trash into works of art enhanced by wood burning, metals, reeds, and found objects.
Flores also uses found objects embedded into her art pieces and works primarily in the encaustic tradition, using a blowtorch to heat wax infused with paint to create vibrant, textured mixed-media pieces. Studying art and design at Cal State Fullerton, Flores now lives in Temecula with her husband and has two adult children.
The mother-and-daughter team work separately, but exhibit together. "Our work blends together very well," Trabin commented.
Officially retiring from the routine of running a business in 2012, Trabin is now devoted full time to "finding harmony in putting together stuff," she said.
Trabin's Encinitas workshop is open to clients by appointment; call 760-753-0502. Visit www.jantrabinart.com to learn more about the work of Jan Trabin and Lisa Flores.