Jose Sinatra brings 'farewell tour' to Leucadia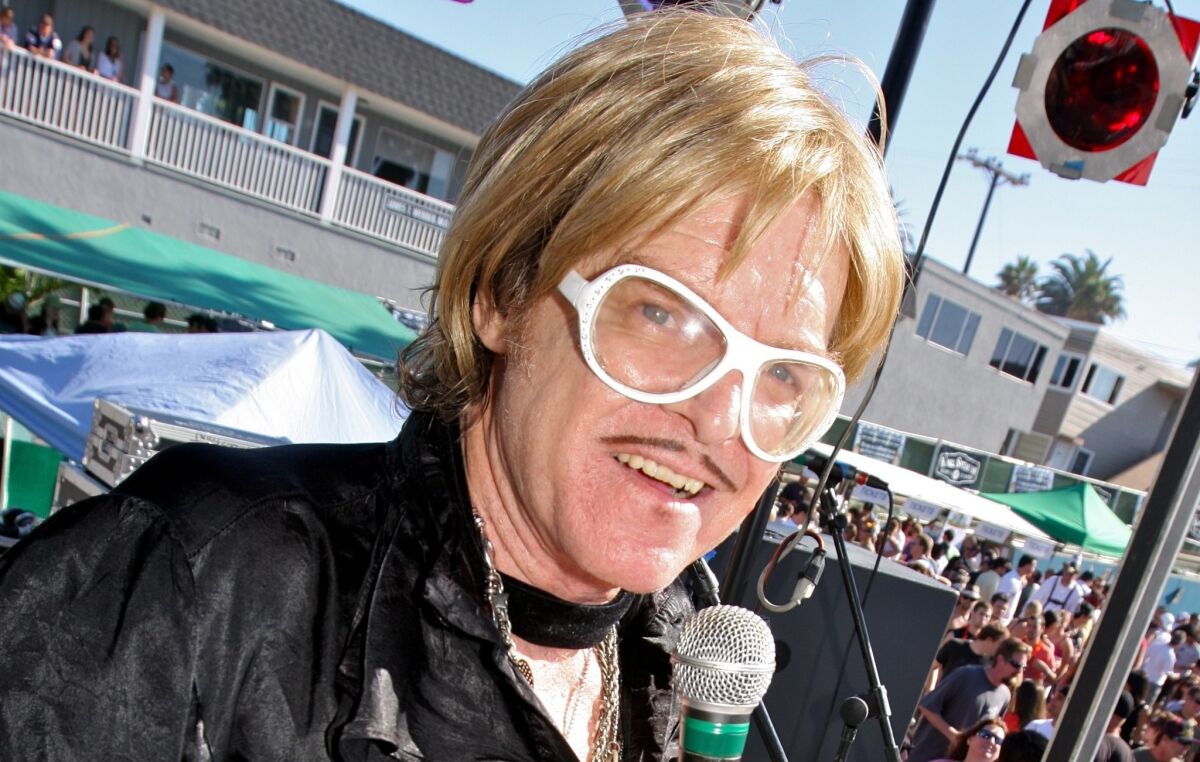 He tells audiences his music "turns worldwide hatred into a missile of love."
He blows kisses to the crowd. He dons tight leather pants and puffy shirts, complete with gold necklaces, oversized plastic glasses and a pencil mustache.
His name is Jose Sinatra, and he spoofs lounge singers who hit the stage with big egos and syrupy love songs. He will perform at 7 p.m. Saturday, June 27 at Ducky Waddle's Emporium, at 414 N. Coast Highway 101 in Leucadia.
Sinatra has deemed this his "farewell tour," which is merely clever marketing on his part.
"I've seen Cher and The Who use the word 'farewell,'" Sinatra said. "And it's worked pretty well for them, even though they keep coming back. Literally, it's not the last show, but if I continue to say 'farewell,' eventually it will be right."
Sinatra has been performing since 1982, accompanied by backing bands like the Troy Dante Quintet.
"Why was it a quintet? Because he had five fingers," Sinatra quipped.
His last band, the Troy Dante Inferno, called it quits in 2007. Sinatra has flown solo since, performing a few songs at various events. But he said there hasn't been a full Sinatra set in years, though there might have been one or two. His memory is a little spotty.
Nonetheless, Sinatra added he was compelled to tour to "restore order to the world."
"Within a year of the band breaking up, the economy tanked and global warming increased, as well as terrorism, hurricanes, tsunamis and reality television. Are those coincidences? I think not."
While Sinatra is a solo act, other musicians will back him at Ducky Waddle's — sort of. He recently unearthed video recordings of former band members, which he said will play on a projector in the background.
"I'm not just going to do karaoke. That's cheating. But I think it's different if it's your own band."
Sinatra continued: "We got along great as a band 99 percent of the time. But what this guarantees — if there are any arguments in the band, I always win them."
He sings original songs and covers that he makes his own. A standard is the 1970s hit "Lovin' You," with a guttural scream replacing the high-pitched notes. And he does mashups. "To Sir, With a Whole Lot of Love Boat" mixes Led Zeppelin, Lulu and the TV show "Love Boat" theme song.
"It's a little complicated," Sinatra said of the song.
A North Park resident, he has brought his adult-themed act to just about every nightclub and venue in San Diego over the years. National and international audiences have gotten a taste, too. Notably, Jose Sinatra and the Troy Dante Inferno flew to Australia a decade ago for a month-long engagement at the Melbourne Comedy Festival.
And Sinatra hosts the weekly "OB-o-ke" karaoke nights at Winston's in Ocean Beach on Sunday nights.
At various points of the interview, he dropped the act and answered questions as Bill Richardson, his real name.
Richardson, 62, said that sometimes the lines blur between real life and Sinatra. Even offstage, he's known to most as "The Hose," Sinatra's nickname.
"I think only my family calls me Bill," he said with a laugh.
Richardson's inspiration for the shtick came from lounge singers who talk to audiences in breathy whispers. Wayne Newton's stage patter was particularly influential, he said.
He broke into an impression of Newton: "I just want to tell each and every person in the audience how special they are. With my music, you know, I try to touch people's hearts. But an artist can only give so much of themselves."
His act is anything but sincere, yet he's dead serious about hitting the right notes.
"I want to sing well and sound authentic, so then people will catch themselves saying, 'Did he just say what I think he said?' That's what I like about doing this," Richardson said.
The audience is almost always in on the joke after a song or two. Yet he's ruffled the feathers of a few drunken boyfriends who were upset about Sinatra hitting on their girlfriends.
His music defies easy categorization.
"It combines the warm intimacy of a lounge act, with the passion and brainlessness that are usually associated with heavy metal," Richardson said.
Striking a more serious tone, Richardson said he's slowed down with age. Heart problems led him to stop smoking and drinking alcohol about two years ago. Giving up Sinatra's larger-than-life persona, however, is unlikely.
"I still get a really big kick out of it," he said.
And at that thought, Richardson transformed back into Sinatra, describing how his fashion sense draws heavily from the 1970s film "Superfly."
"That's style to me," he said. "It represents the take-charge attitude of the modern male, which 'The Hose' embodies."