Construction on Leucadia Streetscape slated to start in 2018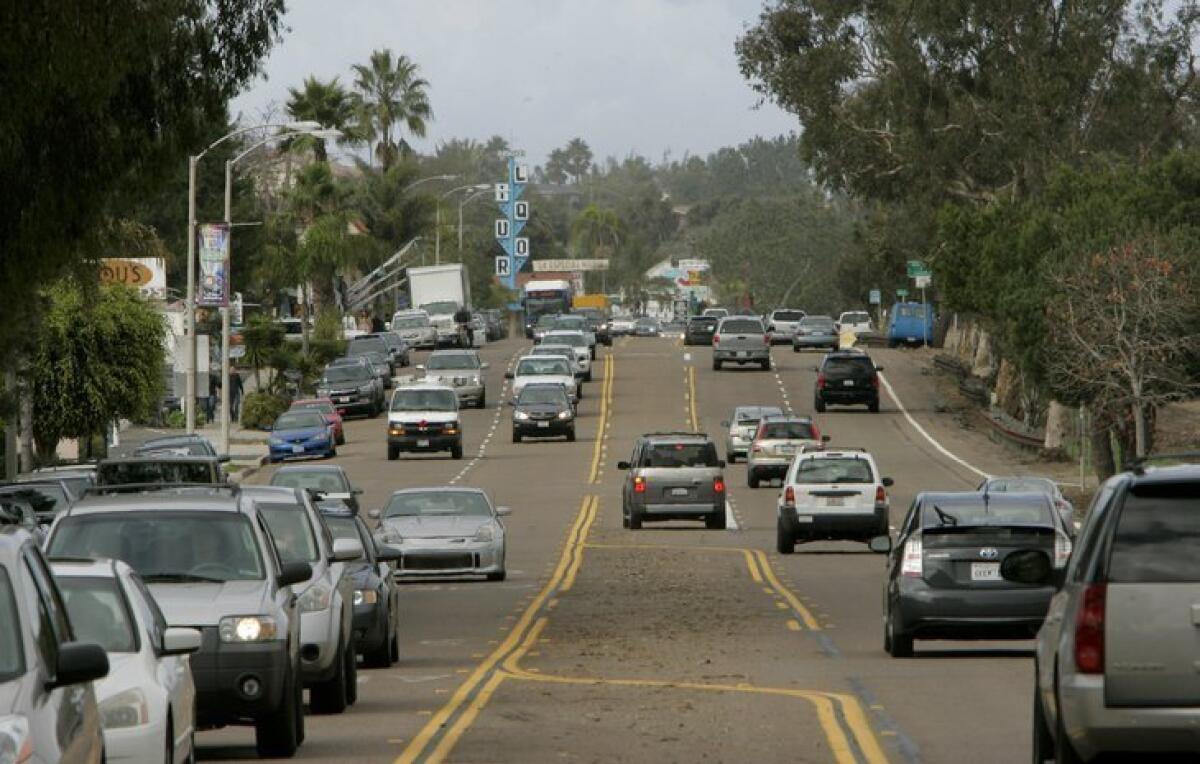 Construction is scheduled to begin early 2018 on the first phase of the Leucadia Streetscape, a plan to revamp the community's Highway 101 corridor.
Upon the Encinitas City Council receiving an update on the project last week, councilmembers asked whether there's any way to speed up the timeline.
"Is there possibly anything that can accelerate this process?" Deputy Mayor Catherine Blakespear inquired. She said that ever since she took office late last year, residents have regularly asked her about Streetscape's progress.
Glenn Pruim, director of the city's Engineering and Public Works Department, said staff will move the project forward as quickly as possible, noting that quite a few steps remain. Notably, design plans still need to be completed, an environmental impact report is under way and the California Coastal Commission still has to sign off, according to the staff report.
Christy Villa, associate civil engineer with Engineering and Public Works, said 2018 is a "conservative schedule" that accounts for lengthy review — the project could begin before then.
The Leucadia Streetscape covers the 2.5-mile stretch of A Street to La Costa Avenue on Highway 101. It includes adding roundabouts, replenishing the tree canopy and removing a northbound traffic lane to make room for parking spaces and bike paths.
Phase one is primarily focused on the southern portion — A Street to North Court, though a roundabout at La Costa Avenue is also included.
After much public input, the council settled on a preferred Streetscape alternative in 2010. Since then, to officially kick off Streetscape, the first batch of trees — 101 in total — was planted in 2012 just south of La Costa Avenue.
The council in 2013 awarded a $759,300 contract to design 30 percent of Streetscape — work that was completed last year. Now, city staff members are preparing the environmental impact report.
Councilman Tony Kranz said that the city began Streetscape in 2007 with the goal of slowing down traffic and making the area more bikable and walkable.
"We're talking about starting phase one in 2018," Kranz said. "That's a scary indicator of the slow pace of government right there. I know a lot of factors go into (this) and it's no one's fault in particular. But, if there was a way to expedite it, I sure would like to see that happen."
Kranz also said that the North County Transit District — in a break from its previous stance — is now open to the idea of formal parking spots at the edge of its rail right of way. In light of the potential for more parking along the tracks, he wondered how people would safely get across Highway 101.
Pruim said the city could look into adding pedestrian crossings — similar to the one recently installed on Quail Gardens Drive — to Streetscape plans.
Kranz said that city staff should also examine spacing out planned Streetscape roundabouts in order to make it easier for cars throughout the corridor to turn from residential streets onto Highway 101.
"The last thing I want to do is slow this process down, but at the same time, I want to get it right," Kranz said.
The council will consider funding 100 percent of the design drawings for Streetscape during upcoming budget meetings. The price tag to do so: $376,000.
Including design and construction, the cost for phase one is estimated $5.7 million.