Encinitas' 'African Assassin' has locals abuzz over televised bout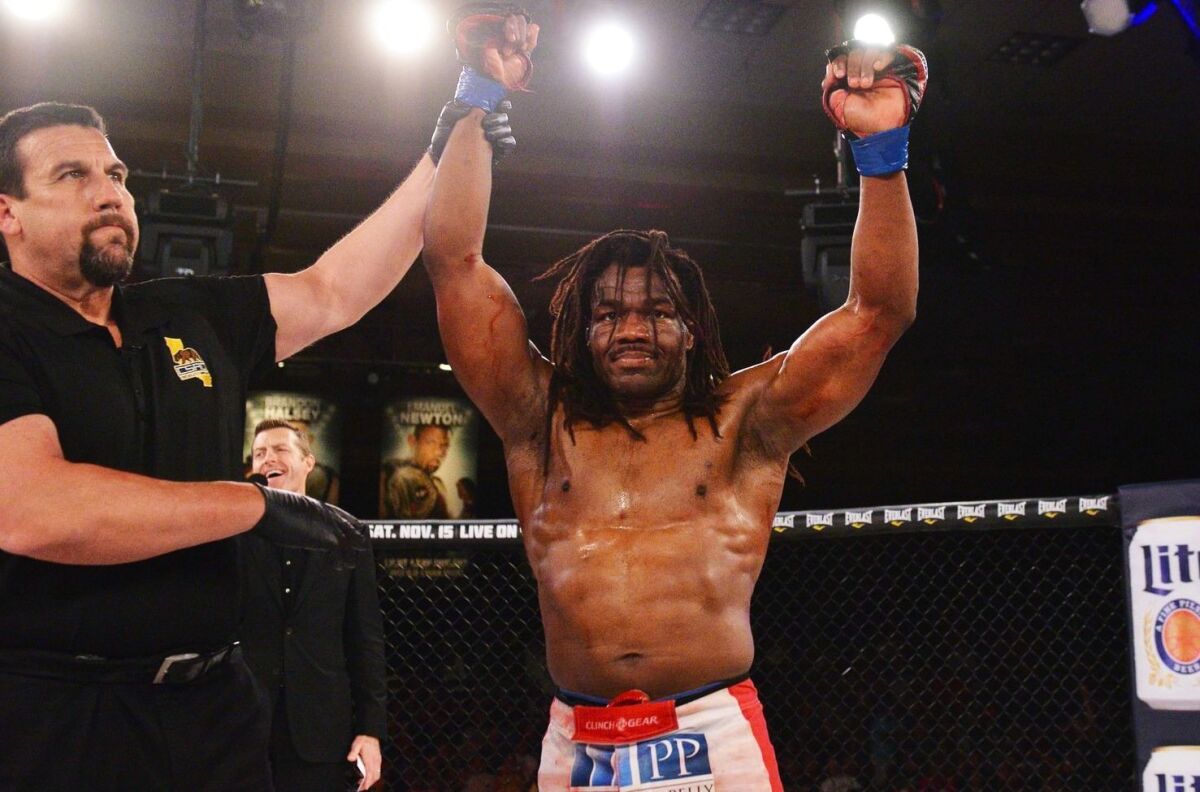 If you're a member of the Team Quest gym in Encinitas, don't even think of showing up for your spin class on Friday, Feb. 27.
The gym is closing early that night, and for good reason: Its most distinguished member will be on prime time.
Mixed Martial Arts sensation Rameau Sokoudjou, who owns and trains out of Team Quest, will appear in a featured Bellator MMA light heavyweight (205 pound) bout that will be nationally televised.
Sokoudjou (pronounced "soak-uh-joo"), will fight Linton Vassell at Mohegan Sun Arena (Connecticut) in one of the featured bouts that will be televised on Spike TV from 6 to 9:15 p.m. The featured bouts will be rebroadcast in their entirety on the same network on the same day, starting at 9:15 p.m.
Following the ritual that evolved as the fighter's popularity has grown in local circles, gym staff and members will share food and drinks at a local sports bar to cheer on Sokoudjou.
"We'll be going to Buffalo Wild Wings next week; we usually have pretty good groups that go out to watch" Sokoudjou's fights, said Justin Rote, who manages the Encinitas Fitness Quest.
The Cameroonian-born Sokoudjou, who goes by the nickname "The African Assassin," lives about 10 minutes from the Fitness Quest gym in Carlsbad. He's lived in the San Diego area since moving to the United States in 2001.
He instantly took to the area after a few visits and when the opportunity to open a gym presented itself, Sokoudjou pounced.
Sokoudjou is one of two professional ultimate fighters who teach at Team Quest. Ryan Bixler is the other.
Sokoudjou said the support he's gotten from the local community has helped fuel his success.
"It means a lot," he said. "It's always nice to know you have people behind you cheering or rooting for you, so it's kind of exciting."
Sokoudjou himself has generated excitement in MMA circles since emerging from obscurity in a 2007 fight against a heavily favored Antônio Rogério Nogueira, a Brazilian fighter considered one of the world's best.
Sokoudjou turned the MMA world on its head with a first-round knockout of Nogueira. It took Sokoudjou just 23 seconds to topple "Lil Nog," who was a 16-1 favorite.
Sokoudjou won the fight with what's become his trademark fighting style of forcing the issue with a barrage of punches and kicks delivered with authority.
"I like to get in and kick and punch people as hard as I can and as many times as I can," he said. "I just get in there and do what I do.
"I enjoy the sport."
Sokoudjou has helped bring enjoyment of the sport to locals who might not otherwise be interested in ultimate fighting. San Diego is known more for golf than MMA.
"It's different when you see somebody fight that you know vs. somebody you don't know," Rote said.
"Even if you don't watch the sport all that much, if it's somebody you see in the gym teaching Muay Thai on Spike TV, you create an interest."
And the experience of watching someone you know take his life in his hands in an ultimate fighting bout is like no other.
"Your nerves race, you get really nervous," Rote said. "You see guys fight all night and you don't care because you don't know them, but when you know them you want them to win, and every punch makes you nervous.
"It's just a lot more anxiety when it's somebody you know."
Sokoudjou's upcoming opponent presents unique challenges. Vassell, a native of Buckinghamshire, England who is 6-foot-4, has a 6-inch height advantage over the 5-foot-10 Sokoudjou.
To prepare for Vassell, Sokoudjou has brought in Matt Baker, a 6-foot-5 professional fighter, from Oakland to train with him over the past few weeks.
Sokoudjou is mindful of the risks of a sport that's inherently very dangerous.
"Every single fight is a big fight, because it can define your career," he said. "You can't take any fight lightly because the guy in front of you will try to kick a part of your body or poke a hole in your face."
The occupational hazards aside, Sokoudjou said he enjoys his craft, noting the travel perks and freedom to train on his own time and on his own terms for a sport he loves.
"I don't remember the last time I had to work," Sokoudjou said.
"Not only do I get happy, but I get in shape and I get paid. That's what I love about it."